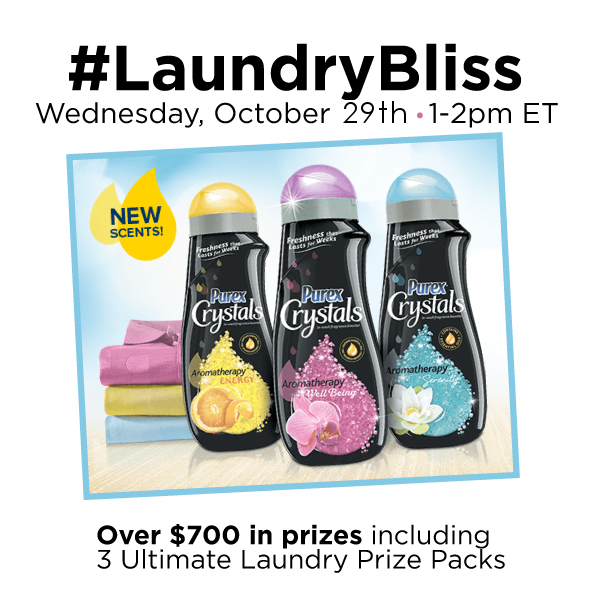 Do you love a good Twitter Party? You know we do and we're excited to host a party to talk about how to achieve #LaundryBliss!  On Wednesday October 29th at 1 pm EST, please join us for the #LaundryBliss Twitter Party where we'll be sharing tips on getting your laundry done efficiently and effectively, and giving you a chance to win prizes!
I don't know about you, but I feel like I am doing laundry all day long. Perhaps it is because I have a newborn along with two other kids, who are constantly getting their clothes dirty. Although it can be tedious to do laundry, I love the fact that I get that #LaundryBliss after I take my clothes out of the dryer! You know that feeling of having nice and clean clothes on. It somehow changes my mood! Now you can get your laundry done easily and affordably with the  Purex Triple Action  laundry detergent with Purex Crystals fragrance booster. Be sure to join us on 10/29, to talk about refreshing your laundry, which will essentially refresh your mood and your  laundry regimen. It is sure to be a great party!
Join me and RSVP for the #LaundryBliss Twitter Party on SoFabChats!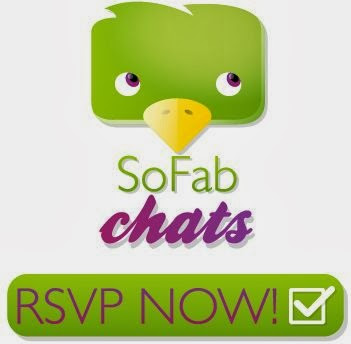 DATE: Wednesday October 29th
TIME: 1:00-2:00 pm
PRIZES: 2 – (1) $100 Target Gift Cards
BONUS PRIZES: 3 – (1) $100 Target Gift Cards & Ultimate Laundry Prize Pack*
EARLY BIRD PRIZE: 1 – $50 Target Gift Card
*Each Ultimate Laundry Prize Pack contains: (1) Purex Crystals 62 Load Lavender Blossom Laundry Enhancer, (1) Purex Complete Crystals 62oz Load Fresh Spring Waters Laundry Enhancer, (1) Purex Natural Elements 94 Load Linen and Lilies Triple Action Laundry Detergent, (1) Purex Triple Action Plus Oxi with Zout 81 Load Fresh Morning Burst Laundry Detergent, (1) Honey-Can-Do Dual Compartment Hamper in Brown. ARV $56.*
HOSTS:   @dentistmel,@simplybeingmom,  @littlemamajama,  @theCouponista,  @JManMillerBug
RULES: #LaundryBliss Twitter Party Official Rules
RSVP PARTY GRID:  #LaundryBliss Twitter Party Page
TWEET TO SHARE:
Join #LaundryBliss Twitter Party 10/29 1pm ET. Scents to Love! Over $700 in prizes! Rules http://t.co/DrE9zT3nSr #shop

— melissa weintraub (@dentistmel) October 23, 2014

 
How To Participate In A Twitter Party on SoFabChats!
TIP: How to join a Twitter Party – sign in! Before party starts, click on the green "Sign In On Twitter" bar at the top of the page!
TIP: Who to follow at a Twitter Party? Follow the Party Team by clicking on the Twitter handle links on the RSVP page!
TIP: Want to win Twitter Party prizes? RSVP by clicking on RSVP button before you join the party, follow everyone on the Party Team, and tweet with the party hashtag during the party to be eligible!
TIP: How to win the Early Bird prize? Watch for chance to share a tweet when you RSVP for a chance to win!
TIP: Special deals and brand coupons? Keep that options checked when you RSVP for the party!
TIP: New to Twitter parties? Watch your column and Party Team tweet columns – they are slower paced and easier to follow!
TIP: Where to find Twitter Parties? Check out the SoFabChats Twitter Party Calendar to find more fun parties to attend!
Find more helpful Twitter Party Tips on SoFabChats!