* I received copies for my review. All my opinions are my own and not swayed by outside sources.*
Just this past week two new DVDs from Nickelodeon hit the market. If you have young kids, you want to be sure to check these titles out and buy them today! They will be sure to please kids of all ages!

TEENAGE MUTANT NINJA TURTLES:
THE COMPLETE FIRST SEASON
All 26 Episodes Available Now:
Leonardo, Raphael, Donatello, and Michelangelo, better known as the Teenage Mutant Ninja Turtles, are an unstoppable crime-fighting team in the first season of Nickelodeon's hit CGI-animated series. Fans can relive the non-stop ninja fun as the Turtles take down robotic kraangdroids, mutated villains, and the merciless leader of the Foot Clan, Shredder, in this complete collection of all 26 episodes from season one. Plus, over ten minutes of new bonus content (accessed online) and a sample of the "Teenage Mutant Ninja Turtles: The Ultimate Visual History" coffee table book gift with purchase (while supplies last)! Filled with excitement for all ages, Teenage Mutant Ninja Turtles: The Complete First Season makes the perfect holiday gift. Created by Nickelodeon Home Entertainment and distributed by Paramount Home Media Distribution, Teenage Mutant Ninja Turtles: The Complete First Season is available on DVD October 7, 2014.

Nickelodeon's Teenage Mutant Ninja Turtles premiered to 3.9 million total viewers and ranked as the top new series in 2012 among boys 2-11 and boys 6-11. Funnier and with more ninjutsu than ever before, the show explores the companionship of four teenage brothers learning to rely on themselves and one another as they unravel the mystery of their existence and grow to become the heroes in a half-shell that they are destined to be.
DVD Running Time: Approximately 625 minutes
Special Features:
· 6 "Making Of" Animatics
· Theme Song: Karaoke Music Video
· Animated Comic Books:
o Tales from the Turtle Lair, Part One
o Tales from the Turtle Lair, Part Two
o Tales from the Turtle Lair, Part Three
o Tales from the Turtle Lair, Part Four
o Tales from the Turtle Lair, Part Five
o Tales from the Turtle Lair, Part Six
· The Mutation of a Scene:
o New Girl in Town
o The Pulverizer
o TCRI
o Cockroach Terminator
o Baxter's Gambit
SNOW AND ICE CAN'T STOP THE PAW PATROL TEAM
ON THEIR FIRST-EVER SEASONAL DVD RELEASE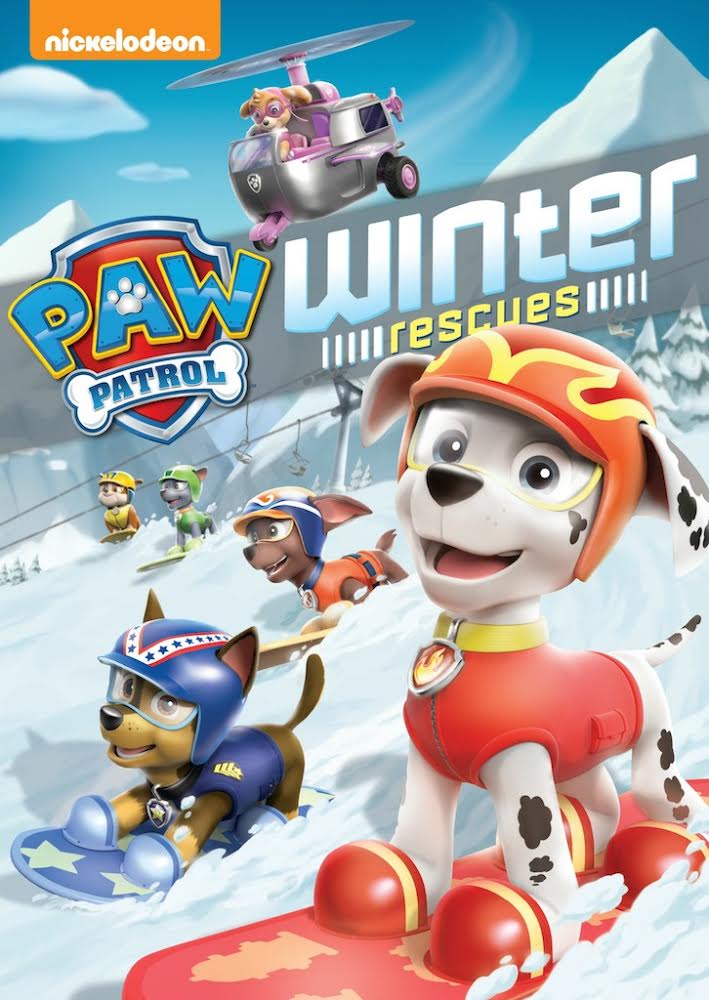 PAW PATROL: WINTER RESCUES
Available now:
Prepare for an icy adventure this holiday season! The PAW Patrol pups are back for 7 wintery missions that include a double-length adventure to save Christmas in this new DVD set. From a ski-lift rescue to tracking down a snow monster, no job is too big and no pup is too small. Plus, see how Rubble first joined the team by helping out in a snowy situation! Full of festive fun that fans won't want to miss out on, this DVD set makes the perfect holiday gift for fans. Produced by Nickelodeon Home Entertainment and distributed by Paramount Home Media Distribution in the US. PAW Patrol: Winter Rescues will be available on DVD on October 7, 2014.
DVD Running Time: Approximately 92 minutes