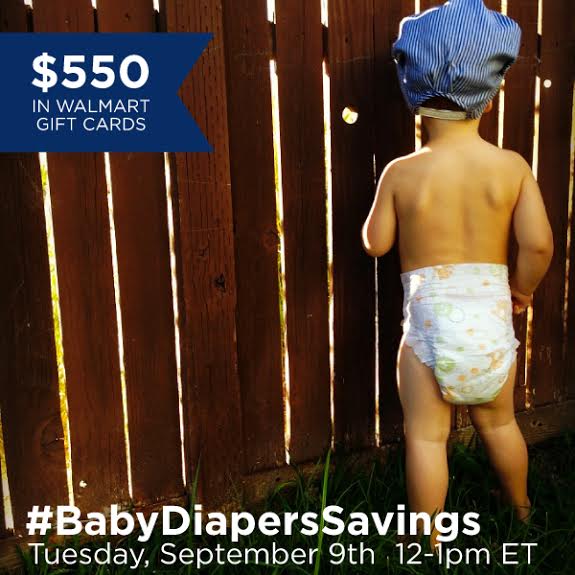 Photo credit: The Funny Mom Blog
Do you love a good Twitter Party? You know we do and we're excited to host a party about getting the features you need and how to save money on baby diapers! On Tuesday September 9, 2014 at 1:00pm ET, please join us for the #BabyDiapersSavings Twitter Party where we'll be discussing the Parent's Choice Diapers at Walmart and giving you a chance to win prizes!
Having a 7 week old newborn, we go through many diapers a day. Each day is different but it is usually always in the double digits, for the amount of diaper changes we do. When looking for a great diaper,  I make sure it has a flexible fit, soft for the baby, and can handle all the wetness. The diapers also need to be comfortable and have good stretch.  Parent's Choice diapers at Walmart offer increased diaper absorbency and great value that can save you up to $240 per year! Interested in learning more about these great diapers?! Come join us!
RSVP for #BabyDiapersSavings Twitter Party

DATE: Tuesday, September 9th
TIME: 12:00 – 1:00 pm ET
PRIZES: 5 – (1) $100 Walmart Gift Cards
EARLY BIRD PRIZE: 1 – $50 Walmart Gift Card
HOSTS: @formulamom, @dentistmel, @littlemamajama, @Mammamoiselle,@JManMillerBug
RULES:#BabyDiapersSavings Twitter Party Official Rules
RSVP & PARTY GRID: #BabyDiapersSavings Twitter Party Page
TWEET TO SHARE:
Join #BabyDiapersSavings Twitter Party 9/9 12pm ET. Great value! Prizes $550! RSVP/Rules http://t.co/Zs9kDzu7rd #shop #cbias

— melissa weintraub (@dentistmel) August 27, 2014
How To Participate In A Twitter Party on SoFabChats!
TIP: How to join a Twitter Party – sign in! Before party starts, click on the green "Sign In On Twitter" bar at the top of the page!
TIP: Who to follow at a Twitter Party? Follow the Party Team by clicking on the Twitter handle links on the RSVP page!
TIP: Want to win Twitter Party prizes? RSVP by clicking on RSVP button before you join the party, follow everyone on the Party Team, and tweet with the party hashtag during the party to be eligible!
TIP: How to win the Early Bird prize? Watch for chance to share a tweet when you RSVP for chance to win!
TIP: Special deals and brand coupons? Keep that options checked when you RSVP for the party!
TIP: New to Twitter parties? Watch your column and Party Team tweet columns – they are slower paced and easier to follow!
TIP: Where to find Twitter Parties? Check out the SoFabChats Twitter Party Calendar to find more fun parties to attend!
Find more helpful Twitter Party Tips on SoFabChats!