**I participated in an Ambassador Activation on behalf of Mom Central Consulting for Banana Boat® Sun Care. I received product samples to facilitate my review and a promotional item to thank me for participating.**
This summer has been off to an awesome start. Besides welcoming Baby Taylor into our family on July 7th, the weather has been absolutely beautiful. I think us Rhode Islanders deserve it because the winter we had was absolutely horrible. However, those days are long passed and we can now enjoy the summer and all that it has to offer. One way we do this is by venturing outside every single day it is sunny. Even with a newborn, I have two other kids who want to go to the beach, the pool, or simply play in our backyard. Due to them constantly being outside, I have to make sure they, along with my husband and I,  have the proper sun protection to get us through the summer days.
I decided to list some tips about having proper sun protection to help you all out when you plan your next venture outside!
TIPS FOR SAFE AND PROPER SUN PROTECTION:
1. Make sure kids and adults alike wear clothes that are sun safe. A lot of the kids bathing suits these days have UV protection (Ultraviolet Protection Factor is the ingredient) that can help guard against harmful sun rays. I tend to buy these swim suits and rash guards that offer my kids additional sun protection, as they can spend hours in the brutal sun. Also, it is better if they are fully covered with long sleeve shirts to prevent against accidental burns.
2. If you plan to go to the beach or pool, make sure you seek out the shaded areas. As a mom, I know I want to work on my tan but it is important I make sure we are all sun-safe. I always rent an umbrella when we go to the beach, so we have shade against the sun. There is nothing advantageous about spending hours upon hours in the sun. Make sure you know where the shaded areas areas are and prepare yourself to spend time in the shade.
3. Sunglasses and hats are an absolute must! Even the youngest kids need to wear hats. Here Taylor is at 2 weeks old and I made sure to bring her hat. If I could find sunglasses to fit her, she would be wearing them as well!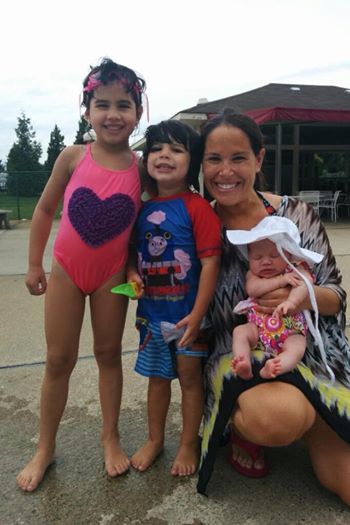 4. SUNSCREEN..SUNSCREEN..SUNSCREEN!! I think you get the point- you must wear SUNSCREEN at all times. Make sure you put on sunscreen each morning and continue to re-apply throughout the day. You might think you can't get a burn by going out later in the day, but you are wrong. Those harmful UV rays are still out and will cause havoc! Even if you are just having your kids play outside for a short period of time, you have to make sure they put on sunscreen.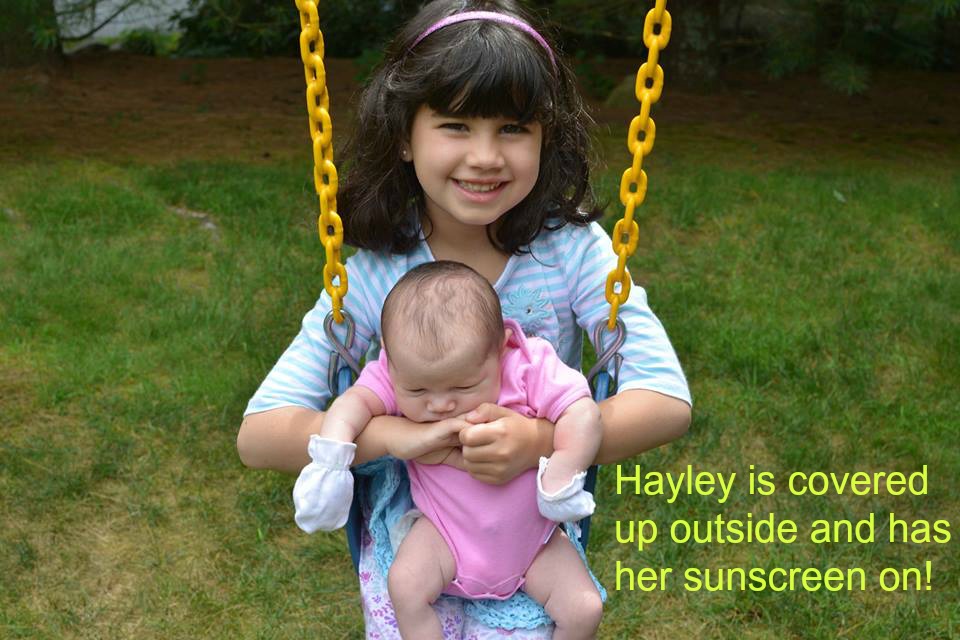 My sunscreen of choice is Banana Boat for my entire family. They have so many wonderful Banana Boat products including lotions and sprays for my family. As a parent, I love the Banana Boat Protect and Hydrate UVA/UVB Sunscreen and Moisturizer. It contains Aloe Vera and Antioxidants, to provide a lasting moisture and protection against the sun. Best part is the formula is non greasy and water resistant up to 80 minutes. The kids also love the UVA/UVB Protection Spray that offers a Broad Spectrum SPF 50+. We can't forget that Banana Boat has a Men's Line, because it is just as important to keep dad or husband's skin clear of those harmful sun rays.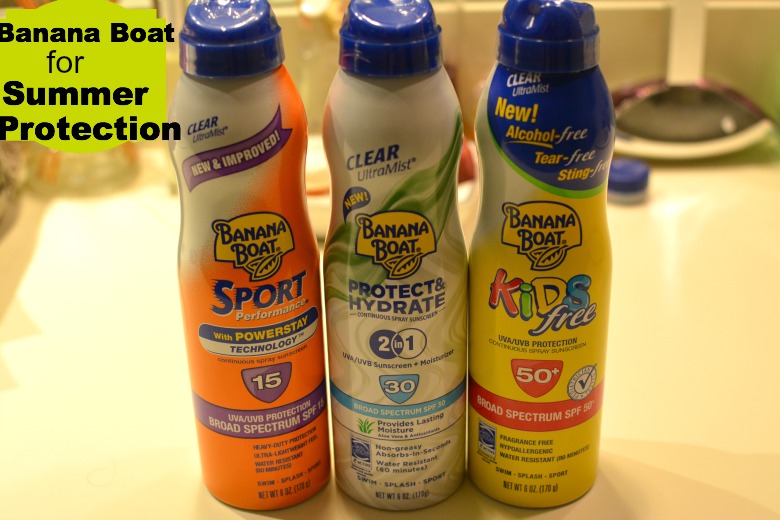 One of my all time favorite Banana Boat products is the Banana Boat Sport Performance with Powerstay Technology. This is a UVA/UVB protection spray sunscreen that offers protection with SPF 15, 30, 50+, and 100. It provides heavy-duty protection, an ultra-lightweight feel, and is water resistant for up to 80 minutes. I am extremely active outdoors and one of my favorite activities in the summer is to get on the tennis courts. This year I am not playing USTA tennis because I just had a baby, but I am still going back to the courts in the scorching heat. I love this sunscreen for the fact that I can stay active and know I am protected against the sun. There is nothing better to be able to sweat but know you are safe from the sun's rays with the heavy-duty protections sunscreen that allows your skin to breathe with a lightweight feel.
Here is more information about he Banana Boat Sport Performance: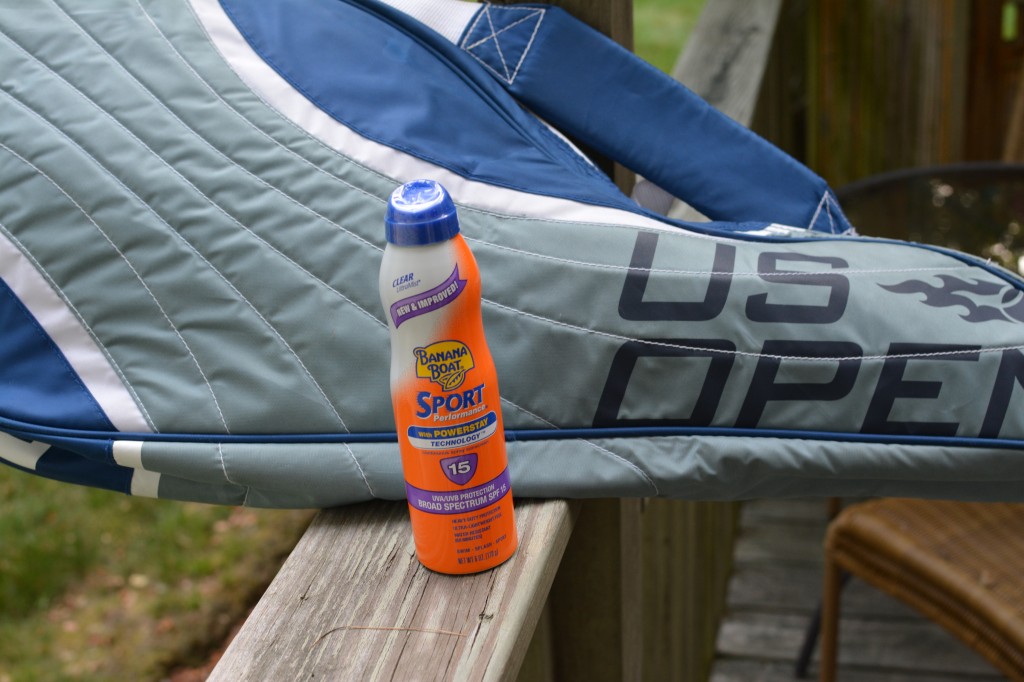 The new Banana Boat Sport Performance Clear UltraMist Sunscreen with Powerstay TechnologyTM,was specifically designed for the sport enthusiast and active individual who doesn't want to be slowed down while out in the sun. Powerstay TechnologyTM is the brand's latest innovation, which helps sunscreen stay on strong throughout all outdoor activities. This new formula has been designed to provide better application aesthetics, including a light-weight feel compared to the original formula, as consumers continue to seek products that feel good on their skin.
Do not forget about the awesome sweepstakes that is going on now! Banana Boat sunscreen is teaming up with actress and mother of two, Busy Philipps, to bring moms and their families the tips, tools and fun prizes they need to have the Best Summer Ever! Visit  the Banana Boat Facebook Page to learn more about the Best Summer Ever Sweepstakes.  You can win some great summer fun prizes, including the grand prize – a family trip to a Treehouse Resort.The Sweepstakes ends on July 31 so you do want to hurry!