*This is a sponsored post with Mom it Forward Blogging Network and Purell. All opinions are my own and not swayed by outside sources.*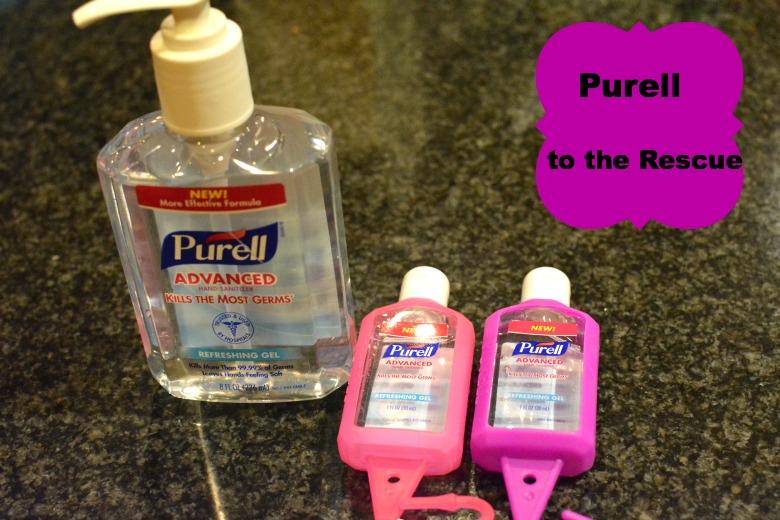 9 days ago, we welcomed Baby Taylor into our lives. She is an unbelievable baby and I really adapted well to life with three kids. My only problem is, my kids constantly love to touch and snuggle her, just like mommy does. While this is fine, they are 3 and almost 6, and they tend to have dirty hands all the time. Between eating constantly and playing outside, I fear all the germs on their hands. Then they come into the house and begin touching her. However, I quickly learned my lesson and now store PURELL in just about every facet all over my house. I have been a fanatic of PURELL long before my kids were born, but with newborn babies, I am totally obsessed with PURELL. You should see my house-we probably have around 15 PURELL bottles all over! Yes I am totally PURELL obsessed but with great reason!
While I try to get them to wash their hands every time they come inside, it is just not feasible at times. This is specially true on those days we are out and about, and there is no water washing to be seen. This never is a problem anymore since I keep the PURELL 1 oz. JELLY WRAP carriers always hanging from my diaper bag. Now I don't even need to fetch in my diaper bag to get the PURELL- it is simply hanging from my diaper bag. Ingenious if you ask me! So, when soap and water are not available, use an alcohol-based hand sanitizer, like PURELL, that contains as least 60% alcohol. If hands are visibly dirty, it's always best to clean them with soap and water, but the new PURELL Advanced Sanitizing Wipes can now help remove dirt and eliminate germs.  I love how they are making PURELL in so many different forms including the awesome 8 fl. oz pump, the 2 fl oz. personal pump, the 1 fl oz. Jelly Wrap Carrier, and the 15- Count Sanitizing Wipes.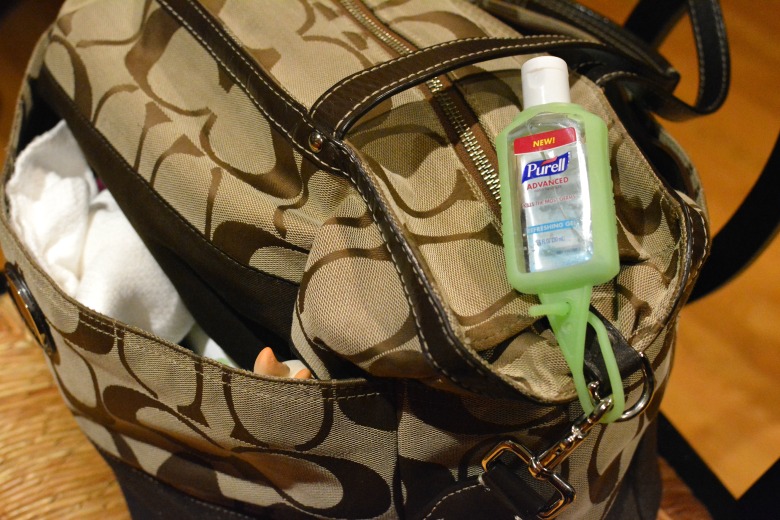 Scientific outcome studies provide evidence that hand hygiene, including the use of an alcohol-based hand sanitizer like PURELL, reduces our risk of getting sick. I find this very true in that my kids are hardly getting sick as much as they were, prior to using PURELL. I might be PURELL obsessed but it is with good reason. If I can keep them from picking up dirty germs and keep their baby sister healthy, it is a win-win for me! It is also very easy for them to use the PURELL pump themselves and they are in a regular routine of putting on PURELL anytime they eat or go outside. It is also interesting to note the following fact: A recent study conducted by the makers of PURELL demonstrated that the use of an alcohol-based hand sanitizer can significantly reduce the transfer of a virus to the hands, and prevent germ transfer via commonly touched surfaces within the household.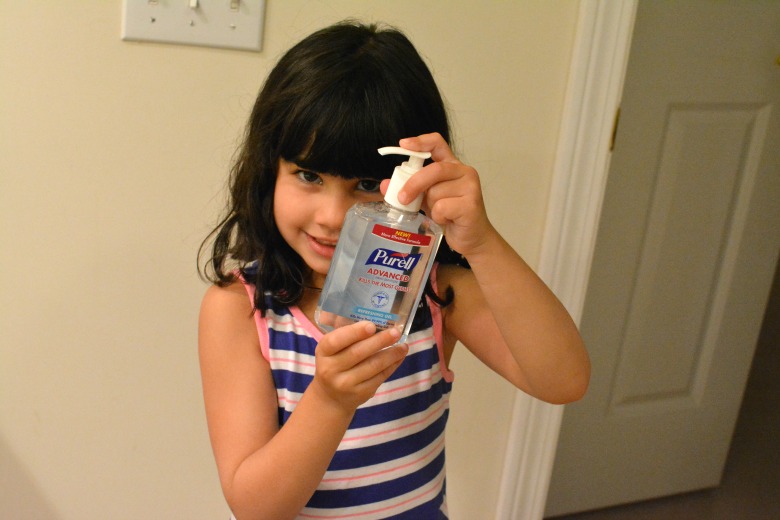 Now, I have really exciting news and I am sure you will all be interested in this too. This month, I am taking the PURELL Advanced 30-Day Challenge.  The PURELL Advanced 30-Day Challenge is your chance to stay healthy, win prizes and be creative! Every day, there is a new challenge to complete. For every challenge you tackle, you will receive an entry into a promotion where you can win great prizes. The more challenges you complete, the more chances you have to win!
How It Works
On Monday, July 14, visit www.facebook.com/PURELL or www.purell.com/30daychallenge to register for the promotion
Download the list of challenges and get the entire family involved
Check back every day to complete another challenge and view the Gallery
Share the promotion with friends via e-mail, Facebook, Twitter, Pinterest and Google+ for even more chances to win
You will receive:
1 entry when you register for the promotion
1 entry for every friend who registers for the promotion (limit 10 entries)
1 entry each time you visit the PURELL Advanced 30-Day Challenge page on Facebook or at www.purell.com/30daychallenge (one visit per day)
5 entries for videos, 2 entries for photos and 1 entry per story read
30 Days of Challenges
Here are just a few examples of the daily challenges:
Upload a picture of a PURELL Advanced hand sanitizer bottle you decorated
Post a video of yourself using PURELL Advanced hand sanitizer at a summer barbeque
Give us your two SCENTS or more – show us your collection of your favorite PURELL Advanced scented JELLY WRAPTM Carrier products
You Could Win
63 Daily winners will receive PURELL Advanced products
8 Weekly winners will receive a $100 Visa gift card
30 Grand Prize winners will receive a Healthy Family Prize Pack, including a variety of fun, healthy-habit forming gifts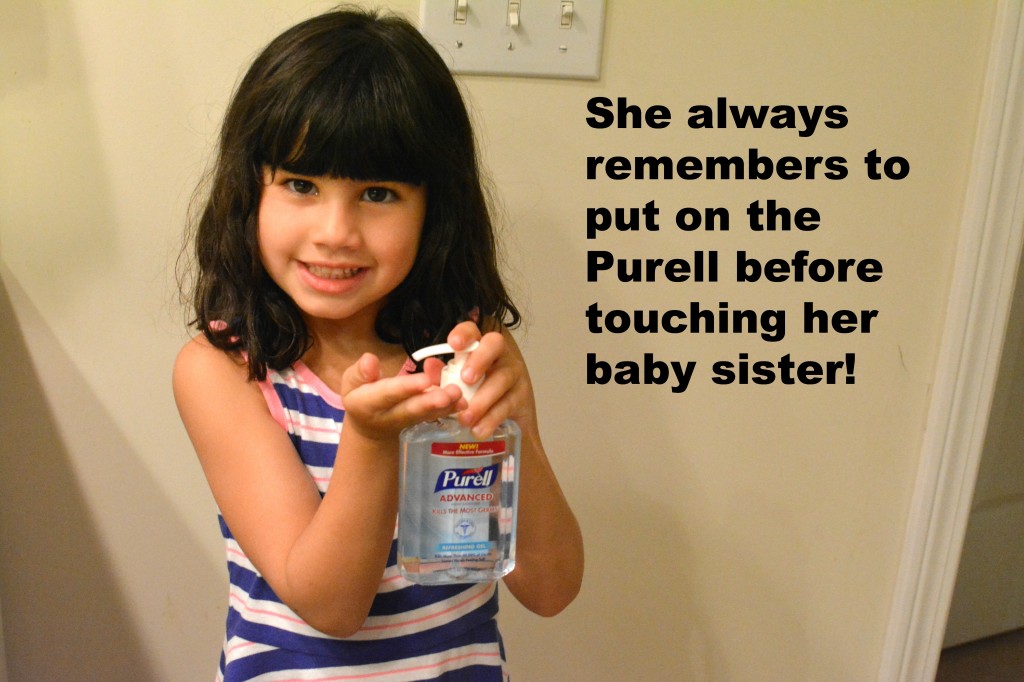 To learn more about PURELL, the 30-Day Challenge, and their amazing products, visit them on their website, Facebook, Twitter, and Pinterest Page! Don't forget that According to the Centers for Disease Control and Prevention, and other leading health organizations, proper hand hygiene is one of the most important preventative measures you can take to reduce your risk of illness and infection!
So, are we all ready to take the #PURELL30 Challenge?! Let's rock it!