Happy 3 day weekend!! I hope you all have a fantastic weekend with whatever you do. As always, come link up any cute or funny post. Definitely check out the other blogs who link up as they all provide a great laugh. Feel free to take my button or share on social media, although this is not necessary.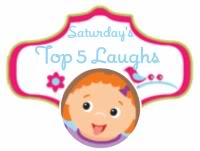 My top five laughs:
5. I let Hayley feel my belly this week and she responded, "Mommy…It is like you have a ball in there…It is so hard!" Basically Hayley..basically!
4. Zane told Hayley that while he is excited for his little sister arrival but when she is born, we will not bring her home but leave her in the hospital forever. The boy is going to be surprised when there is a new addition in our house soon!
3. Hayley told Zane he is going to be a big brother. He responded, "No Hayley…I am the baby!" Another reason I am worried, haha!
2. Zane is obsessed with broccoli but if it has the least bit of cheese near it, he will not eat it. The boy is weird in that manner. I told him that I was making him broccoli if he eats his whole meal. Seriously broccoli is a motivator to get him to eat. He is a strange one!
1. In the morning, with Zane being a toddler bed now, they play together before they come get me. This morning they were both up at 7 and the rule is they can come in my room at 7:30. At 7:15, Zane knocked on my door and I hear Hayley say, "Zane…Mommy needs her beauty sleep!" Where does she learn this?!
Now your laughs: