*I am a Kolcraft blog ambassador. All my opinions are my own and not swayed by outside sources.*
7 weeks from today and Baby Girl is making her debut! It is so crazy to think about but also so exciting!! If you know me, you know that I am a huge fan of baby wearing. I wore both Hayley and Zane until about 2 years old. For me, it was a very comfortable option to feed, play, and allow the baby to sleep on me, all while getting stuff done around the house.  I was so excited for this reason to receive the 2-in-1 MLB Baby Carrier!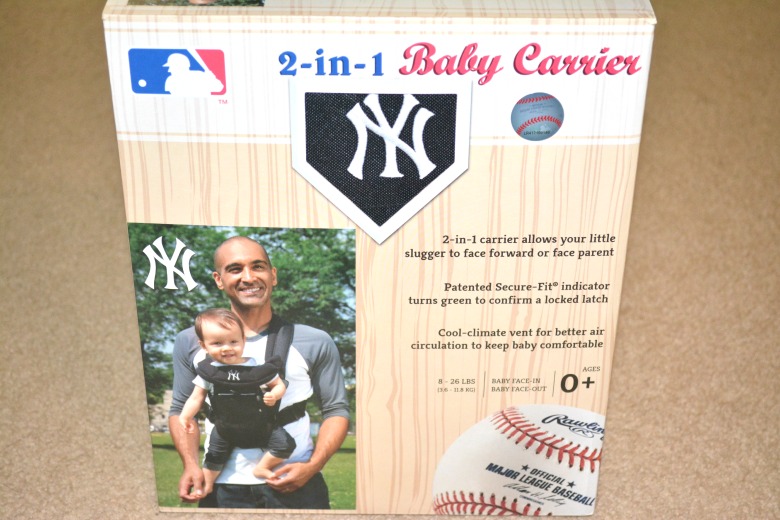 Baseball season is a huge everyday part of our lives and what better to watch the games, then have our future little girl hanging out in her very own Yankees baby carrier. This is the ideal 2-in-1 baby carrier that allows your little slugger to face forward or face you, depending on your and their comfort level. It features a patented secure fit indicator that turns green to assure that you have a confirmed latch, and never have fear that the baby is not securely held. It also allows for a cool feature by having a cool-climate vent for better air circulation.
I am a huge fan of wearing the baby toward me when they are young, and this carrier allows me to do just that. Once she gets older, I can turn her around to see the world and expose her to all our favorite places and spaces, including a Yankees Vs. Red Sox game! Go Yankees! With this carrier, you can fit babies from 8 pound all the way to 26 pounds, so you will have much use with it! You are also able to take the baby in and out easily with buckles that form fit and self-adjusting straps that require no assistance to put on.
The baby will be comfortable in the carrier with the extra-wide padded shoulder straps that help distribute the babies weight. By having comfortable straps, you will not feel any unnecessary pull on your own back or shoulders. Once they get bigger, they will not be held too tightly in, as the leg opening and carrier seat are able to be easily adjusted.
This baby wearing carrier is simply amazing and I can't wait to Baby Girl comes to actually put her in it, rather than practicing with my daughter's American Girl doll:) It is available in the following teams: Cardinals, Giants, Cubs, and  Yankees. It is priced at $69.99 which is a fantastic price for a great baby carrier! Be sure to check it out today if you are looking for a baby carrier!