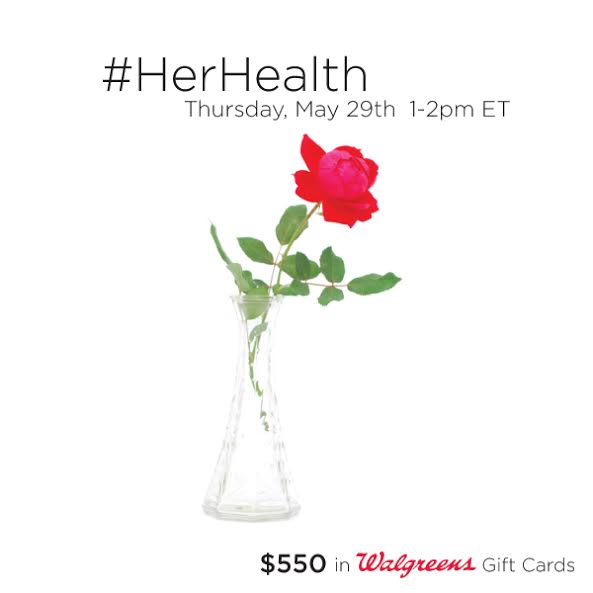 Do you love a good Twitter Party?  You know we do and we're so excited to host a party that is talking about Women's Health Month!   On  Thursday May 29 at 1 pm ET, please join us for the  #HerHealth Twitter Party  where we'll be discussing  available health resources at Walgreens and giving you a chance to win prizes!
I honestly had no idea that May was Women's Health Month. Being an active person who tries to eat healthy, I am very interested to learn about products at Walgreens and strategies to help make living a healthy life a great option. Walgreens has a vast array of all the right products and solutions for Women's Health. Some of the available options include the Steps and Healthy Choice programs, as well as certain stores having Health Guides that help shoppers navigate the aisles and different products. Please join us for a great twitter party on 5/29 where we will be discussing how Walgreens simplifies the Health and Wellness space for women, and highlighting solutions available at Walgreens that contribute to women's  Health and Wellness journey, both short and long term.
Join me and RSVP for the #HerHealth  Twitter Party on SoFabChats!
DATE:  Thursday, May 29, 2014
TIME:  1 -2 pm ET
PRIZES: 5 – $100 Walgreens Gift Cards
EARLY BIRD: 1 – $50 Walgreens Gift Card
HOST: @dentistmel

CO HOSTS: @agirlsgottaspa, @Miscfinds4u, @Mammamoiselle
 RULES: #HerHealth Twitter Party Rules Page
RSVP & Party Grid: #HerHealth Twitter Party Page
Join #HerHealth Twitter Party 5/29 1pm ET. Prizes $550! Rules http://t.co/nt9RtOXRjR #shop #cbias

— melissa weintraub (@dentistmel) May 19, 2014
How To Participate In A Twitter Party on SoFabChats!
TIP:  How to join a Twitter Party – sign in! Before party starts, click on the green "Sign In On Twitter" bar at the top of the page!
TIP: Who to follow at a Twitter Party? Follow the Party Team by clicking on the Twitter handle links on the RSVP page!
TIP: Want to win Twitter Party prizes? RSVP by clicking on RSVP button before you join the party, follow everyone on the Party Team, and tweet with the party hashtag during the party to be eligible!
TIP: How to win the Early Bird prize? Watch for chance to share a tweet when you RSVP for chance to win!
TIP: Special deals and brand coupons? Keep that options checked when you RSVP for the party!
TIP: New to Twitter parties? Watch your column and Party Team tweet columns – they are slower paced and easier to follow!
TIP: Where to find Twitter Parties? Check out the SoFabChats Twitter Party Calendar to find more fun parties to attend!
Find more helpful Twitter Party Tips on SoFabChats!