This is a Sponsored post written by me on behalf of Gulf County, Florida for SocialSpark. All opinions are 100% mine.
My parents just moved to Florida about 6 months ago and it has been a fun family trip for us over the last couple of months. Recently they introduced me to the Gulf County, which is about an hour from their house. The Gulf County in Florida is a true hidden jewel but one that you do not want to miss out on visiting. The Gulf County boosts over 43 miles of natural shoreline with so many family activities for each member of your family.
So I know what you are thinking- Tell me why the Gulf County is a premiere Floridian destination for my family? First off and this goes wtithout saying, it is gorgeous. You will get some of the best beach views surrounded by beautiful sand, and stunning palm trees. Florida itself is gorgeous but the Gulf County part takes it to a different level. Next, they have so many activities for the whole family including water and outdoor activities. Some of things you can do at the Gulf County coast is take an RV adventure through their many local campgrounds to start. They give you a list of the pristine locations for your family to visit and have fun.
Next you can cruise the coast by car or even go horseback riding on their main shores. Horseback riding on the Gulf Country coast is something my family is really looking forward to doing. They also have a vast array of biking and walking trails, to get in your daily exercise and see beautiful landmarks simultaneously. If your kids are into shells, they have some of the most eclectic shells to pick from on their coastlines.
They also have many water activites such as saltwater fishing, freshwater fishing, scalloping, snorkeling, diving, kayaking, and more. Basically if your family is into water sports, you do not want to miss visiting the Gulf County. Once you are done with your fun filled days, they have some great restaurants with the freshest fish to check out and explore. Oh, and don't forget the shopping to be had!
I truly can't wait to try some of their awesome landmarks on the Gulf County coast including Port St. Joe, Indian Pass, Cape San Blas, The Beaches, and more. I envision a day of beauty and a night of fun when I think of the Gulf County. It will be a destination to keep my whole famly busy and very happy. With two time zones, only two stoplights, and spotty Wi-Fi, their beautiful beaches allow you to unplug and connect to those most important to you- your family!
Now, they have a great #GCFLnofilter contest going on now to get you all in the mood to visit the Gulf County in Florida. At GCFL they want you look beautiful inside and out, and enjoy what you are doing! They salute everyone who stands up for "true" beauty and want you to celebrate the realness in GCFL.
In honor of this, and because #GCFLnofilter is the kind of place that lets you do what you love to do and not worry about how you look, starting Thursday, March 13th, GCFL will launch their Spring promotion – #GCFLnofilter through Instagram. Like GCFL on Facebook and salute real beauty!
Contest Details:
1.    Get outside. Snap a picture while doing what you love. Be real. Be messy. The sweatier the more beautiful.
2.    Post your picture to Instagram.
3.    Tag it #GCFLnofilter and tell us, @gulfcountyfl, what you're doing in your shot
4.    That's it. You will be automatically entered to win a free Spring getaway to Gulf County.
What Will Gulf County do?
For 30 days, we will celebrate you "unfiltered!" – the real you – people looking beautiful in their "action" selfies.
We will be posting great shots on our Facebook page and congratulating people for being beautiful, strong, confident, happy, etc.
We will pin pictures of great outdoor passions to our #GCFLnofilter Pinterest board and give recommendations on where everyone might enjoy that passion in GCFL.  Our locals and loyal visitors will chime in building suggestions around what makes people feel beautiful. In the end, we will have a board that not only highlights "things to do" but is a living testimony for how they make you feel.
GCFL Means Business:
Being active. Breathing in the fresh air. Getting lost in the moment.  Feeling proud.
These things are so important that Gulf County is going to put our money where our mouth is.
For every entry GCFL receives, we will donate $1 to Outdoor Nation – up to a final donation of $5,000! Outdoor Nation believes in reconnecting the Millennial Generation to the outdoors.  Our health, the health of our communities, and the health of our planet depend on it.  They believe in the same things as we do. See below:
"We stand for nature and we stand for adventure. We stand for climbing, hiking, surfing, and singing. We stand for dirt under our fingernails and sand between our toes. We believe in the power and passion of the Millennial Generation, and we stand for whatever you stand for. We are artists. We are activists. We are explorers, dreamers, students and teachers. We are Outdoor Nation. And we want to help you change the world."
https://www.facebook.com/OutdoorNation
http://blog.outdoornation.org/
Contest Prizes:
Five long-weekend Spring getaways to Gulf County will be given out at random. GCFL will draw a new winner every week and one extra upon conclusion of the sweepstakes.  We will provide great lodging in some unique places along the Gulf, St. Joseph Bay or in the cute small town of Port St. Joe. Perfect spots to enjoy your favorite outdoor activity. Each prize package will also include $200 to help with travel expenses and $150 towards your passion of choice.  Feel free to spend it on an excursion once you get to Gulf County or to treat yourself to something at home. All to celebrate the outdoors and the real you!
How great does this contest sound?
Here is my selfie participating in my love of running: http://instagram.com/p/mcwnF7yZkL/.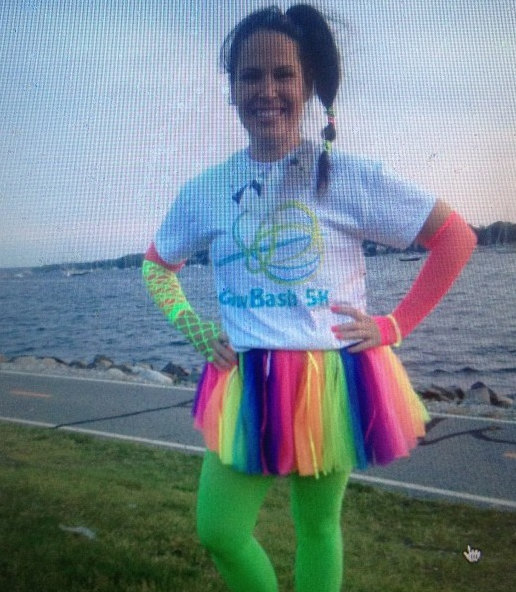 Here I was running a  5K in the beautiful Spring weather last year.  I will be running my next 5K next weekend at 28 weeks pregnant! It would be great to go to the Gulf County to run a race or perhaps just even run across the beautiful beaches.
For every contest entry, GCFL will donate $1 to Outdoor Nation, a movement to connect kids and teens back to the outdoors.
What would your favorite thing at GCFL to do be? Come visit GCFL today!