*I participated in an Influencer Program on behalf of Mom Central for TCF Bank. I received a promotional item to thank me for participating.*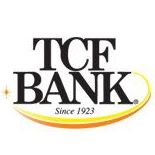 I consider myself to be pretty fiscally knowledgeable. I mean I have been making a living since Dental School in a sound career as a dentist, as well as a blogger, and taking care of personal, and now family finances for what feel like already a long time. Therefore, I was surprised that I had a few things to learn when I took a quiz on financial literacy! It turns out April is Financial Literacy Month and the TCF Bank based in Minnesota has created a fun quiz to take to see how financially literate you are. I thought I was really financially literate until the quiz proved otherwise. However, I am grateful for the quiz, because it allowed me the necessary information to make a change.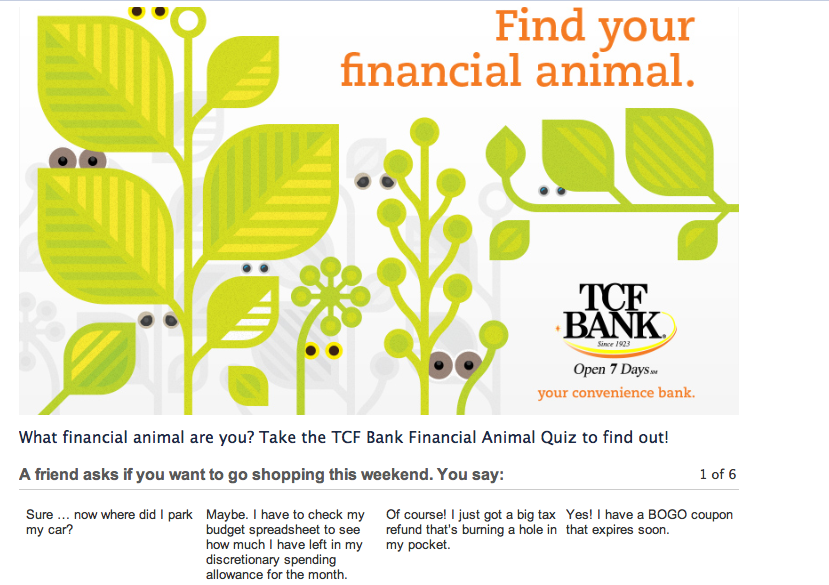 They urge you to find your "
financial animal
", and it turns out I may be a peacock! I am joking, but I did learn that I need to pull my head out of the ground to look more closely at some of my financial assumptions.  I tend to splurge on things and realize that this needs to stop, for our financial security now and forever. Sure, I definitely save money (that is important to our family) but I am also a splurger. This is going to stop today and I am definitely going to make adjustments to our current spending situation.
The funny thing is that my husband and I have totally different financial personalities and while we conflict on our habits sometimes, like every couple, we both took the quiz, and we both had a few things we could learn! It was almost a "aha" moment for him. He always seems to think he knows everything on our finances but this proves, that he has things to learn too! I am not alone!
We know that understanding our finances will allows to best plan and prepare for our future, so it was good to see the things we need to look into to get things right. Dealing with our own student loans before we have to start thinking about our  kids higher education expenses is where we need to begin. While saving for the kids is very important, we both still have the dreaded loans to think about to be fiscally sound. I can't wait till we are all loan free! That will be the biggest day of celebration.
TCF Bank's Financial Literacy Resource Center aims to equip you with practical and impartial information about money management.  The TCF Bank Financial Learning Center makes use of unique technology that incorporates video, animations, gaming and social networking to simplify complex financial concepts.  At TCF, they offer a large amount of account resources such as deposit rates by state, routing information, avoiding overdraft, and more!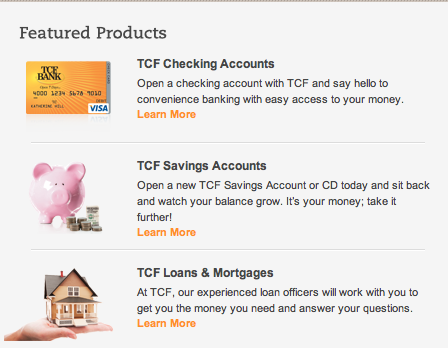 We understand that Money management takes time and effort, and are grateful for the wake up call early on in our financial planning. My husband and I plan to sit down and see where we can make some changes with our money management. We want to be fiscally sound for a long time and it starts today, and with the help of TCF!  Now we feel like we know the things we need to focus on to make sure we are on the right track for our future.
How Financially literate do you think you are? You should take the quiz and find out!