A couple of months ago, Hayley waited anxiously for Sofia the First- The Floating Palace to come on television. I remember my husband set her calendar to reflect the day it was going to come on. Both of my kids sat through it and kept asking for more and more Sofia the First- The Floating Palace. Since they both love Sofia, they immensely enjoyed this movie that featured all their favorites. Now this great hit is available on DVD and you will want to pick it up for your children today!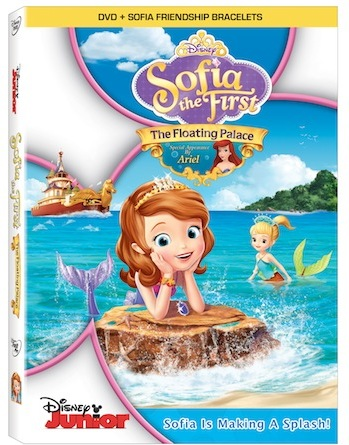 Witness her transform into a mermaid to help save her new mermaid friends from danger and be on the look out for Princess Ariel's cameo. The DVD includes three bonus episodes and FREE exclusive friendship bracelets!  Oh and the bracelets are so cool- Hayley never wants to take them off!
 Synopsis:                                 Do YOU believe in mermaids? You will – when you set sail on a magical full-length adventure under the sea with Sofia the First! After Sofia helps a young mermaid named Oona, Sofia's amulet grants her the power to transform into a mermaid and visit her new friend's secret underwater kingdom. But when Cedric (disguised as a sea monster) plots to steal Oona's enchanted Mermaid Comb, danger surfaces for both worlds. With a little help from special guest, Princess Ariel, Sofia embarks on an adventure to rescue Oona. Overflowing with oceans of song-filled fun – plus three more exciting episodes – Sofia the First: The Floating Palace proves that when families and friends work together, they can weather any storm and save the day!
 Background:                          Disney Junior's "Sofia the First," which follows the adventures of Disney's first little girl princess, Sofia, who is learning how to adjust to royal life after her mom marries the king, is the #1 TV series with Girls 2-5.* The November 24, 2013  premiere of "Sofia the First: The Floating Palace" became the #2 telecast in cable TV history in Kids 2-5 and Girls 2-5, and the #2 preschool cable TV telecast ever in Total Viewers and Women 18-49, behind only "Sofia the First: Once Upon a Princess." **
Talent:                                      Ariel Winter (ABC TV's "Modern Family") as Sofia; Sara Ramirez (ABC TVs "Grey's Anatomy") as Queen Miranda; Wayne Brady (TV's "Let's Make A Deal") as Clover; and Tim Gunn (TV's "Project Runway") as Baileywick
The kids absolutely love this DVD and I thought it was one of the best Sofia's to be quite honest. The kids loved seeing Sofia turn into a mermaid and going to help out her friend. The idea of a floating palace was brilliant and the graphics in this DVD are second to none. I highly recommend picking up this DVD today! Who can resist mermaids?!
*I received an advanced copy of this DVD from Disney. All my opinions are my own and not swayed by outside sources.*