When I first heard about this #FirstRide cause, I was so excited. Expecting my third child in a few short weeks, this initiative is near and dear to my heart. To go home from the hospital with a reliable car seat in a safe car should be a something that every new parent should receive. Please continue reading about the "First Ride" event and check out the videos to learn more:
Three New York City area infants will be making their inaugural ride home in one of America's safest SUV/crossovers as part of Mitsubishi Motors' "First Ride" event – a program that focuses on creating awareness and educating parents on child safety.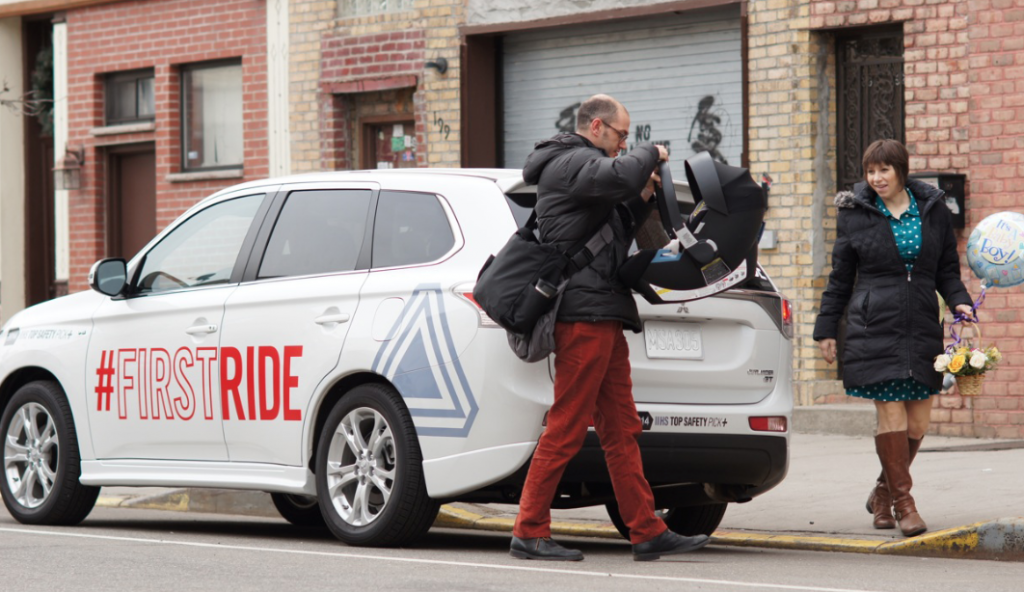 "Every day, thousands of newborns in New York City and around the nation leave hospitals in infant car seats and head home for the first, most important time," says Jessica Robinson, Engineer, Vehicle Verification and Testing at Mitsubishi Motors R&D of America, Inc. "However, most people don't realize that 73 percent of all child safety seats are not installed or used properly1 nor do they consider the safety of the actual car driving them home."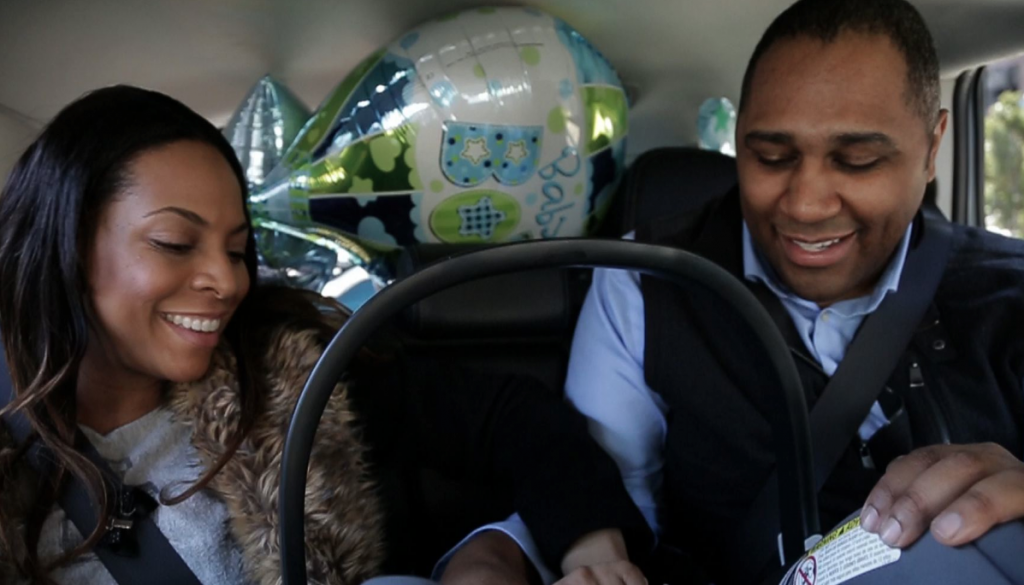 Instead of making the journey home through the streets of New York City in a taxi – an experience that does not legally require a car seat – the parents participating in Mitsubishi Motors' "First Ride" event opted for a ride home from the hospital with their new bundles of joy in a fully-equipped 2014 Mitsubishi Outlander – an Insurance Institute for Highway Safety (IIHS) highest-rated "Top Safety Pick+" vehicle piloted by professional drivers. Their touching personal stories have become a series of short web films that contrast the craziness of the streets of the big city, with the calm, precious moments shared between three newborns and their parents.
Click here for #FirstRide — The Most Important Ride of All overview film
(Film featuring each family below)
The all-new 2014 Mitsubishi Outlander was one of only four vehicles in the "Small SUV" category to receive the non-profit organization's highest "Top Safety Pick+" designation in its crash testing evaluations. This was due to an exemplary performance in the various stringent crash testing criteria as well as the Outlander's optional radar-based Forward Collision Mitigation (FCM)2  accident/impact reduction technology – a system that includes both audio and visual warnings to the driver as well as initiates automatic braking if necessary – and a requirement for a vehicle to receive the "plus" distinction from the IIHS for 2014 Top Safety Pick.
"When the all-new 2014 Mitsubishi Outlander was named an IIHS 'Top Safety Pick+' for the second year in a row, we were inspired to prove the benefits of riding in one of America's safest crossover vehicles in a critically important way," adds Robinson. "High vehicle safety ratings should be a priority – with or without children. And finally, a couple of extra minutes making sure you know how to properly install and use child safety seats could be a life saver."
Families looking to get expert help on installing child safety seats can find free inspection services at
With a starting MSRP of only $22,995, the 7-passenger 2014 Mitsubishi Outlander comes with many innovative standard safety features:
– Hill Start Assist (HSA)
– 7 air bags including driver's side knee air bag
– Active Stability Control (ASC) with Traction Control Logic (TCL)
– Patented Reinforced Impact Safety Evolution (RISE) energy-absorbing body/chassis safety cell technology
In addition to its included safety features, the all-new Mitsubishi Outlander is available with advanced high-tech safety systems including Lane Departure Warning (LDW), Adaptive Cruise Control (ACC) and Forward Collision Mitigation (FCM)2.
Meet the Families
The Poulin Family – Bumps in the Road (click link for web film)
Location: Brooklyn
Simeon and Janina were starting to look into fostering a child when Janina unexpectedly became pregnant. At six months, Janina became seriously ill and was admitted to the hospital, giving the couple the biggest scare of their lives. However, baby Poulin arrived healthy and happy eight days after Janina's due date – a remarkable story of how love can overcome many obstacles.
Family Facts:
– The couple first met in 2007 and began briefly dating, then went their separate ways;  they reconnected in 2008, married 3 1/2 years ago, and have been together ever since
– For their "babymoon" the couple traveled to Paris for a romantic getaway
The Ortiz Family – Becoming "Dad"
 (click link for web film)
Location: Bronx
The Ortiz Family was very nervous about having their first child. Carlos was raised in a single-parent household, so he is especially looking forward to giving his firstborn something he never had growing up – a father figure.
Family Facts:
– Carlos and Kristal first met 6 years ago when Carlos applied for a job at the restaurant where Kristal worked as a hostess
– Carlos and Kristal got engaged this past Fourth of July
– Both Carlos' and Kristal's grandparents were on hand at the hospital for baby Ortiz's birth 
The Arty Family – The Miracle Baby (click link for web film)
Location: Long Island
The Arty Family – over the course of three years – consulted with three different doctors, and new mom Jamie went through five surgeries, seven outpatient procedures and three in vitro fertilizations (IVF). Those were trying times…but the end result is truly priceless as along came Baby Arty. 
Family Facts:
– The couple first met 13 years ago in their freshman year at college while attending Hofstra University on Long Island  
– New dad Frantz accompanied Jamie to every one of her doctor's appointments for three years straight
 *This is a partnered post. All my opinions are my own and not swayed by outside sources.*