*I participated in an Ambassador program on behalf of Mom Central Consulting for Kohl's. I received Kohl's gift cards and sample pieces to facilitate my posts and as a thank you for participating.*
Look outside today and you will probably see a gorgeous day with the grass turning green and the flowers blooming. I don't know about you but when I see this, it signals that Spring has begun, which is one of my favorite seasons. In the Spring and Summer months I tend to dress mostly in dresses that could be versatile for a daytime or nighttime look. I was on the mission this past month to find that ideal dress I can wear to my baby shower, but use it again and again for other purposes as well. I really hate to buy a dress for one occasion, so I tend to find dresses that I can wear for multiple functions as well as a normal daytime look. For this reason, I went to Kohl's to purchase two dresses that I could dress up with various accessories and get me started on the perfect Spring look. To me, there is nothing like wearing dresses to be comfortable, cool, and fashionable in the Spring months.
When I went to Kohl's, I found a huge assortment of dresses for just about any occasion. I found dresses in the Jennifer Lopez, Elle, LC Lauren Conrad, Simply Vera Wang, Chaps, and Apt 9 line to name a few. What I love about the dresses I found at Kohl's is not only do all the designers keep up with the latest trends, but the dresses were extremely affordable! I have a hard time finding dresses that are both fashionable and affordable but at Kohl's this never seems to be a problem. They have so many different style of dresses including lace, maxi, high/low hem, and Fit and Flare dresses to name. I also love that I could find the traditional cocktail dress or can delve into many of the Spring colors such as coral or pink with the various designers at Kohl's.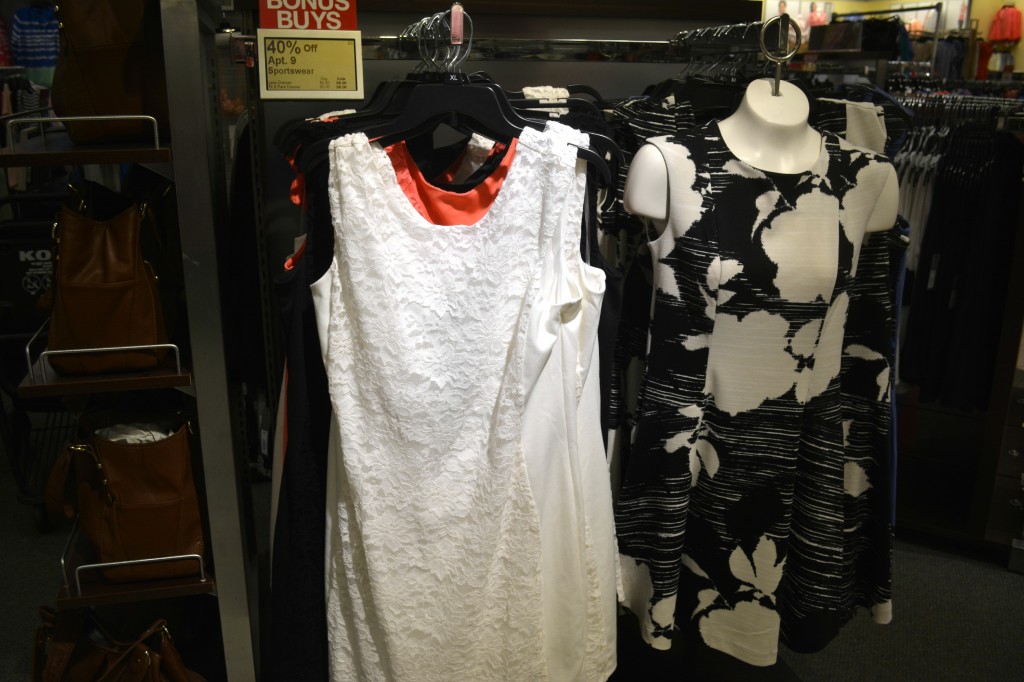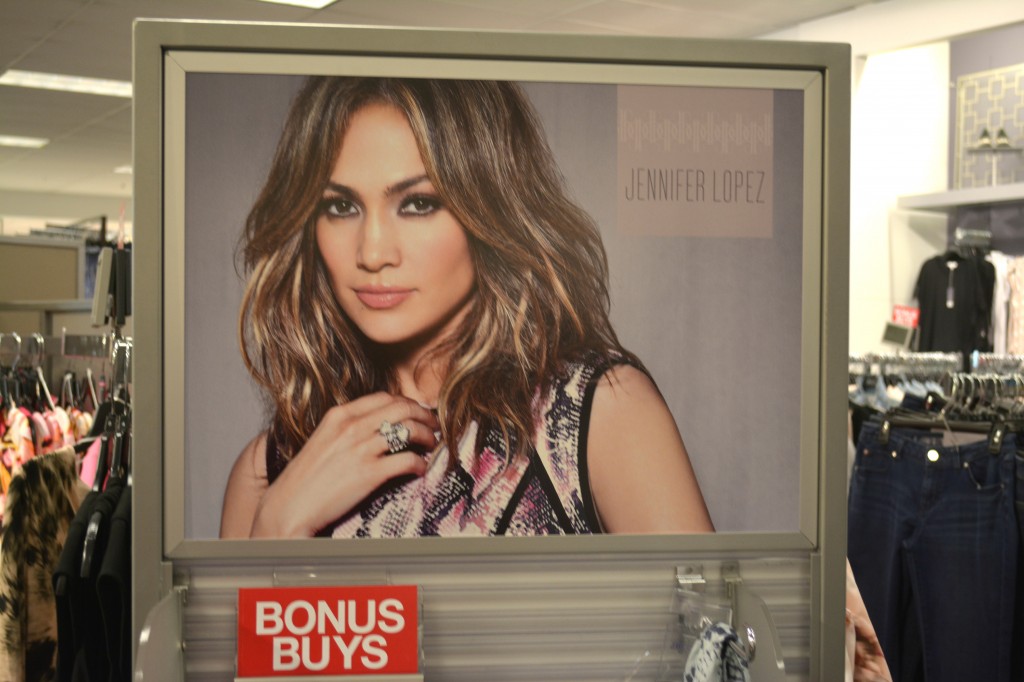 As hard it was to narrow down the dresses to two (I loved them all), I found two that I felt I could wear to my shower and have many uses for them well after. The first dress I bought was a beautiful coral dress Apt 9 dress with lace undertones. This dress fit me like a glove and I was able to dress it up, as well as dress it down, for various looks. I first tried the Apt 9 dress with Apt 9 coral/gold dangling earrings.  Paired with white heels, this made a look I could wear to my shower. Everyone will probably be looking at me that day so I wanted to see if I could dress it up for a more of an evening look.
Then I was able to use this same Apt 9 dress and pair it with black stilettos from Apt 9. The stilettos I bought from Kohl's are at least 5 inches high but I LOVE them. I was able to wear my same coral Apt 9 dress, with these gorgeous stilettos, and add a matching black tote. This is another option for a great nighttime look!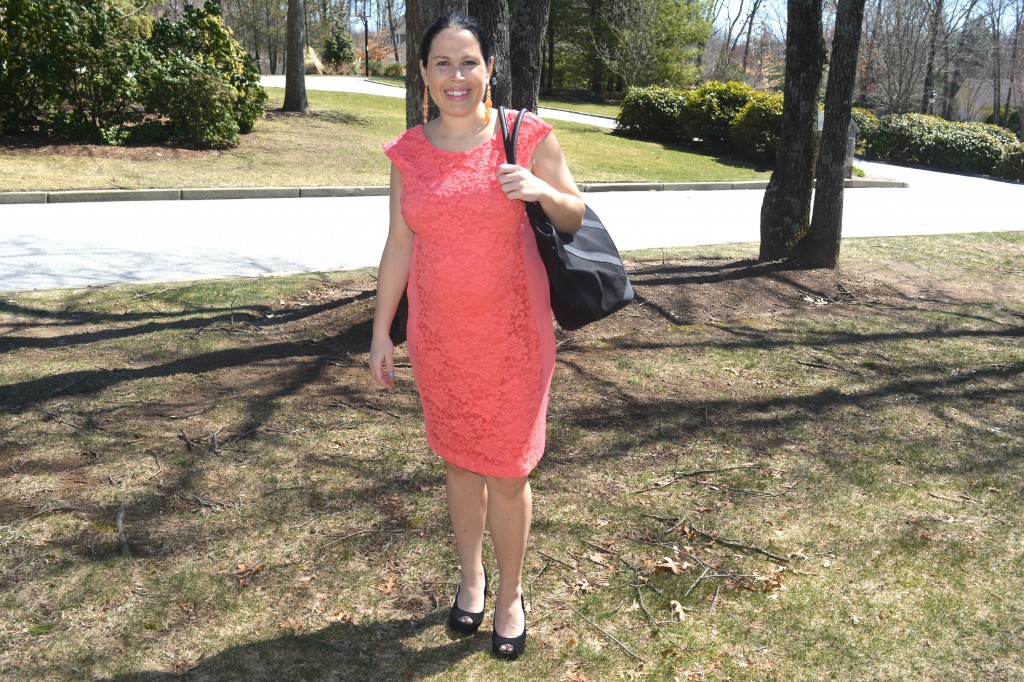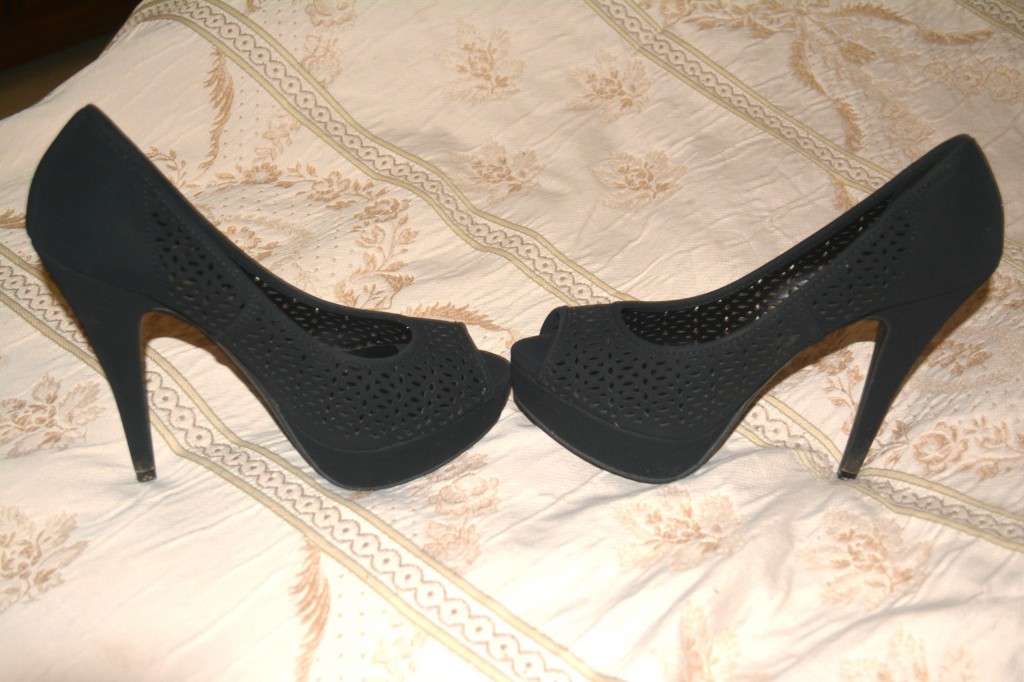 To make the look more casual, I paired the dress with a beige wedges and a matching beige jacket. This look can be for a more casual lunch or a walk to the beach with my kids. I loved how I was able to dress up or dress down the look of the dress by simply adding or taking away certain accessories.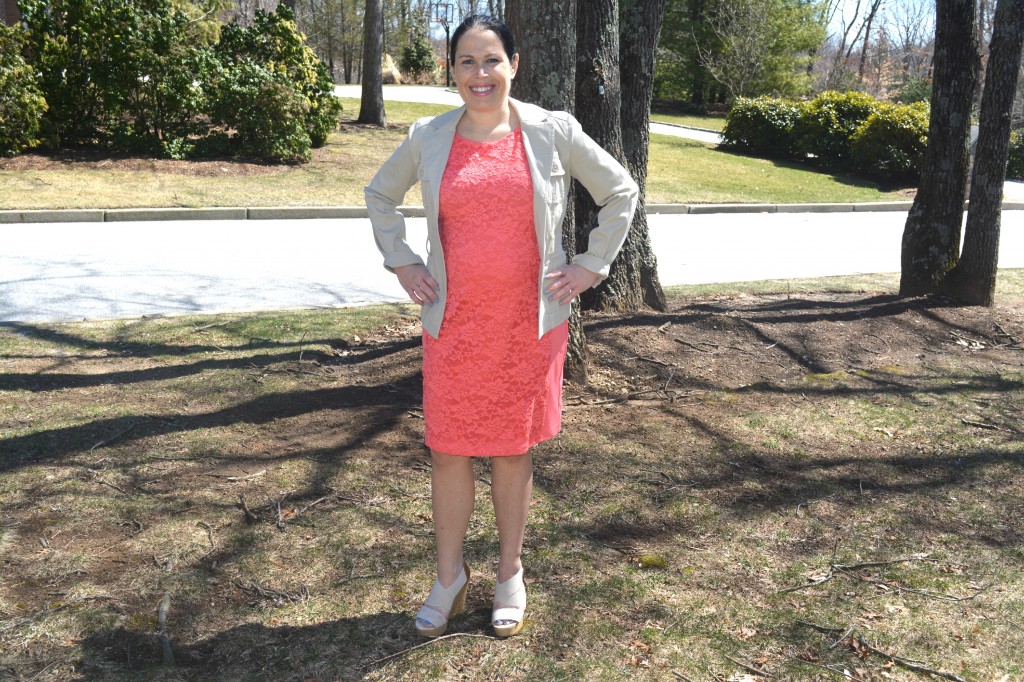 I also ended up buying a beautiful Elle dress at Kohl's that made my 27 week belly look really great! This cotton dress is another example of one of the many dresses at Kohl's that you can style certain ways. As this could be another option for a shower dress, I first paired this pleated (and extremely comfortable) dress with the same Apt 9 stilettos that I showed previously. I also added a pop of gold with this Apt. 9 chain necklace for a fancier look.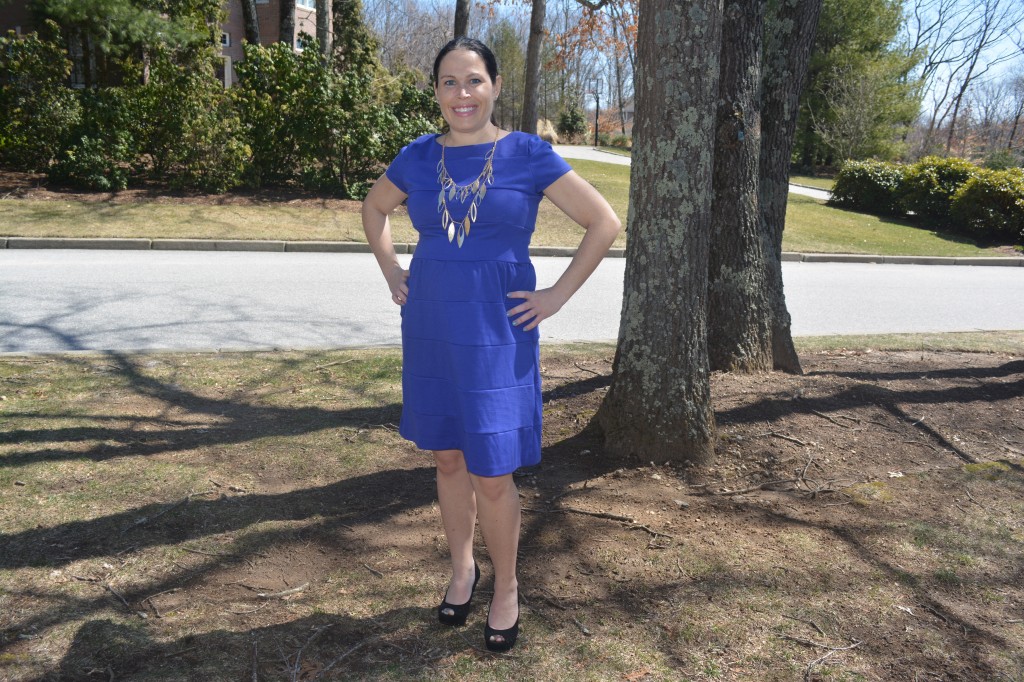 Next I changed up the style by wearing this fabulous blue Elle dress with a pair of black flats. This look can be for a daytime or nighttime look depending on what accessories you add to it. I like it for a more daytime look with a nice denim jacket paired with it. It is perfect for a beautiful Spring day.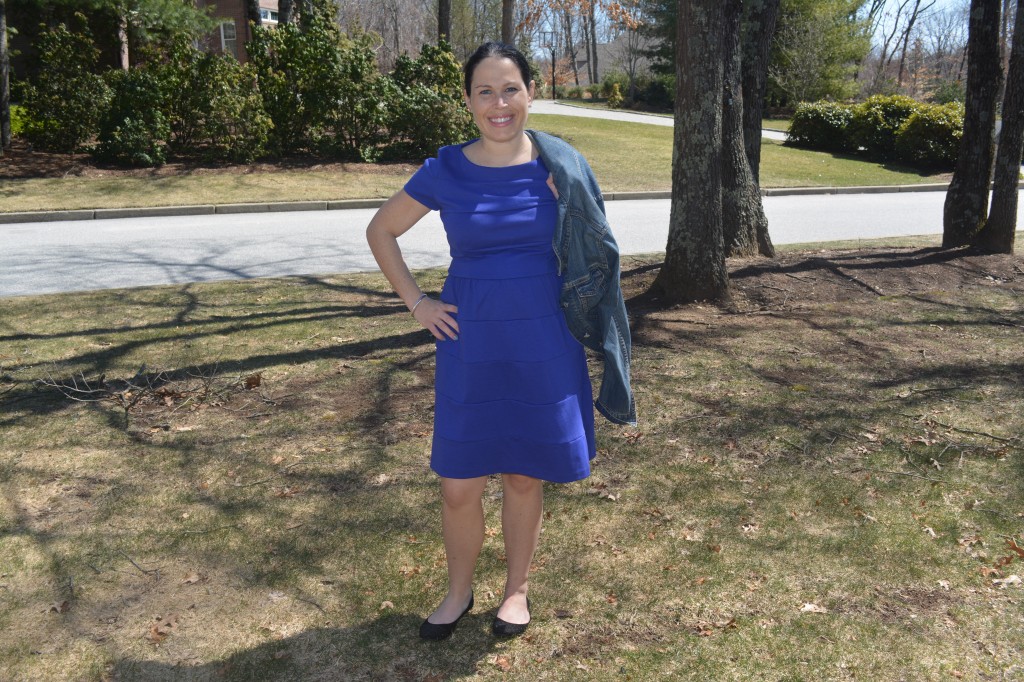 I also added in a yellow clutch to add some more color to the outfit and to make it a little more hip.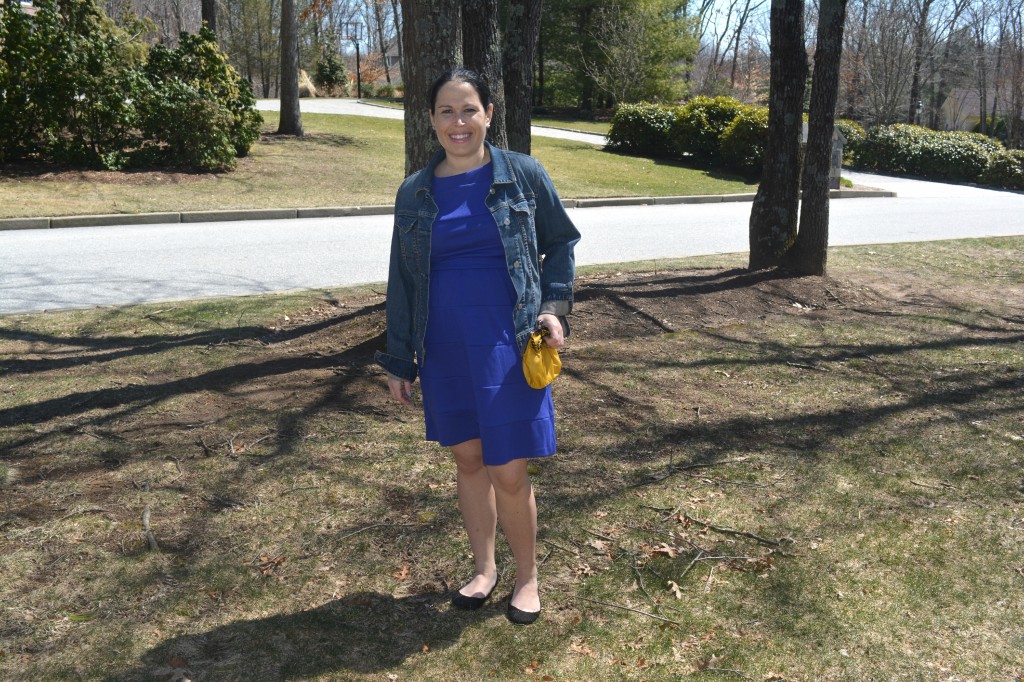 There are so many different ways you can wear the fabulous Kohl's dresses for the Spring or Summer. One dress at Kohl's can allow you to wear it to so many various occasions and leave you covered for either a nighttime or daytime look.  Take a look at Kohl's today because there are so many wonderful dress options available!