One brand I talk a lot about over the last few years is Lush Cosmetics. I am a huge supporter of the brand and if I ever venture out to our local mall, you can be sure that I return with something from Lush! If you are looking for that perfect Valentine's Day gift for that special sweetie, look no further than Lush Cosmetics.

This Valentine's Day let Lush bring that most perfect LUSH-ious day! Here are the offerings from Lush that are in limited release just for this special day!
Love Locket Bath Bomb ($12.95): Inspired by a locket necklace this Bath Bomb has a blend of uplifting and sensual oils.  Full of surprises, simply "unlock" the yellow center to reveal the secret hidden within. The outside of the locket is full of paper hearts that will float on the surface of the water, and the hidden heart inside will create a spectacular bath time display to make hearts a flutter.

Neon Love soap ($7.85 for 4oz): Inspired by 12 Months of Neon Love, a collaboration between artists Victoria Lucas and Richard William Wheater that featured lyrics from love songs in neon writing. This soap contains bergamot and rosewood oils to create a rich fragrance, and a blend of fresh figs, passion fruit juice and soya yogurt to nourish and soften skin. Cut a sliver to reveal a "heart" felt surprise inside. 

Prince Charming shower gel ($9.95-29.95): A shower gel made for princesses or anyone who needs a Prince Charming in their life! This sweet-scented, neon pink shower gel is fit for royalty. With a marshmallow root and Fair Trade vanilla base along with almond oil to moisturize and refreshing fresh pomegranate juice. Prince Charming will sweep you off your feet and leave skin seductively scented and seriously smooth.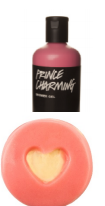 Close To You massage bar ($6.95): This super soft massage bar was inspired by a popular British shortbread biscuit with a jam filling. Made with a luxurious blend of cupuaçu butter, shea butter and olive oil, this rich bar is also made with corn flour to leave skin silky smooth. Guaranteed to bring someone special Close to You!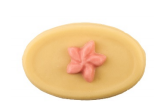 Tender Is The Night massage bar ($10.95): Tender Is The Night was first introduced in our shop floor last Valentine's Day. This sensual and sexy massage bar is here to stay as an all year round product, but has swapped its soft center for a solid blend of softening shea butter and murumuru butter. Tenderly melt this bar on to the skin, and be seduced by it's intoxicating blend of jasmine, ylang ylang and vanilla.

The Kiss lip tint ($9.25): A delightfully whipped up mixture of moisturizing butters such as Fair Trade shea and cupuaçu with a very tasty organic agave syrup. This tint easily smoothes onto lips leaving a high shine finish, boosted by PET free sparkles. Organic mandarin and almond essential oils create an uplifting fragrance, and guarana seed powder, a natural lip plumper to make your pout simply irresistible.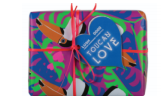 Toucan Love Gift ($16.95): This is a gift with two products to share and enjoy with a loved one. Its vibrant paper was inspired by the 1980's film Cocktail, and Tom Cruise's gorgeous Hawaiian shirts. Containing a special heart-shaped Neon Love soap and for after the shower a sweet-scented, luxurious massage bar called Close To You. Contents: Neon Love soap, Close To You massage  bar

Neon Love Gift ($39.95): Neon Love showcases a host of luxurious finds to be enjoyed and shared, including Neon Love soap in an extra special heart-shaped mold; Red Fun to inspire the gift recipient to leave messages for their loved one in the bath or shower. Also included are Turkish Delight shower smoothie and From Dusk 'Til Dawn massage bar for romantic antics during and after showering. Contents: Turkish Delight shower smoothie, From Dusk 'Til Dawn massage bar, Bubblegum Lip Scrub, Neon Love soap, Red FUN

Lots of Love Gift ($55.95): The design of this luminous reusable box was inspired by this year's limited edition Neon Love soap – which is inside in a special heart-shaped mold. We've also included our seductive, jasmine-scented Sex Bomb Bath Bomb to set the mood, Prince Charming shower gel to sweep you off your feet, Ro's Argan Body Conditioner to keep you smooth and of course our Tender Is The Night massage bar for the ultimate romantic treat. Contents: Sex Bomb Bath Bomb, Neon Love soap, Chou Chou…I Love You toothy tabs, Ro's Argan Body Conditioner, Close to You massage bar, Prince Charming shower gel, Rose Jam bubble bar
Be sure to check out Lush this Valentine's Day either in their stores or online.
Win it: One winner will receive some Lush products. This giveaway is run via rafflecopter so click read more to see the actual giveaway. The only mandatory entry is to tell me which products from the above you are most excited to receive and why. Please put all comments in comment section proceeding this post. US only. Good luck! 
*I received products from Lush in exchange for this post. All my opinions are my own and not swayed by outside sources.*