*This is a sponsored post. I am a Sears blogger, though all opinions are my own.*
We are doing our basement renovations now and one thing I really want is a nice, big HD Television! I have been researching televisions for quite some time, but now I get the chance to WIN one in the Shop Your Way HDTV Sweepstakes going on right now! Shop Your Way SWEEPS has had over 40,000 winners so far. Will you be the next?  You will never know unless you enter!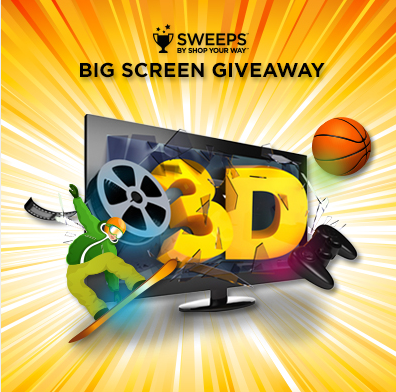 Shop Your Way always has multiple SWEEPS to pick from and entering the sweeps is ADDICTING!  The prizes range from points to use at Sears or Kmart to diamonds and dream vacations.  Sounds fabulous, right?! This week, one of the top prizes at stake is a 65" 3D LED HDTV including shipping, accessories and installation (a nearly $4,000 value). This is what I trying to win because I really want a fabulous television downstairs in our new basement. How nice would it be to have a brand new TV in time for the Oscars or the Bachelor finale?
So what have you got to lose besides 5 fun minutes of internet surfing, which I know you all do anyway.  Enter here : Shop Your Way  for your chance to win on Shop Your Way SWEEPS before 2/28/14. No purchase necessary. See Rules and Regulations for more details.