Mickey and Minnie are inviting all of you to put on your dancing feet as their all new Mickey Mouse Clubhouse Minnie-Rella is about to be released on DVD on February 11th! It is sure to be a ball as Mickey and Minnie sweep kids across the country off their feet in this brand new DVD!
Synopsis:
Our pals need to get Minnie a surprise present, so they keep her busy with plenty of chores to do at the Clubhouse.  Tired from so much work, Minnie falls asleep and dreams that she is MINNIE-RELLA!  Inspired by the fairy tale of Cinderella, the story of Minnie-rella sparkles with music and fun as we recognize our favorite Clubhouse characters in familiar roles.
Poor Minnie-rella needs a lot of help to get ready for Prince Mickey's Grand Ball!  With a wave of her wand and some "Mouseke-doodle-lee-doo" magic, Minnie-rella's Fairy Godmother, Clarabelle, transforms an ordinary tomato into a magnificent carriage and Minnie-rella's raggedy dress into a beautiful gown that is perfect for a princess.  But Minnie-rella's enchanted dance with Prince Mickey at the ball must end when the spell is broken at midnight.  With our help, Prince Mickey finds the princess who fits into her lost glass slipper – Princess Minnie-rella!

The Mickey Mouse Clubhouse: Minnie-rella DVD comes packaged with the full-length adventure, a FREE Castle Play Set, 3 additional Mickey Mouse Clubhouse episodes and 10 Minnie's Bow-Toons Shorts!
This DVD is absolutely adorable and any Mickey Mouse Clubhouse fan will LOVE it! My kids watch it just about every single day, sometimes twice in a day. She is a huge fan of Cinderella and the story behind it, so to see Mickey Mouse Clubhouse take a similar type of angle was so exciting to Hayley. They both danced, sung, and had a great time watching Mickey Mouse Clubhouse Minnie-Rella! She also loved the extra bonus episodes on this DVD! It made for a longer time watching Mickey Mouse Clubhouse.  This DVD will keep your kids occupied for about 102 minutes of fun and excitement!
Here is some additional information about the bonus episodes:
Pluto's Tale – In Pluto's very first fairytale adventure, we help Prince Pluto rescue Princess Bella from the clutches of sneaky Wizard Pete.
Mickey and the Enchanted Egg – Mickey finds an egg which soon hatches into a Baby Dragon. Mickey and his friends have to return the Dragon back to her castle home and convince the powerful Wizard Pete that they didn't steal the egg in the first place.
Daisy's Pony Tale – When Professor Von Drake's new invention, a Fritzer-Spritzer Spray Potion, accidentally gets spritzed on Daisy's ponytail, it makes her hair grow super long! That's not goody-good at all. Along with Mickey and Sire Goofs-a-Lot, Daisy travels on her pony to find twelve leaves of the magical plant, Rapunzel, in order to reverse the effects of the Professor's potion and fix her ponytail.
Minnie Bow-Toons Shorts: Piano Movers and Shakers
A Good Sign
Locked Out
Feelin Crabby
Cucko-Loca's Egg-celent Adventure
Funny Bunny
Weather or Not
Mechanical Mayhem
Adventures in Piggy Sitting
Minnie's Makeover Madness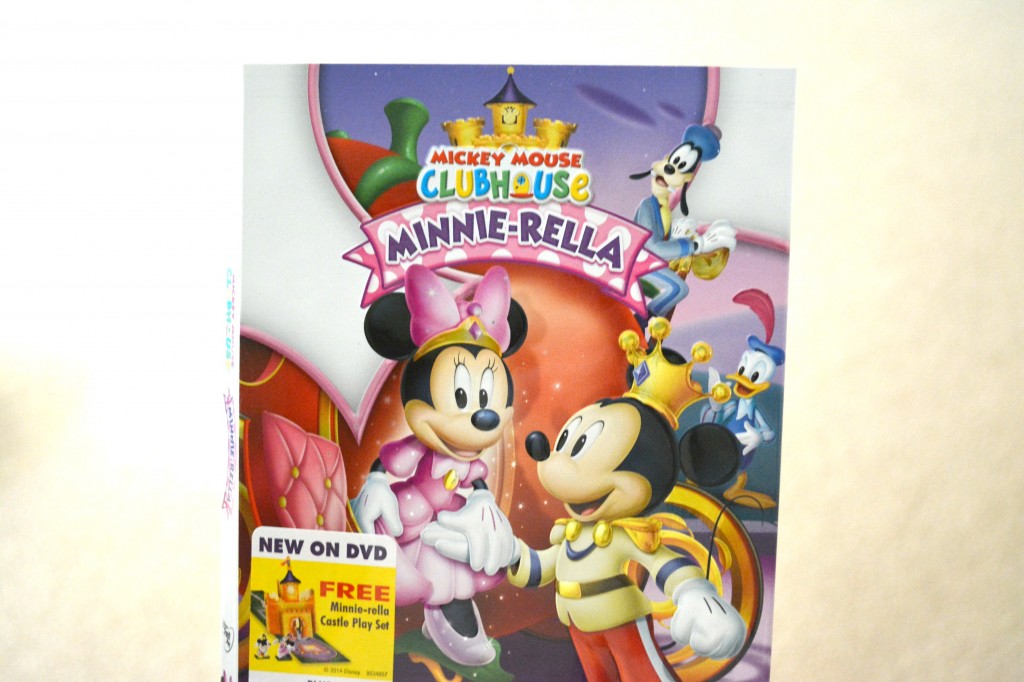 If you have a Mickey Mouse Clubhouse fan at home ( who of us doesn't), then you will want to pick up Mickey Mouse Clubhouse Minnie-Rella out on Tuesday, February 11th!
*I received a copy of this DVD from Disney. All my opinions are my own and not swayed by outside sources.*