*I participated in an Influencer Program on behalf of Mom Central Consulting for OshKosh B'gosh. I received a gift card to facilitate my shopping trip and to thank me for participating.*
Here in Rhode Island, we have had absolute frigid weather with one snowstorm after another. We are at the point where we are just sick of bundling up and layering. Hayley and I decided to dream of warmer temperatures and to begin shopping for spring clothes. After all, in a few short weeks (trust me it will be here before we know it), spring will arrive and the kids will need a wardrobe. One of my favorite stores to shop at is OshKosh B'gosh because I am able to get so many kids clothes at such reasonable prices!  Not only are their selections incredible, but the quality of their clothes are truly second to none! I have also repeatedly found the staff at our local OshKosh extremely knowledgeable in helping me pick out our newest fashion pieces.
Hayley and I took a trip last week to pick out a spring wardrobe for both herself and Zane. We had a $100 OshKosh B'gosh gift card to spend and I wanted to see just how much I could get for the kids with that amount of money. There is also a great 20% off 30 dollars or more coupon that I was planning to use with my purchase. This coupon can be used by everyone so be sure to take advantage of it online/in stores, as it will expire on 3/12!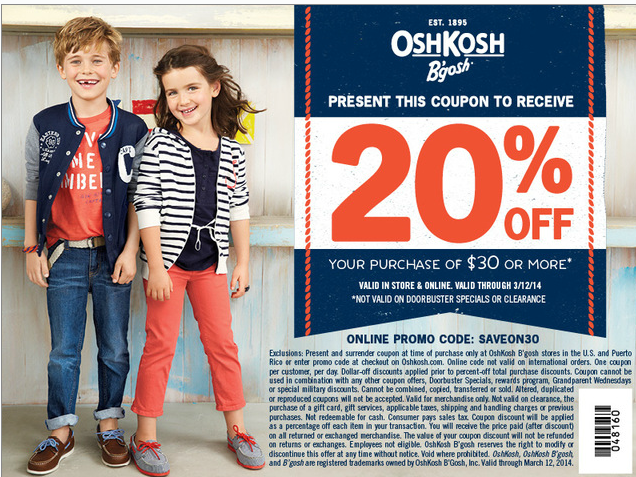 When we entered OshKosh B'gosh, we noticed right away how clean the new Spring layout looked. In the front of our store, was the spring clothes for girls 4-12, which is what I needed. Hayley is in a size 5 these days, so I first shopped for her for the spring clothes. We noticed that the big fashion statement at OshKosh B'gosh is denim, printed denim, dresses, and color. Colors such as orange and pink are popping up big all around the store for the spring.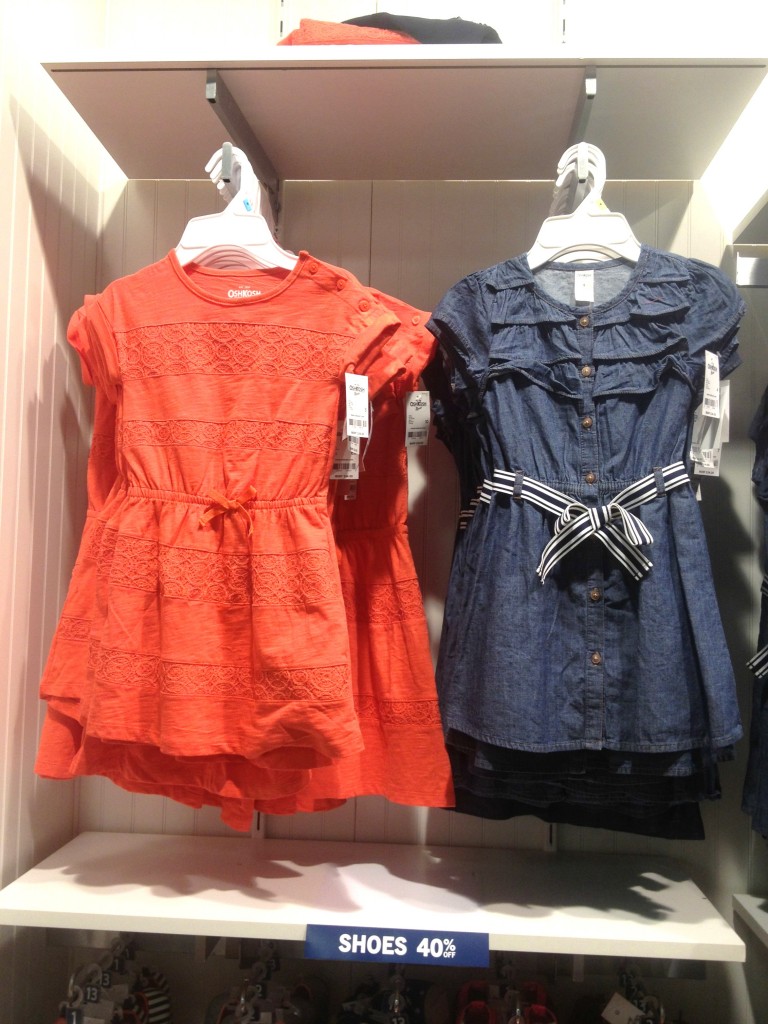 At OshKosh, I was mainly  looking for school clothes for Hayley. I was also looking to buy her a cute outfit for her picture day coming up. The first item I picked up were printed cropped white pants with little bicycle prints over the pants. Most of the items I found were reduced at least a third, which was a great money saver when I was planning to buy a large amount of items. I decided to pair the white pants with this adorable orange flower top. Seriously, how cute is this outfit and best of all the entire outfit was under $30! You can't beat that!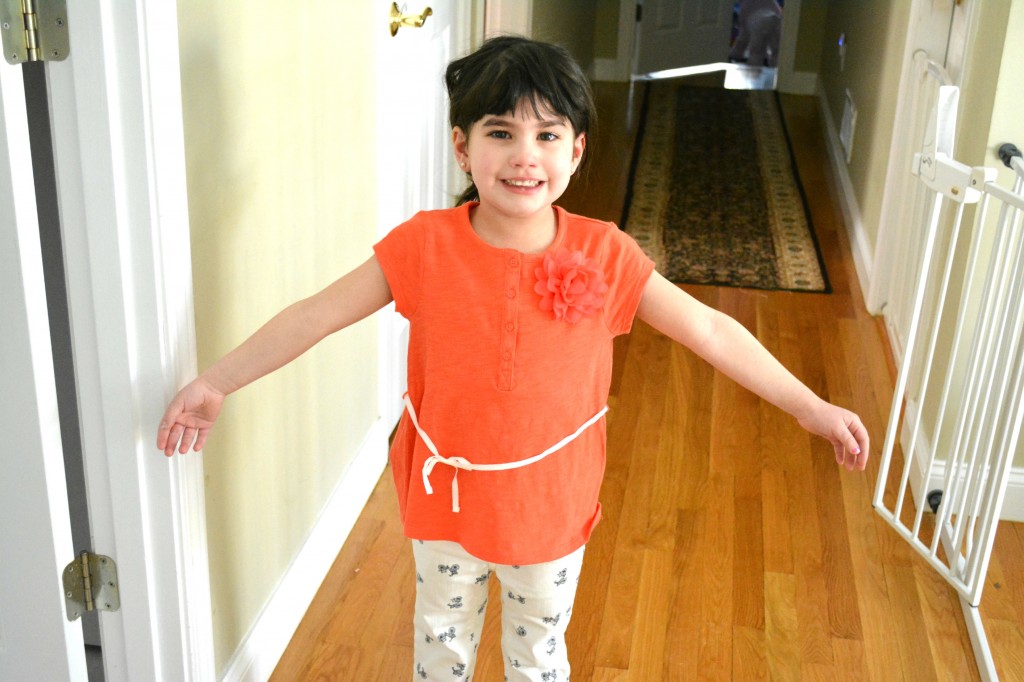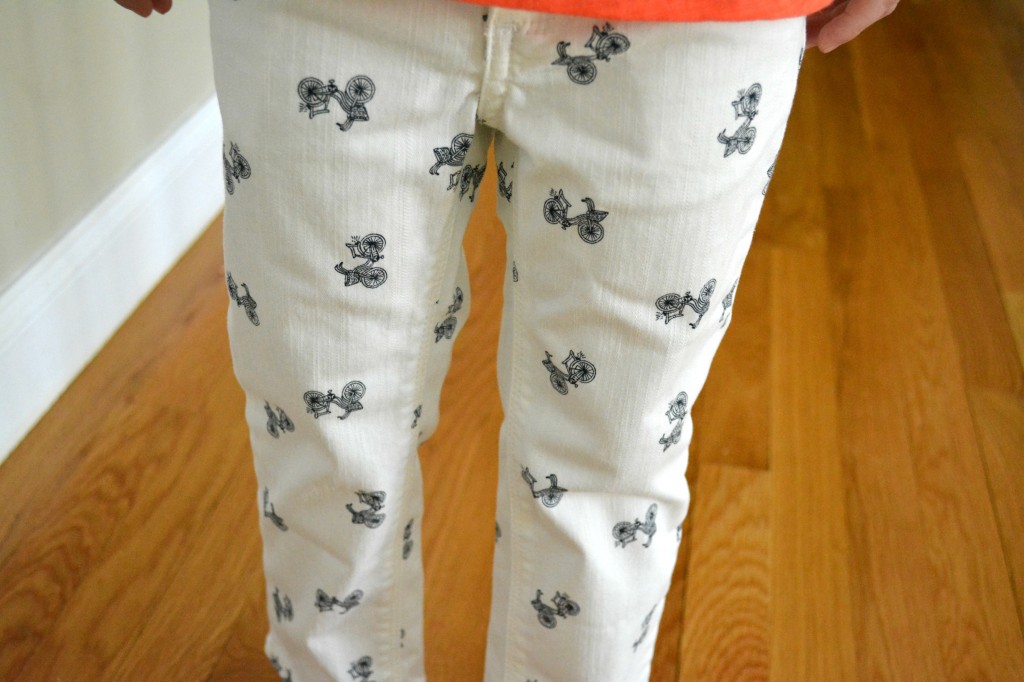 I also found this great spring denim romper dress that is just so darling! Hayley actually picked it out and I loved how it looked.  I thought this outfit would be perfect for school day! Again for an entire dress under $25, it was a must to put into our shopping cart. Along the way we also picked up a few of  Girls Tees for the spring.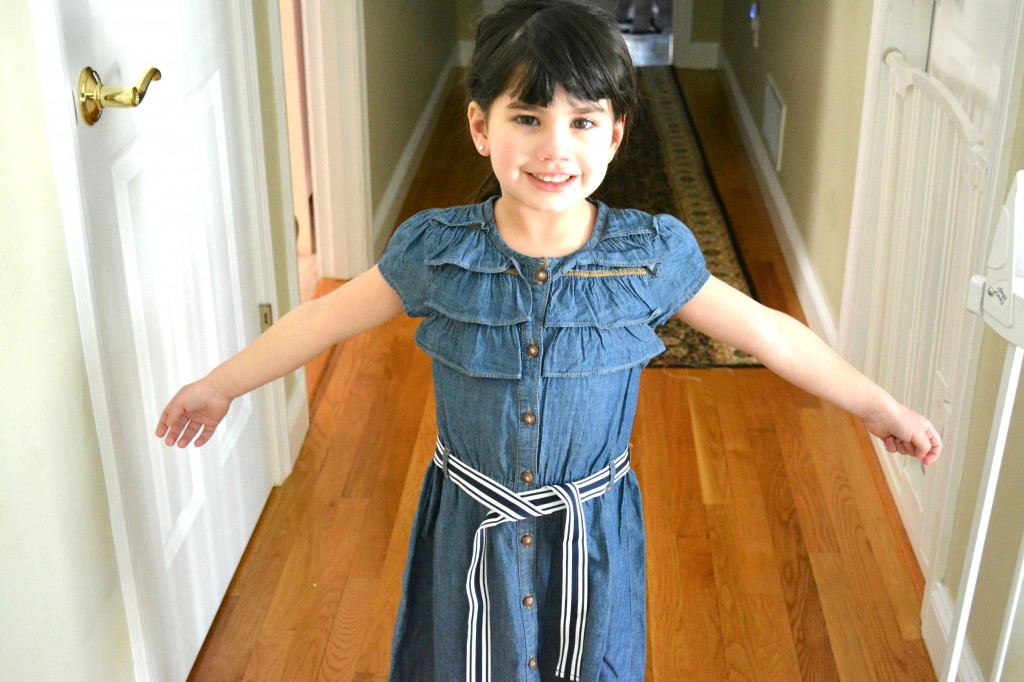 Next up, was Zane's spring outfits to find. Zane is wearing a 3T and most of his outfits are in the back right part of our local OshKosh B'gosh! They are have a great many adorable Spring outfits, along with clearance outfits for the Spring. I found their selection plentiful and I knew I was able to shop for most of his spring clothes here.
My first outfit I bought for him were E-Z Adjust kaki pants with a button down denim top. I love the pants at OshKosh because they could adjust based on his measurements at the time. We are able to use the clothes for quite some time, without him complaining that they are too tight. This outfit reminds me of a school picture day outfit that he could wear or perhaps an outfit he could wear for Easter. The choices are endless!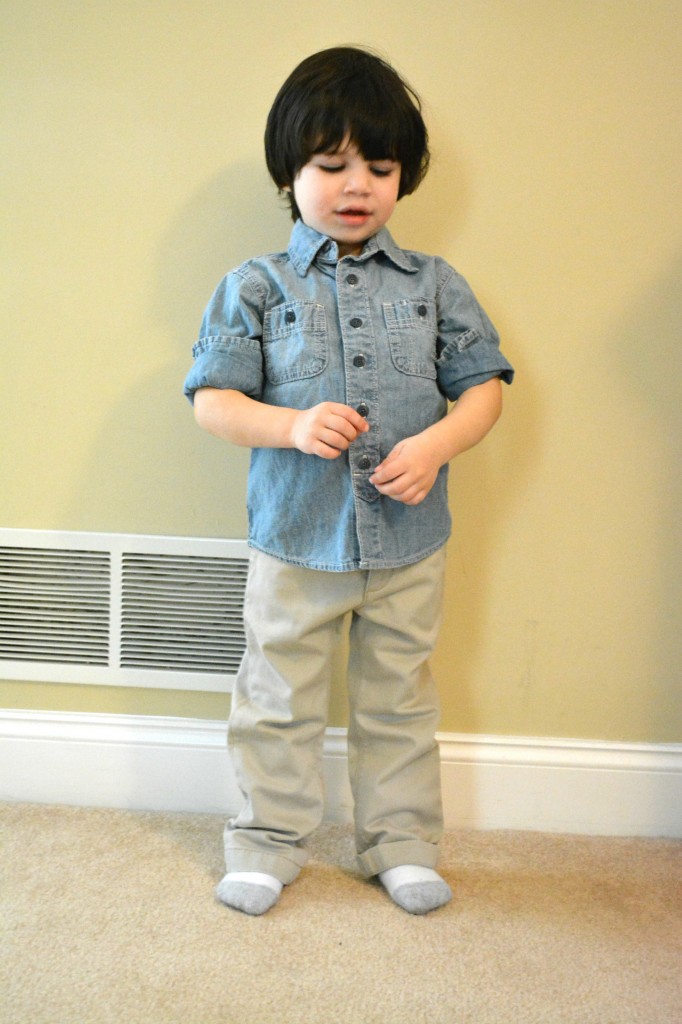 We also bought another pair of darker beige kakis with a white button down that we found in the spring clothes section at OshKosh. With the spring being variable in terms of weather, I decided to also pair it with this grey sweater, in case it does get cold. I see many uses out of this outfit at school this year!
Next up, I perused the Baby Girls Clothes and Baby Boy Clothes. I was so tempted to buy but I am not sure what this baby is yet. My ultrasound is today though and once I know the sex of the baby, I plan to visit OshKosh B'gosh to stock up on spring clothes for next year! Oh my goodness..The clothes are just too cute!!  The quality of the clothes looked fantastic and the fabrics were so soft! I could buy everything in this department!
When I went to checkout, I was nervous to see my total amount that I owed. Remember that I had $100 to spend plus the awesome coupon above that I used. Well with all of these outfits I bought, I owed 30 cents! Yes, you read that right- 30 cents! With $100, you are able to buy SO many spring outfits! Talk about a deal! The best part is I know from experience the clothes will hold up and last a long time to come! Their selections at OshKosh for the Spring are amazing! Be sure to check out OshKosh B'gosh online or in stores today for a great kids' spring wardrobe! To find a OshKosh B'gosh store near you, click here: Store Locator. Happy Shopping!