I had the privilege last week to interview Dr. Zak Zarbock, pediatrician and founder of Zarbee's. He had some  safe and effective tips that families can easily incorporate into their daily routine – in addition to washing hands and hugging your cough or sneeze – to help everyone stay healthy this winter.  Even with all of this prevention strategies we learn about, some kids (and parents!) will still get sick this winter.  When looking for ways to help relieve your child's cough and cold symptoms this season, it is important to understand which ingredients to avoid. Traditional cough medicines are under FDA scrutiny and have been deemed unsafe for children under age four, leaving many parents struggling with how to help their child as they cough through the whole night and not getting their (and parents too!) much needed sleep. Because no parent wants to see their child in discomfort, Dr. Zak has some simple and safe A, B, C's to keep your child's cough in check without reaching for those medicines that are under scrutiny – Anti-Inflammatory, Buckwheat Honey and Children's Nasal Saline Sprays.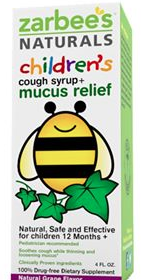 This winter, Dr. Zak Zarbock recommended the importance of hand washing at the right times, such as when the kids are coming home from school or adults are coming home from work. He also recommended watching our diet for the amount of sugar in our diet, which will boost our immune system, as well as a good probiotic, which can be found in yogurt. By taking Vitamin D, it will help fight off some of those diseases that linger in the winter months.
If kids get sick with a bad cough, it is important to use a good nasal spray to clear the airways. Also, hydration is vital to thin micous and help our bodies recover. Lastly, rest is so important. Buckwheat honey has been found a useful agent to help clear coughs and is all natural.
He talked to me about sending kids back to school after sick. They need to be fever free for 24 hours and to have an improvement of the green, runny nose. If they are bouncing back and have energy, they probably are better enough to be sent to school. If you are unsure, consult with your doctor.
There is still close to 60 percent of parents giving cough medicines that might not be good for them. Zarbee's provides a safe treatment for those with a cough. Zarbee's is all natural and provides quick and effective relief for your children,  sick with a bad cough this winter season.  You can find more at Zarbees.com and all the major retailers in the cold aisle.
*This is a partnered post. All my opinions are my own and not swayed by outside sources.