Happy weekend everyone! I am finally feeling about 80 percent better! Now, I have to get rid of this darn cough! I hope you all have a fantastic weekend.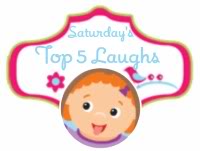 As always, come link up any cute or funny post. Feel free to take my button or share on social media, although this is not mandatory at all. Definitely check out the other blogs who link up, as they all provide a great laugh.
My top five laughs:
5. Everyone asks Zane where is the baby. Zane answers it is in mommy's belly but you can't see it until July. I laugh every time!
4. Hayley and Zane are the best of friends and the worst enemies all in the same hour. One minute they could be hugging each other and the next Zane will say, "Get away from me!" Can both of my kids be bi-polar?! I kid:)
3. This week, we were driving to school and Hayley noticed a biker in the middle of the road. She rolled down the window and said, "You are in the middle of the road and my mom is trying to drive." She was right but I laughed!
2. Anytime I cough, Zane turns to me and says, "You alright mommy..You need anything?!" My sweet, little boy!
1. I don't know whether I was laughing or fuming about what happened yesterday. Zane was behind me while I was checking out at the market. I turn my back for a second, and he unwraps 7 lollipops and begins to suck on them all. Guess who was the owner of 7 lollipops that she did not come in for! You guessed it!
Now your laughs: