In November, we took Hayley on a 5th birthday trip that she would never forgot. Just her and I jetted to Florida to visit Disney World and stay at the Nickelodeon Hotel. I knew both of them would be a huge hit with Hayley! Hayley has been a Nickelodeon fan since the days she was a baby. You name it and she watches it- Team Umizoomi, Dora, Diego, Spongebob to name a small few. That is why she was completely in awe when we arrived at the Nickelodeon Suites Hotel in Orlando, Florida.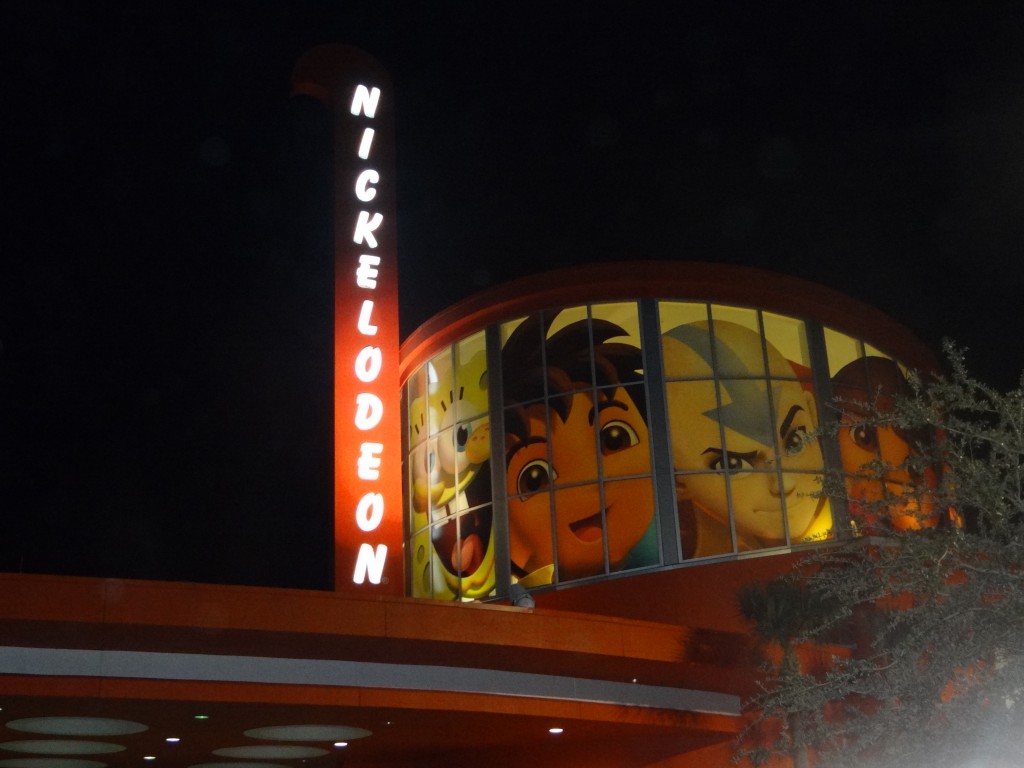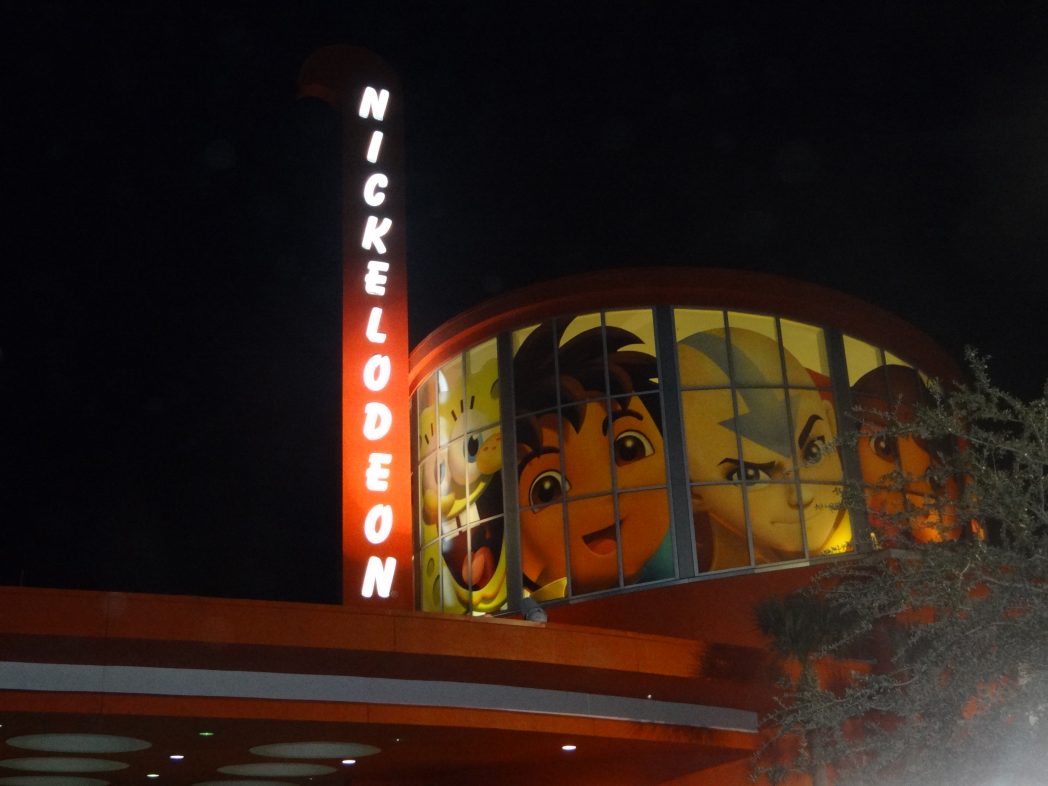 The Nickelodeon Suites Resort, also known as the Nick Hotel, welcomed its first family on March 9, 2005 and has continued to serve thousands upon thousands of people every year for their dream vacation. Just like Double Dare, the Nickelodeon Hotel has been sliming and thrilling guests every single since since they opened. It is situated on 24 beautiful acres and when I tell you that it is huge, that would be an understatement. It is also a few minutes away from all the fun Orlando attractions, such as Disney World. Even if your kids are not heading to the Orlando attractions, you can definitely make a fun filled family week here! The hotel provides endless entertainment for guests of all ages. New characters and shows are regularly appearing on property and will please any Nick fan in your life.
When we first checked in, I was in awe of the lobby. It was so unbelievably kid friendly and I had a hard time getting the kids to go from the lobby to the room. Check in was very seamless and in no time at all, we had the keys to our suite. Once we arrived at the room, the kids were absolutely gaga over what was on the wall. Their was a huge mural of Dora (beautifully painted) stretching the whole length of the room. With the suite, kids can have their own bedroom, as well as adults. There is enough room for everyone in the suite. We went with 4 people (including my parents), and had no trouble sleeping at all. You can easily fit in another couple into the room!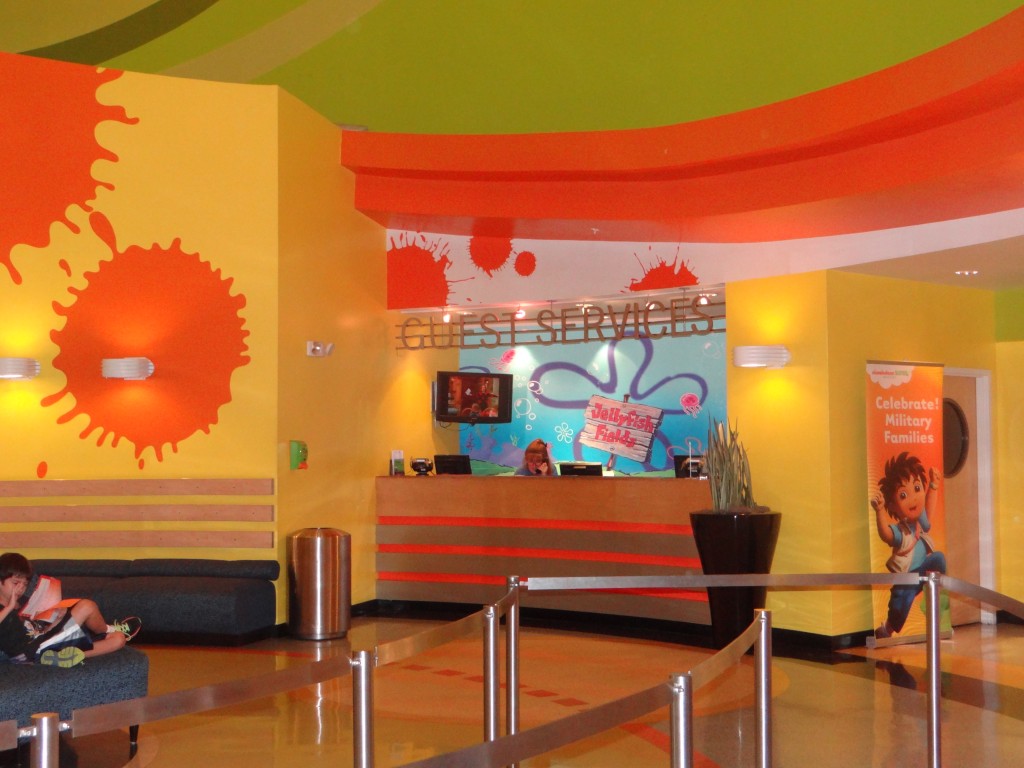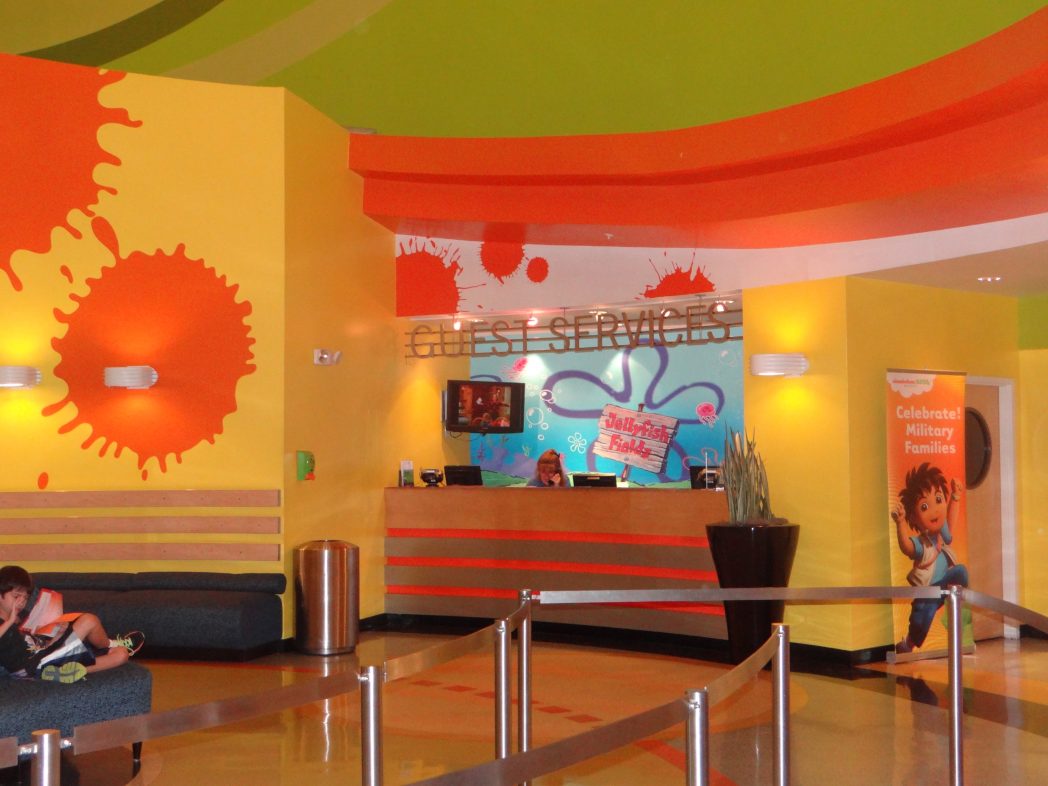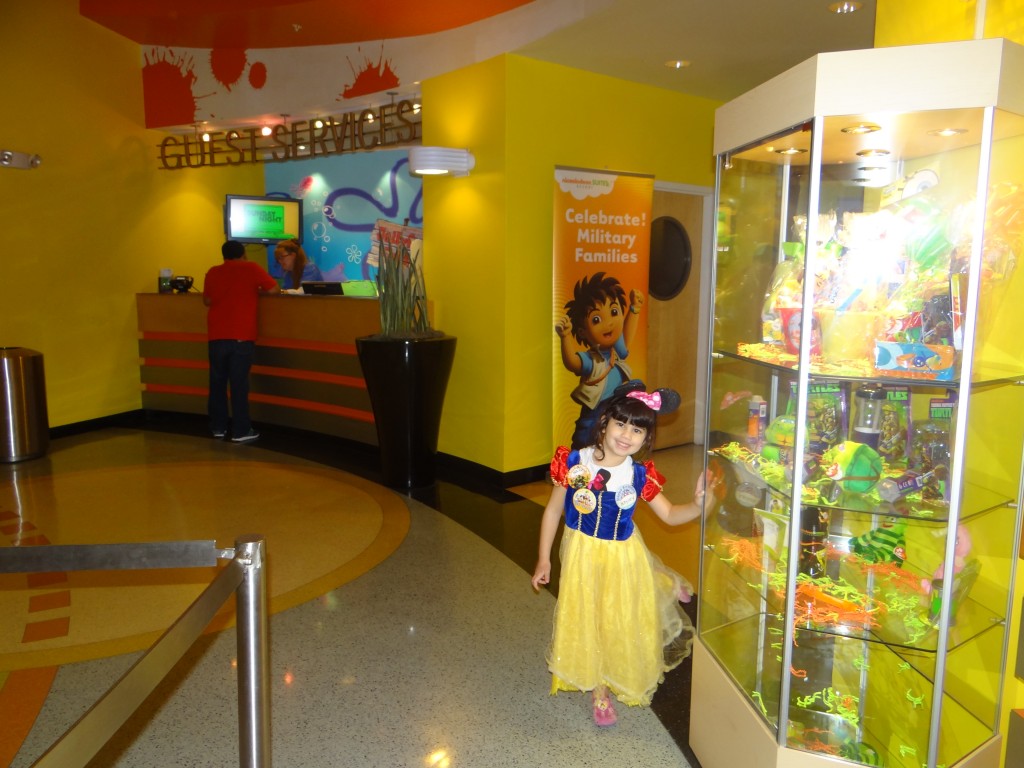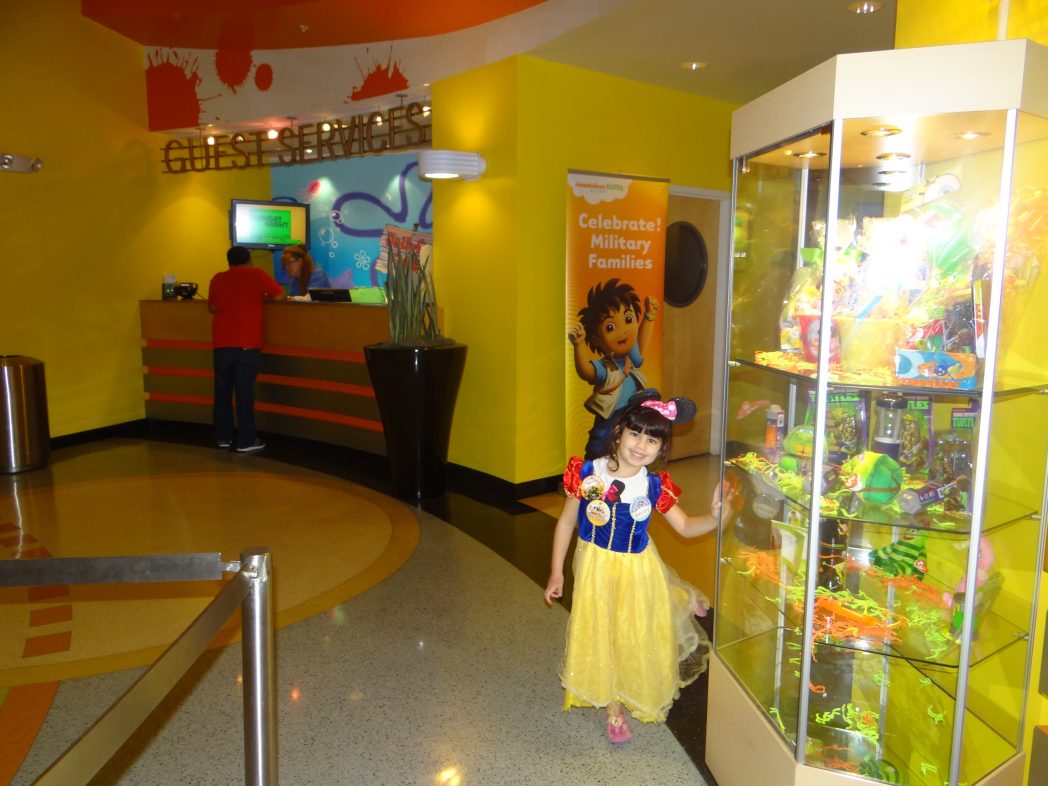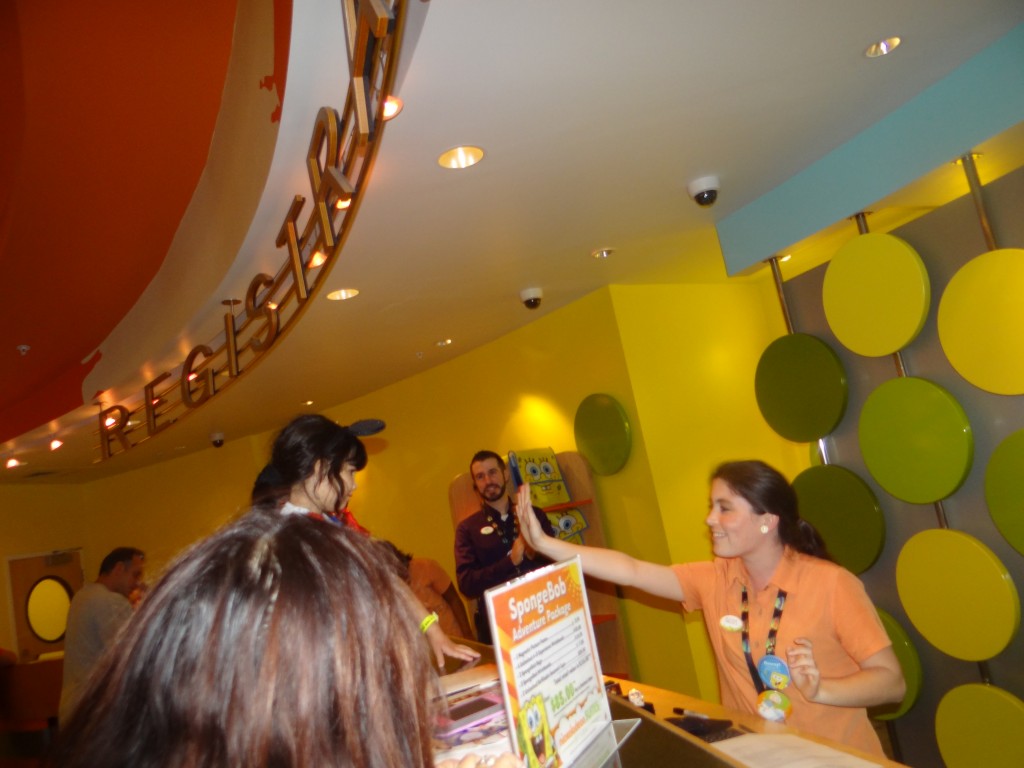 The Nickelodeon Hotel features 777 themed room including Dora and Spongebob. Guests have the option of selecting 1,2, or 3 bedroom suites depending on your needs. The 1-Bedroom Suite offers a private master bedroom, parlor room, and a kitchen. Included in the room is a fully equipped coffee maker, full-size refrigerator, microwave, dishwasher, extended counter top with cookware/flatware, a 32 inch LCD flat screen TV, and high speed internet. The 2-Bedroom sleeps a family of up to 6 and includes bunk beds or two twin beds, for the kids to sleep in. It also comes with a 20 inch television and in-suite television movie rentals in the kids room. The 3-Bedroom can sleep up to eight and has two bathrooms and three bedrooms, and is ideal for larger and extended families traveling together.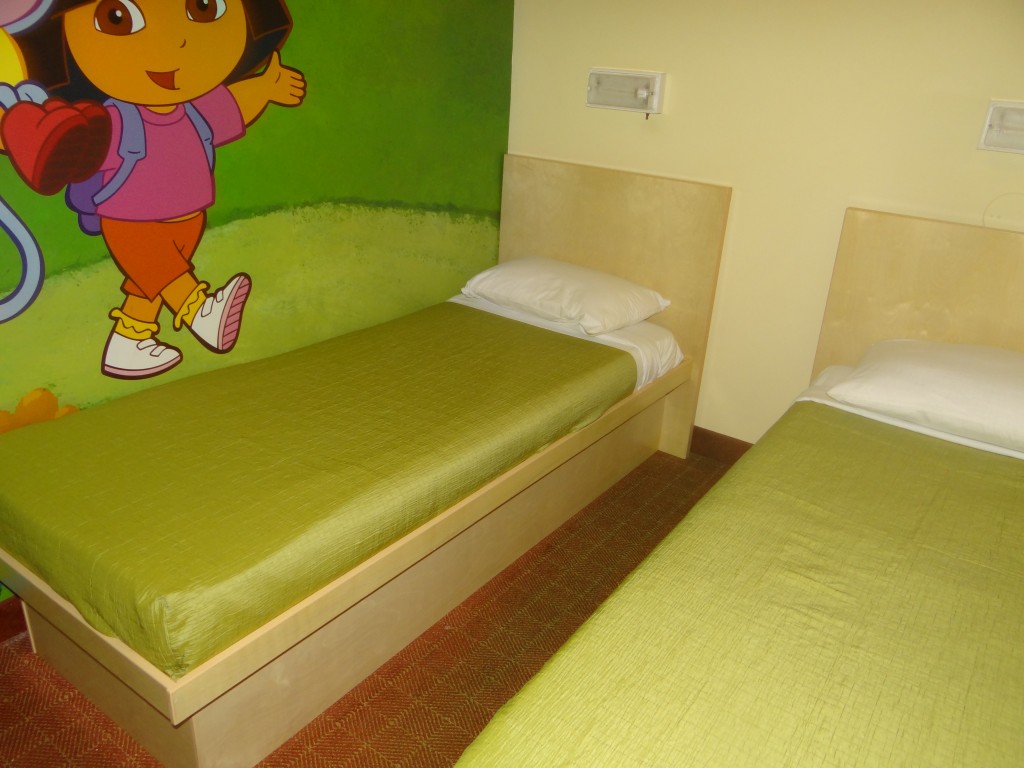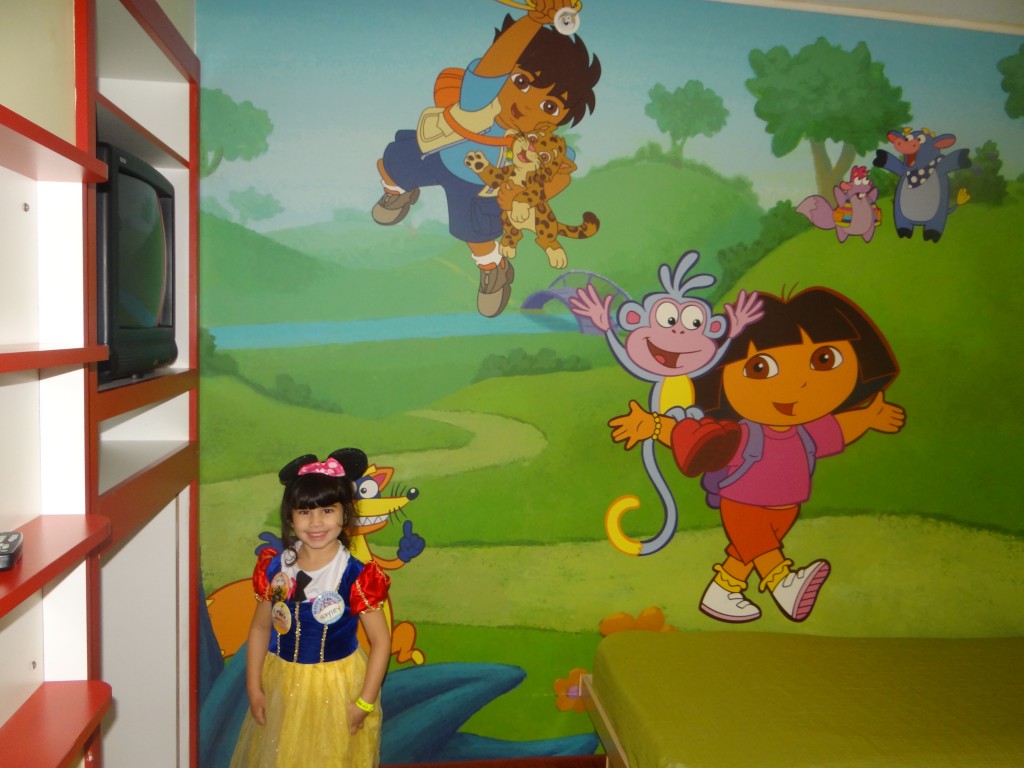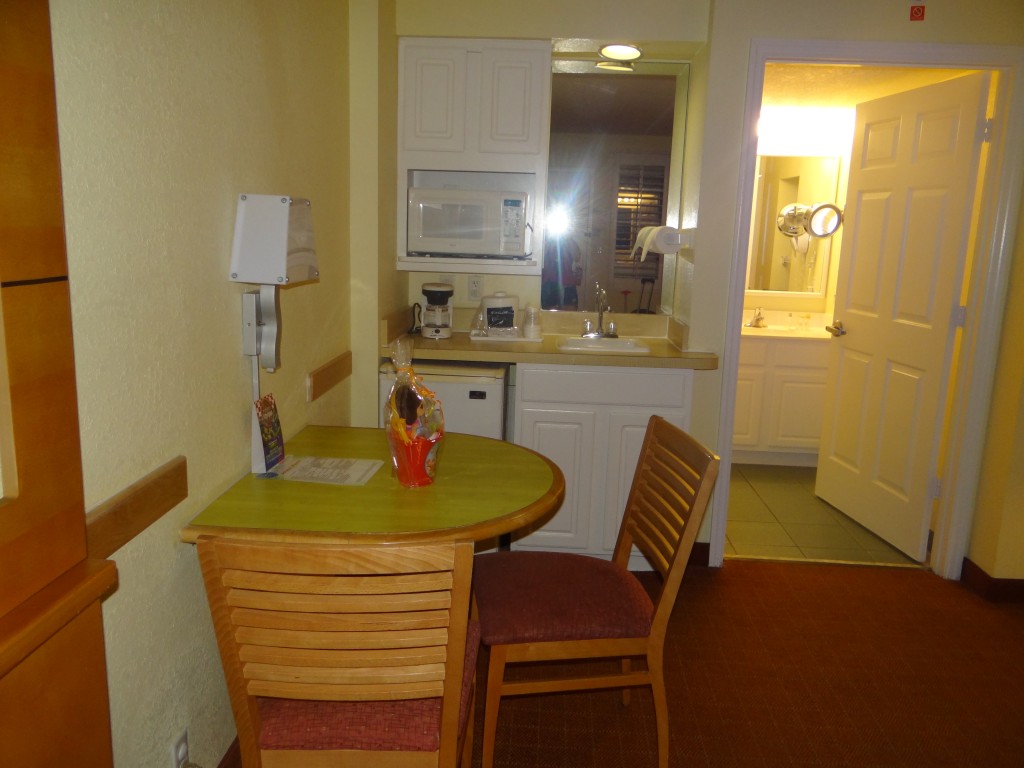 Now onto some of the fun amenities of the hotel. The Nickelodeon Hotel has a famous Lagoon which is the first of its kind courtyard featuring a zero-depth entry heated pool anchored by a four-story interactive water tower featuring water flumes, slides, climbing nets, water jets and a 400 gallon dump tank that slimes guests during a daily mass sliming. There is also available two giant family-size whirlpool areas, as well as a basketball, mini golf, cabana area, and poolside entertainment! Hayley  went crazy over this area. My only regret was not spending enough time here! We were Disney bound but I really wished we extended our vacation so Hayley can spend a full day or two just in this area. It will indeed keep your kids busy for days!
There is also an Oasis with a kids' play area, lap-style heated pool, and a multi-level, interactive water tower. At the tower, guests can plunge down twisting and turning flumes that splash down into the Oasis pool. It also has some fun playing structures for younger kids.
One of Hayley's favorite features was the Studio Nick nightly entertainment shows. Shows such as Double Dare are playing nightly for guests to enjoy. These original shows are designed by Nickelodeon Suites Resort's entertainment team for hotel guests and are performed in a 200+ arena. You want to make sure you have registrations for this, before your arrival, as they do sell out. If you are looking for other types of day entertainment, they have the 4-D Experience which offers a variety of shows for all ages and allows viewers to experience wind, water, bubbles, scents, slime, and more. These two show experiences can be found in the main mall section of the hotel, which also houses a kid's spa (yes, think getting kid's manicures, hairstyles, etc), and various eating places.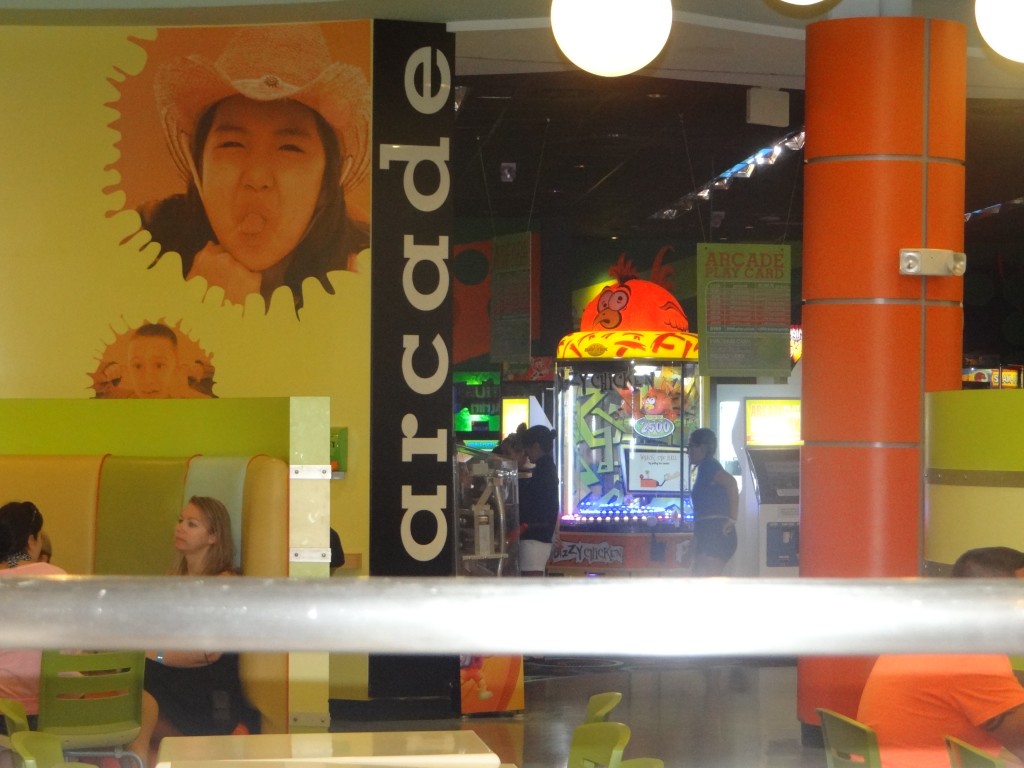 There are many dining options at the Nickelodeon hotel including the SpongeBob SquarePants buffet, which was Hayley's favorite. Set to SpongeBob music and a visit to each table by all the characters, this is a buffet you do not want to miss! It is available every morning, but again you want to make your reservations in advance so they can accommodate you. If buffets are not for you. the Nicktoons Cafe offers dining options in a full service or a la carte menu. There is also Antonio's Pizza, Subway, and Cravings (which sells Starbucks) available in the main mall section, as well as poolside dining.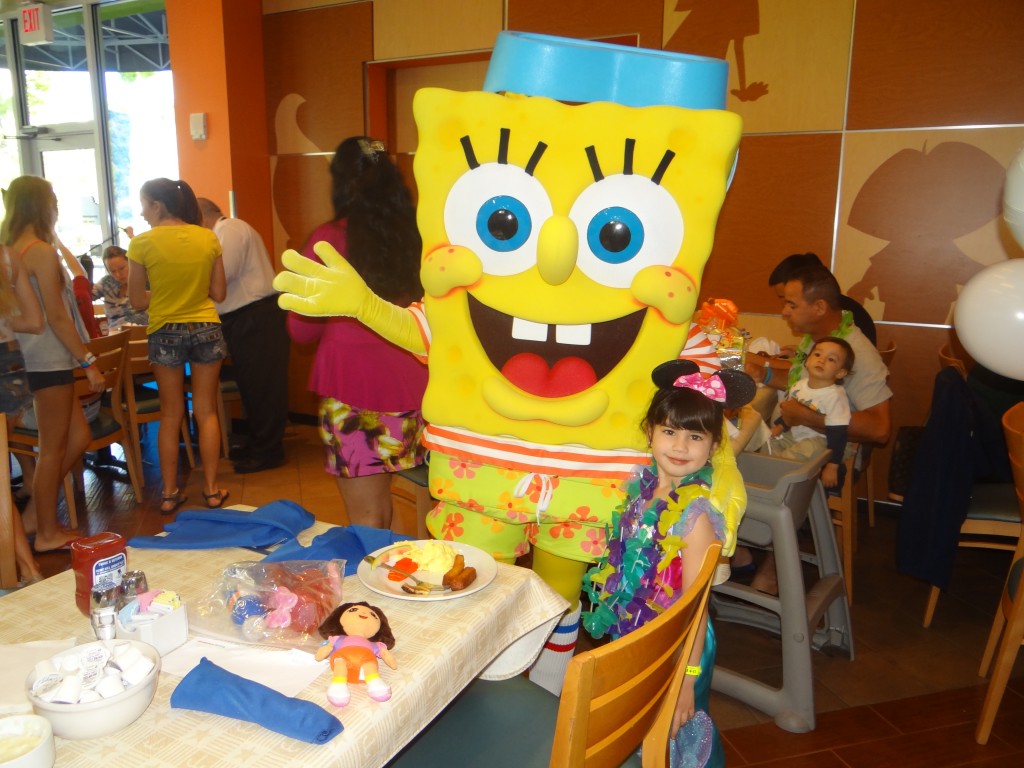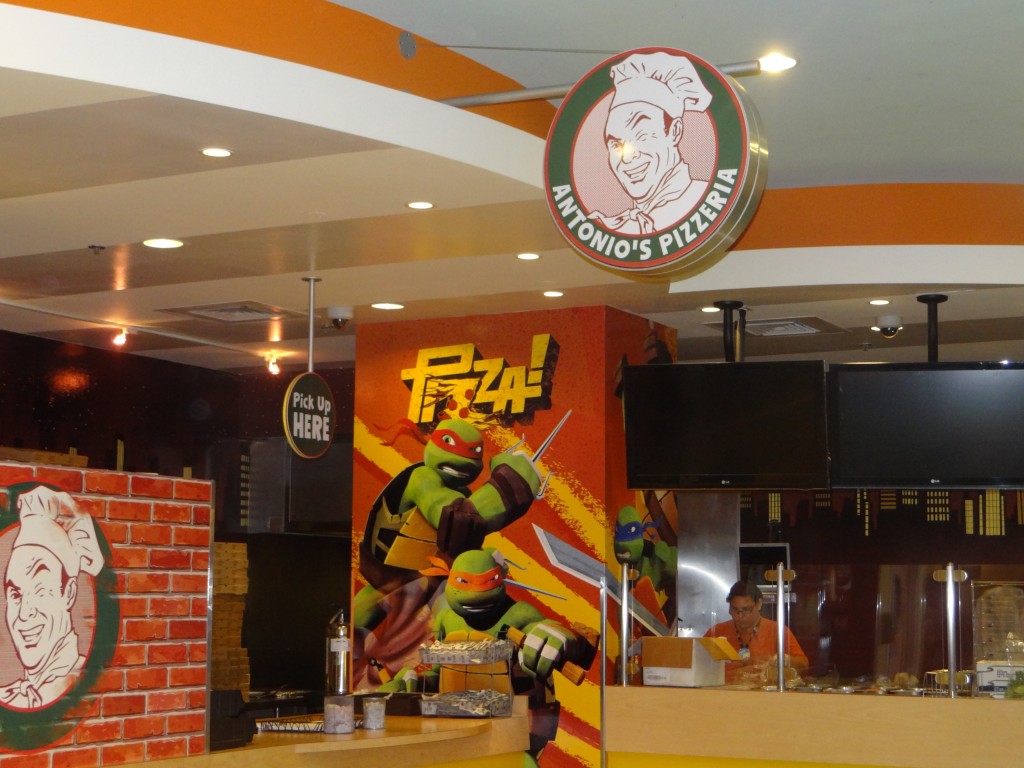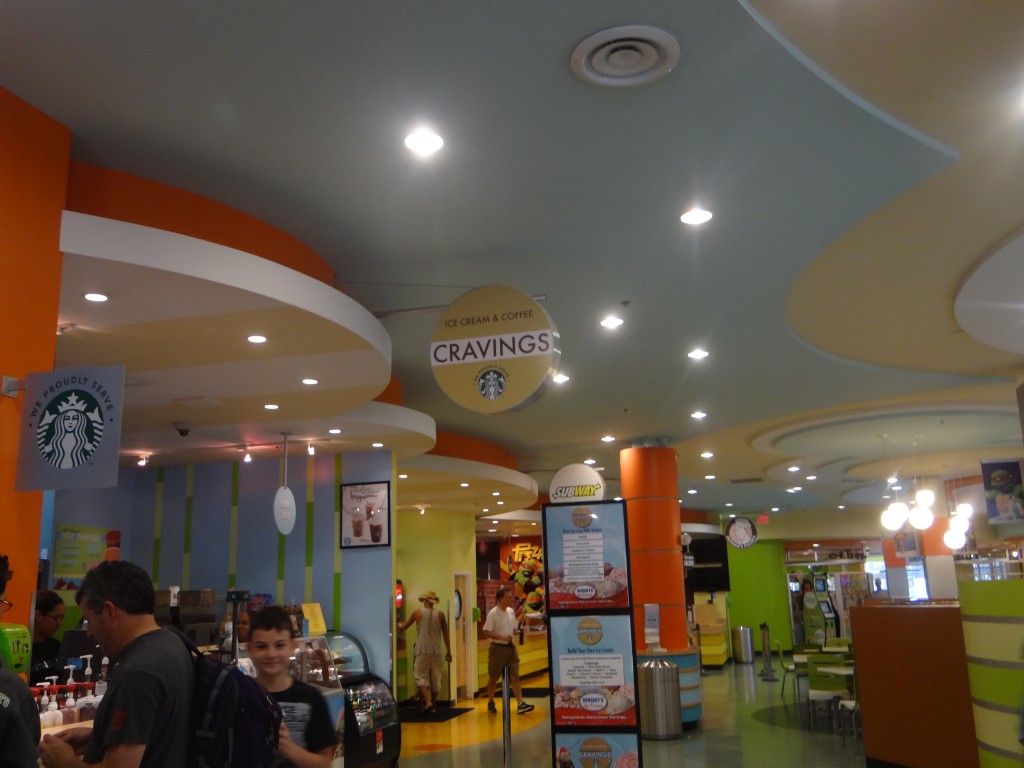 We were HUGE fans of the Nickelodeon Hotel. My only regret was not staying longer here. On our next visit, I plan to spend a few extra days to really take advantage of all the hotel has to offer! If you are looking for a great kids vacation, look no further than the Nickelodeon Hotel!
*We received a complimentary stay in exchange for my review. All my opinions are my own and not swayed by outside sources.*