Music is a part of my everyday life. From the morning I get up to the time I go to sleep, I have music playing! I have been a music junkie since the days I was a little girl.  No matter where I am,  I seem to be rocking out to music and singing those famous songs, even if it is in my head. Since music is such an integral part of my life, it got me thinking about the 80's those boom boxes- remember them?    Thankfully Boomphone and Carbon Audio knew what us music enthusiasts needed –  Pocket Speakers!  These amazing pocket speakers provide a small way to get a big sound anywhere, anytime! And they answered the call with a pocket sized speaker that delivers mind blowing music wherever you are! Sounds like something I need stat!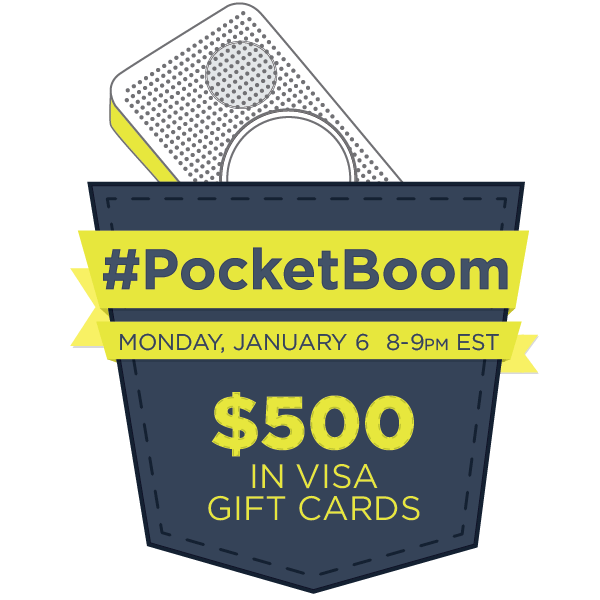 If you're ready for the soundtrack to your 2014 to be blasted out in crystal clear sounds from a fabulous device that is small enough to fit in your pocket, I invite you to join me at the Boomphones and Carbon Audio Pocket Speaker #PocketBoom Twitter Party where we'll be having a fun conversation about how this tiny speaker can rock your world! Trust me, you do not want to miss it! As an added bonus, we will be giving away some great prizes! Are you ready to party with us at the #PocketBoom Twitter Party on our brand new Twitter platform?
Join me at the #PocketBoom Twitter Party on SoFabChats!
DATE:  Monday, January 6, 2014
TIME: 8-9pm ET
PRIZES: Five $100 VISA Gift Cards
RSVP: #PocketBoom Twitter Party
LOCATION:  SoFabChats Party Tweet Grid
HOST: @jmanmillerbug
CO HOST: @dentistmel, @blueviolet and @ruralmoms
SPECIAL GUEST: @boomphones
PARTY RULES:  #PocketBoom Official Rules
Ready to rock out at this fun party? Don't forget to invite your friend using the tweet below!  After all, there might just be a little impromptu dancing and that's always more fun with a friend!
Tweet to share:
Music on the go? #PocketBoom Twitter Party 1/6 8pm ET. Prizes $500! Rules http://cbi.as/4g-9h #shop #cbias
Love Twitter Parties? New to Twitter Parties and want to learn more?
Stay in the loop with the SoFabChats Twitter Party Schedule, RSVP for individual Twitter parties, find SoFabChats Twitter Party Tips and sign up for SoFabChats Twitter Party email alerts!
RSVP today and learn how you can enter to win our special Early Bird gift card prize!