Wahoo! Are you as excited as me for the announcement from American Girl that the 2014 American Girl of the year is Isabelle! This year Isabelle will dance her way into the hearts of girls nationwide. Isabelle is an inspired dancer with a flair for design, who is studying ballet at a performing arts school in Washington, DC. The Isabelle Collection available for the 2014 year only comes to life with a beautiful 18 inch Isabelle doll featuring long blond hair with removable pink tipped highlights and an array of outfits and accessories, including a design-studio armoire and mix- and match dance fashions. There is also a movie being based on Isabelle's stories on DVD from Universal Studios Home Entertainment in the summer of 2014.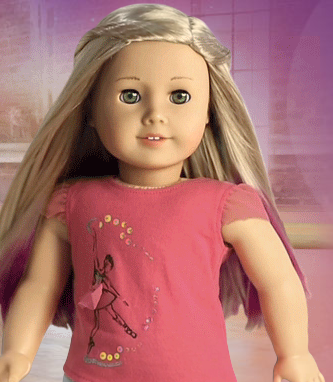 Along with the Isabelle, the American Girl of the Year, there is also three new 2014 Girl of the Year books written by Laurence Yep including Isabelle, Designs by Isabelle, and To The Stars, Isabelle. Hayley got an advanced copy of Isabelle and it has been her nightly read every single day. She absolutely loves it. These books introduce readers to Isabelle Palmer, a talented ten year old girl who loves to dance and to design ballet costumes. When she starts attending the Anna Hart School of the Arts, Isabelle has a hard time getting her proper footing in both her transition to a new school and in the dance studio. To complicate the situation, her older sister, Jade, is the star ballerina at the school, and a rival classmate tries to make Isabelle feel as if she does not belong there. Isabelle struggles with self-doubt, but when she stops comparing herself to others and learns to focus on her own unique talents, she finds a special way to stand out and to use her passions to help others too. The nonfiction section in the back of the Isabelle books features real girls who like Isabelle, have followed their creative interests to discover a spotlight of their own. 

To celebrate Isabelle's launch, American Girl has create an array of great Isabelle-related initiatives throughout the year including Try New Moves with Isabelle, Isabelle Apps and Online Play, Isabelle Learning Guides, and Isabelle Retail Events. 

Be sure to check out the entire Isabelle collection available through the American Girl's catalogue, at americangirl.com, and at all American Girl retail locations online. The Isabelle books can also be purchased through retail and online bookstores. To learn more about the Isabelle sweepstakes and promotions, go to americangirl.com/girloftheyear or American Girl's Facebook page at facebook.com/americangirl. To request a free American Girl catalogue, call 1-800-845-0005!
Now, how excited are you that Isabelle is American Girl's 2014 Girl of the Year! I know we are!
*I work with American Girl on promotions and reviews. All my opinions are my own and not swayed by outside sources.*