***I am a member of the Collective Bias®  Social Fabric® Community.  This shop has been compensated as part of a social shopper insights study for Collective Bias and their client.***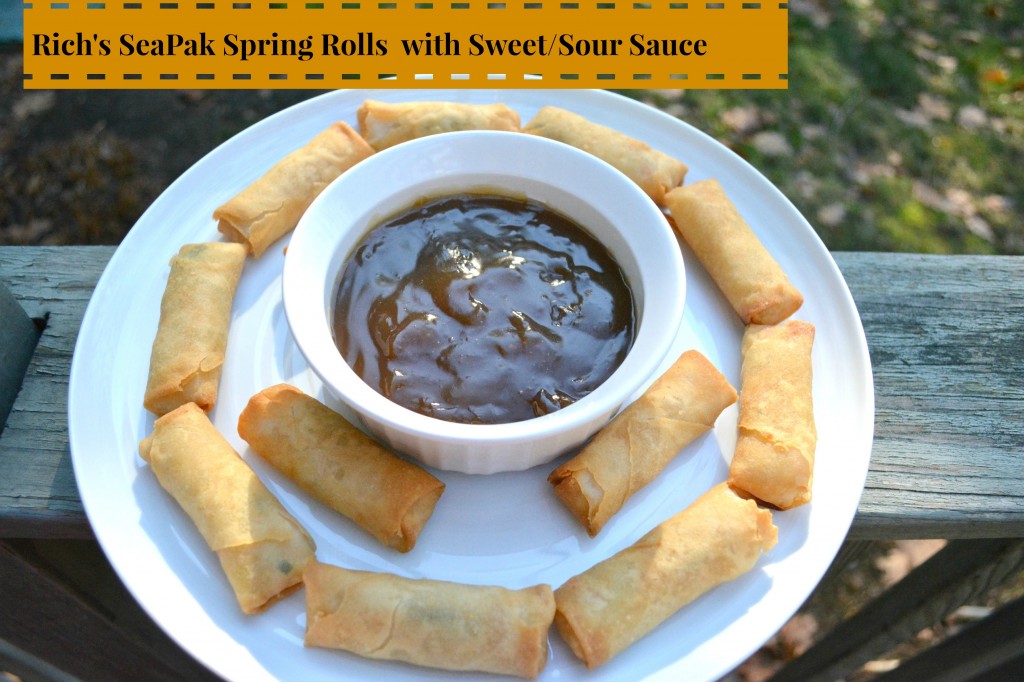 The holiday season has officially begun and I can count about six holiday celebrations that I am going to in the next four weeks. While I love to cook foods from scratch, stress has gotten the best of me lately, and I want to find easy, delicious and quick holiday appetizers to bring with me to these parties. I want to find easy meal ideas to bring to all the holiday gatherings I am going to attend. One way I am going to do this is by bringing Rich's SeaPak Shrimp Spring Rolls as the perfect party snack this holiday season. We have bought SeaPak products before, but until recently I never tried the SeaPak Spring Rolls. I seriously can't believe how much I was missing out by never trying the Spring Rolls. They are unbelievably delicious!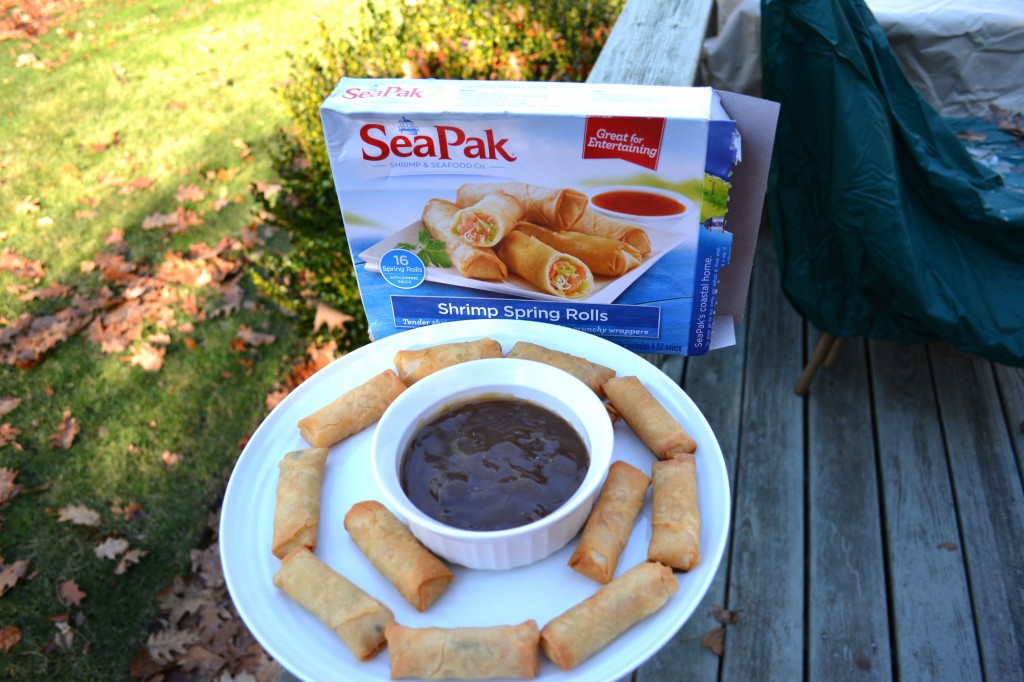 My husband and I both love Asian inspired food, so much so that we traveled to Thailand this summer. We tried a lot of spring rolls there so we had a very good comparison point to see how good the SeaPak Shrimp Spring Rolls truly are. Our first stop was going to Walmart and buying the Rich's SeaPak Shrimp Rolls, which is conveniently located in our frozen seafood aisle. The packaging was gorgeous and I am pretty sure I was drooling in Walmart just by looking at the package. While it came with a dipping sauce, I decided when I was doing my shopping, that it might be fun to create a Sweet and Sour dip for the Spring Rolls. I picked up all my necessary ingredients and I headed home.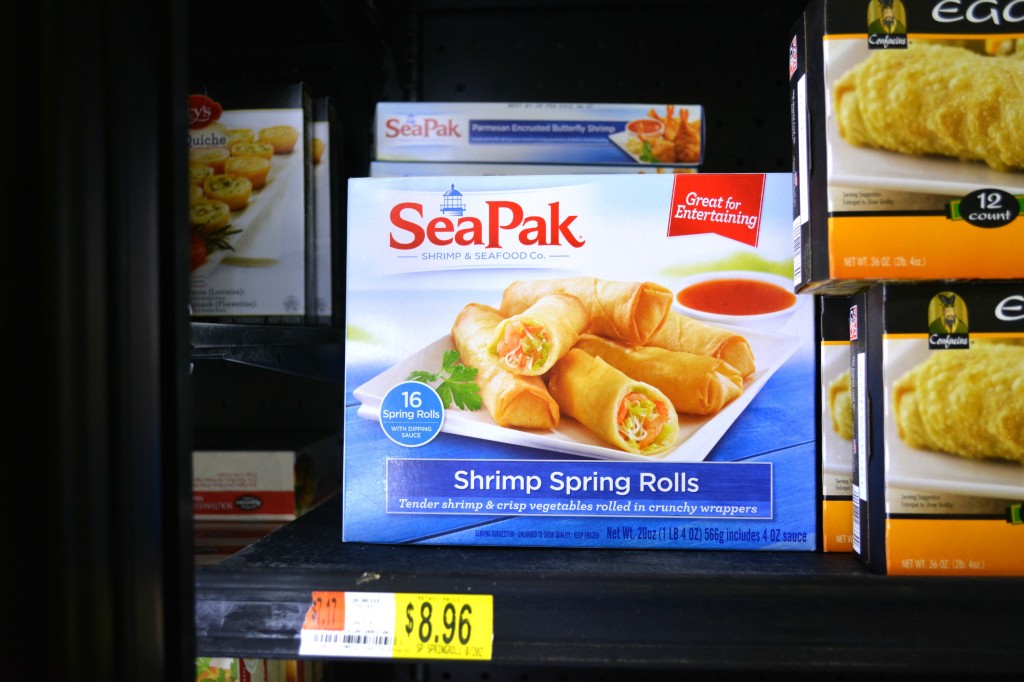 Before bringing them to parties, I was going to do the test and see how it would go over as holiday appetizers, by adding it to my Thanksgiving day menu. On Thanksgiving we generally do the then normal turkey and side dishes, but during football time everyone is always craving a good appetizer. This would be the ideal time in my mind to serve the shrimp rolls.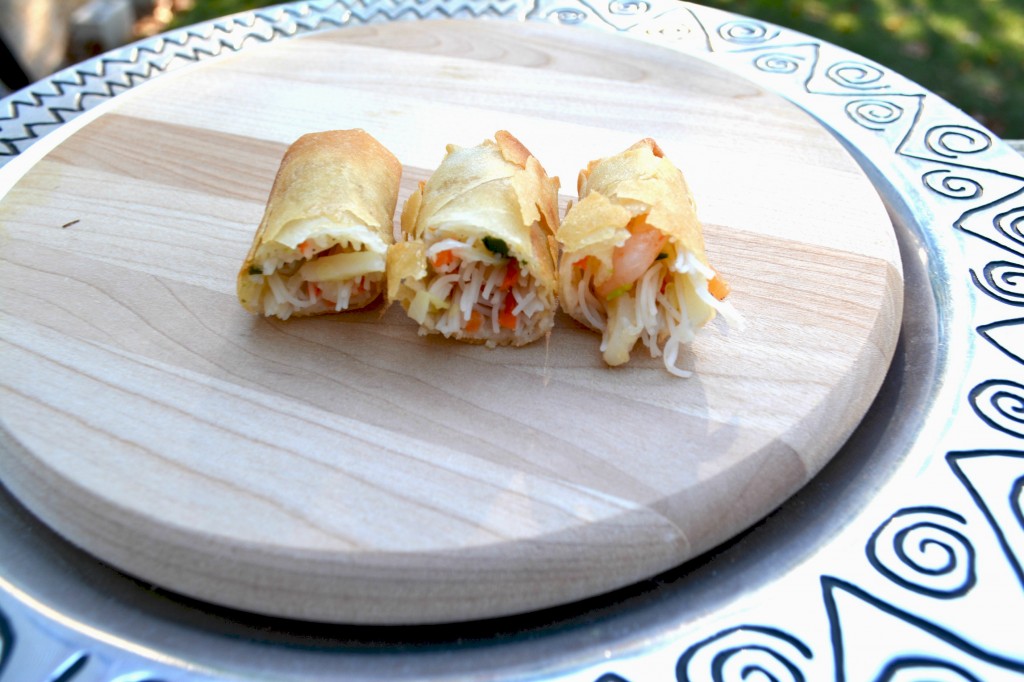 On Thanksgiving morning when I was preparing the food, I simply took the Shrimp Spring Rolls out of the packaging and let it cook in the oven for around 20 minutes, at 450 degrees. That is it- there is absolutely no preparation to  make this appetizer. Rip open the bag, put the Shrimp Spring Rolls on a baking sheet, and then watch them cook in the oven. I know you are probably thinking what I was, that this is way too easy!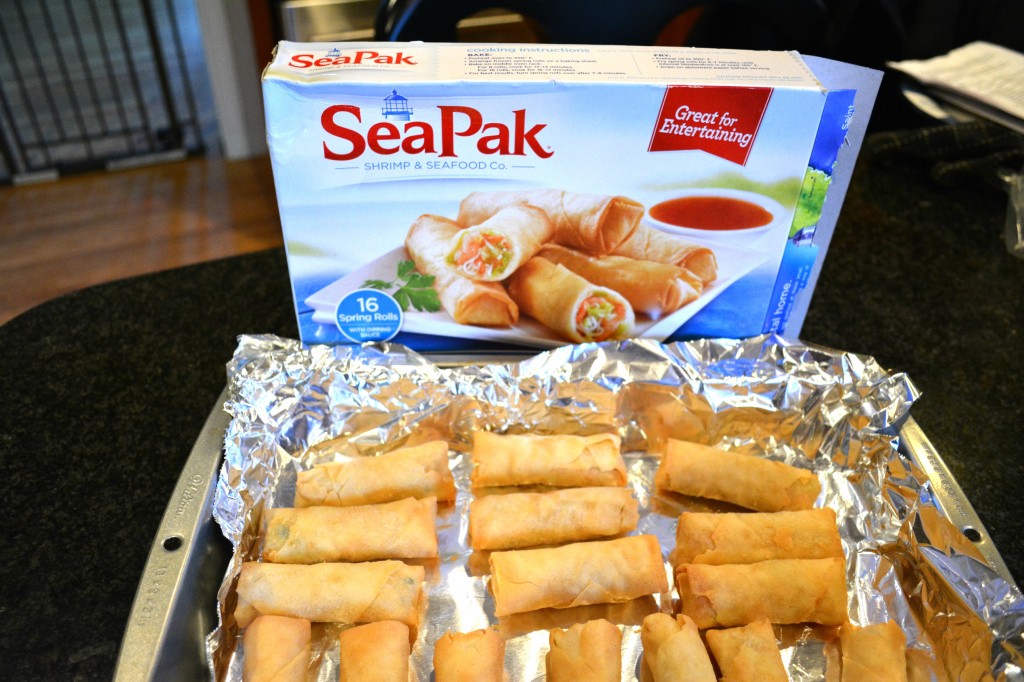 While it was cooking, I decided that I was going to make the Sweet and Sour Sauce that I have made before for other dishes. This dip not only tastes delicious, but takes about 15 minutes from start to finish to make! Easy Peasy…..
Ingredients: 
-1 package SeaPak Spring Rolls
-1 cup pineapple juice
-2/3 cup white or rice vinegar
-1 cup brown sugar
-4 TBLS cornstarch
-2 1/2 cups cold water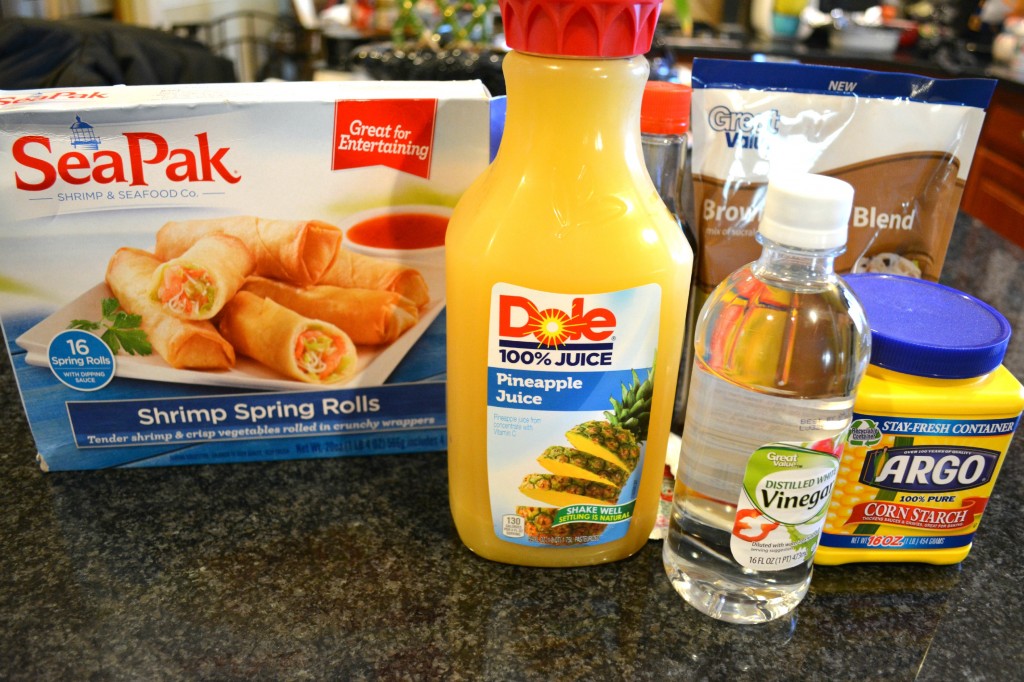 Directions:
1. Cook SeaPak Spring Rolls according to directions on the box.
2. Mix pineapple juice, cornstarch, white vinegar, brown sugar, cornstarch, and water in a medium saucepan over medium heat.
3. Stir constantly for 10 minutes until the Sweet and Sour sauce forms a thick consistency.
4. Put in a bowl with the now ready SeaPak Spring Rolls and enjoy!


Just about the time the dip was done, the Rich's SeaPak Shrimp Rolls were done! I arranged the rolls with the dip on a party platter for an easy, and convenient holiday appetizer. I could not wait to try it, so I delved in right away. I seriously can't  rave enough about these spring rolls! They are absolutely delicious, even without adding a dip. The dip was a great addition but these shrimp rolls truly do stand on their own.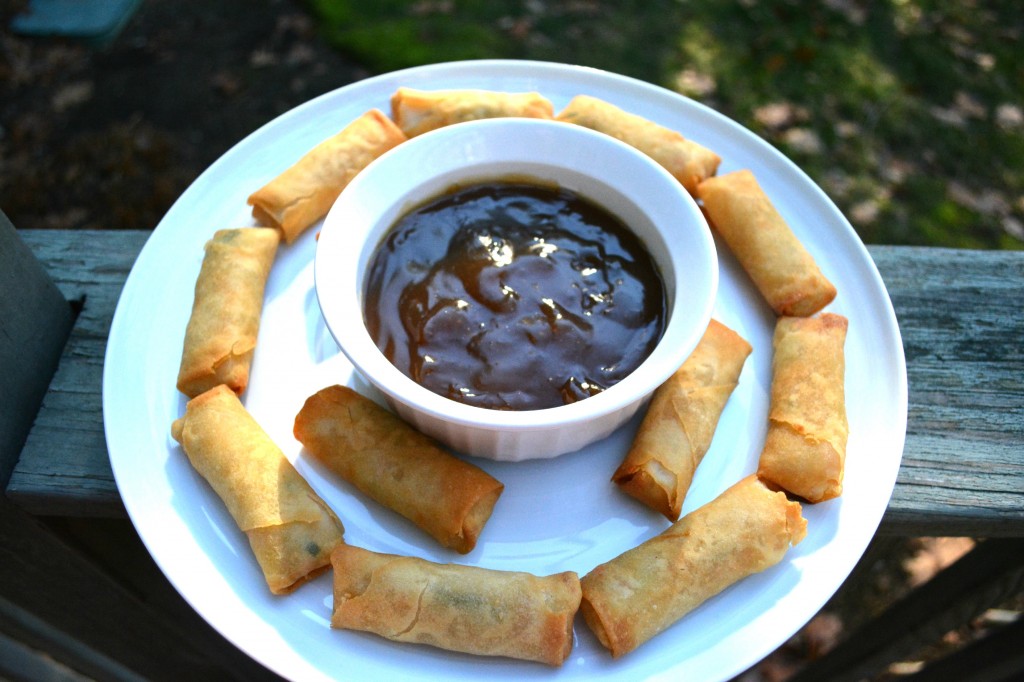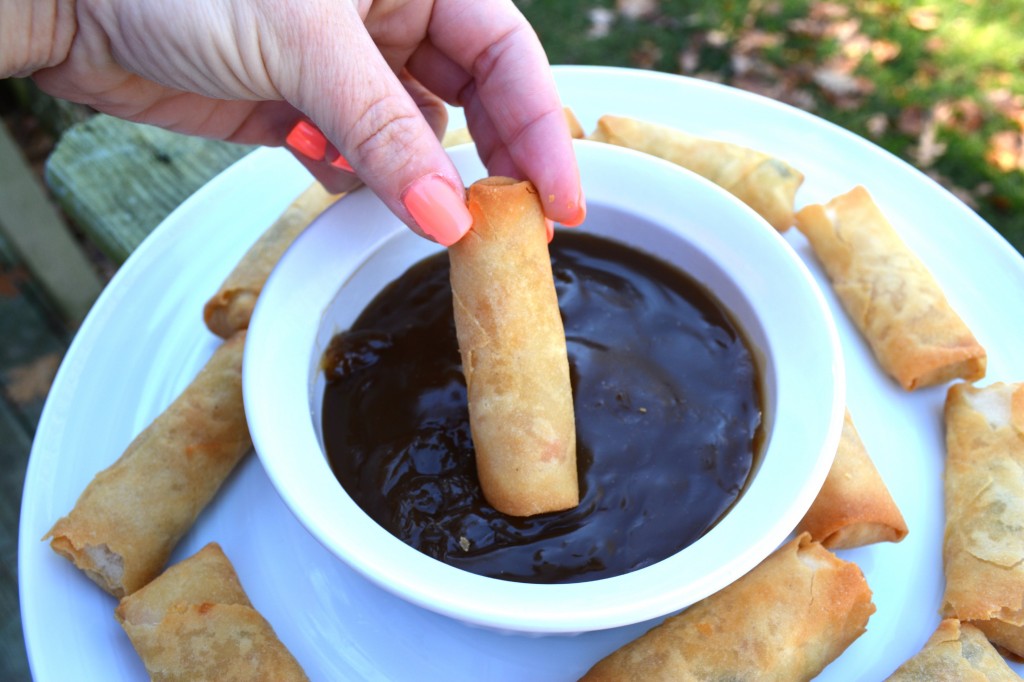 Once it was Thanksgiving time, I set it out on the dining room table and people started eating it as pre-dinner appetizer. It got rave reviews from my entire family. We set up the dining room table, as we always do during the holidays, and our shrimp rolls stood front and center.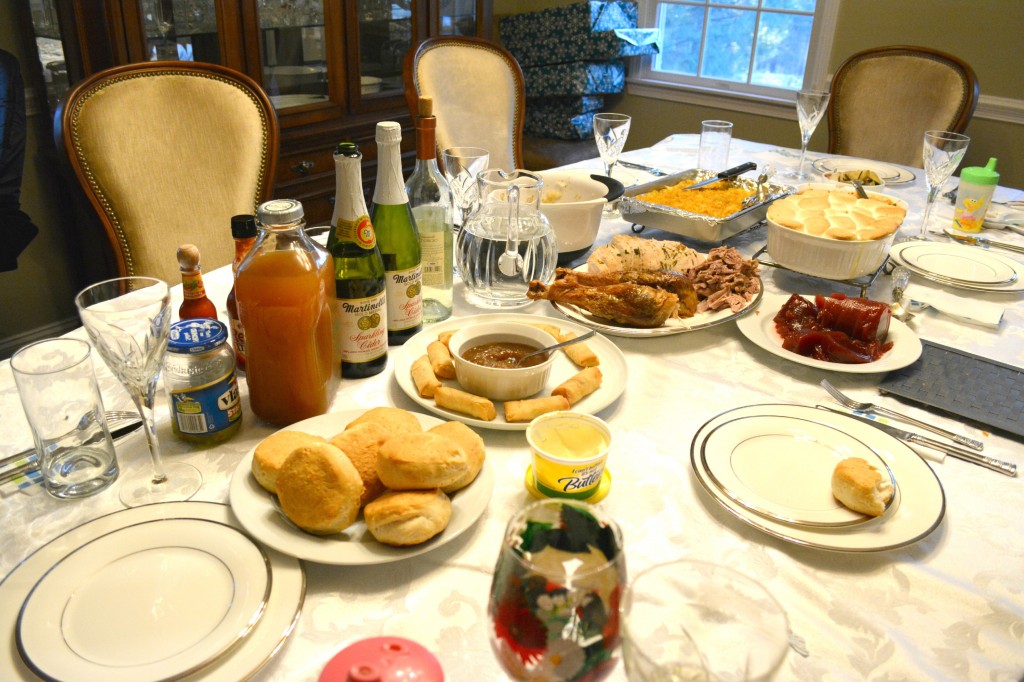 The Rich's SeaPak Shrimp Spring Rolls are perfect for any holiday gathering you may have coming up. They take no time at all to cook and you have to do nothing, other than open the package, bake in the oven, and enjoy. I know the holiday season is extremely stressful and the last thing you want to do is stress over the cooking. Let SeaPak do it all for you with their delicious Shrimp Spring Rolls. Everyone at your holiday parties will be so impressed with them. I can assure you of that! It is also rated as "The 15 Best Frozen Appetizers to Serve at a Party" according to Ladies Home Journal.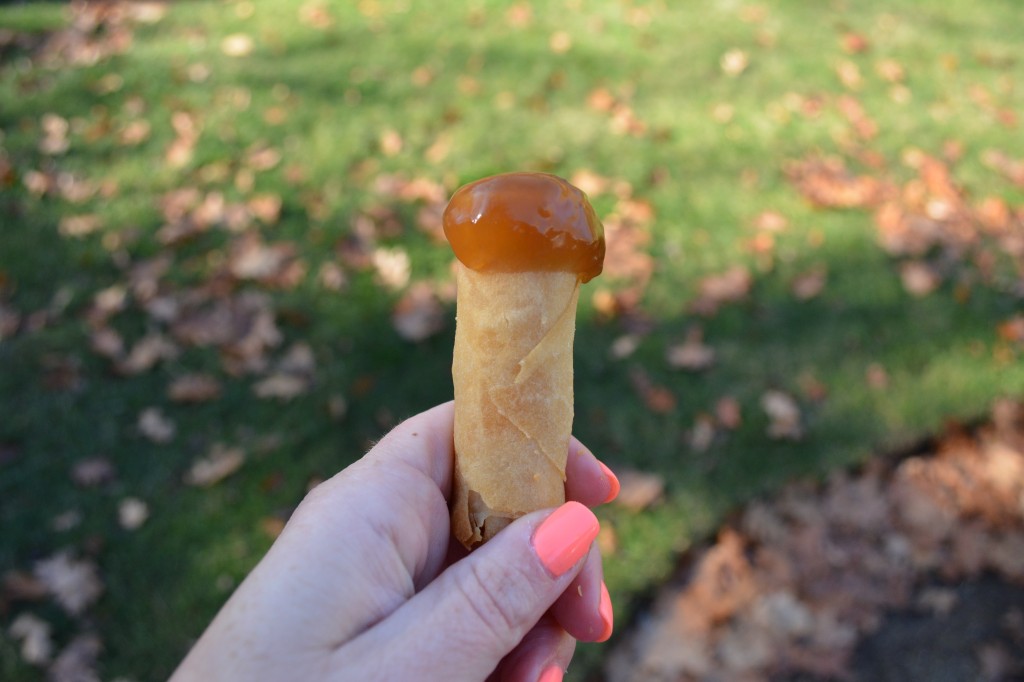 If you are interested in trying out the Rich's SeaPak Spring Rolls, visit Walmart on December 8th (between 1-5 pm) to sample these very delicious rolls! Try the product for yourself and let me know what you think! You can also learn more about Rich's SeaPak Shrimp Rolls by visiting them on Facebook/Twitter/Pinterest today!