This is a Sponsored post written by me on behalf of PeiWei for SocialSpark. All opinions are 100% mine.
Do you have limited time for lunch these days? Perhaps your kids occupy most of your lunch hour or you are working through that long meeting? Lunch needs to be quick and easy! Now, you can get the most out of lunch in the shortest time with the Pei Wei brand new Sriracha Pineapple Pork Lettuce Wraps!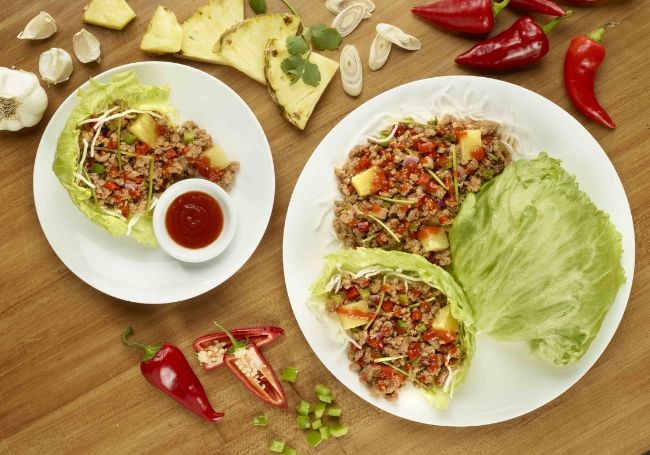 This lettuce wrap is available now only through December, so you want to make sure you try it today before the offer runs out. It joins the three other great lettuce wraps on the market including Traditional Chicken, Thai Chicken, and Korean Steak.
Priced at only $6.95, the Pei Wei Sriracha Pineaple Pork Lettuce Wraps features an all-natural, wok-seared pork and a combination of fresh cut ingredients including pineapple, red onions, green/red peppers-all topped with a great Sriracha sauce in cool, crisp lettuce wraps.  Try them today paired with Pei Wei's Thai Wonton Soup, a Vegetable Spring Roll, or edamame. The Pineapple Pork Lettuce Wraps can also make a great starter for a dinner. Simply share them and you are on your way to a delicious meal.
October is National Pork Month and what better way to celebrate than from the release of the delicious Sirarcha Pineapple Pork Lettuce Wraps. Try this today or any of the Pei Wei high-quality Asian cuisine featuring over 35 fresh cut ingredients.  You can customize your Pei Wei dish since they are made to order. They also offer gluten free and vegetarian options.
Visit Pei Wei and try out the new Sriracha Pineapple Pork Lettuce Wraps today.  Explore the full Pei Wei Asian Diner menu to see all your great lunch/dinner options. Like Pei Wei on Facebook and Follow Pei Wei on Twitter to see more about the new Pineapple Pork Lettuce Wraps. You can also Follow Pei Wei on Pinterest. Enjoy!