I participated in a campaign on behalf of Mom Central Consulting (#MC) for Monk Fruit In The Raw. I received a promotional item and product sample as a thank you for participating.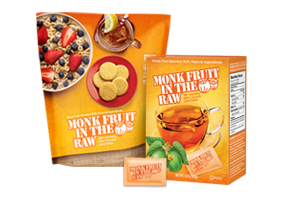 This past summer we traveled to Asia and had the chance to try luo han guo, also known as Monk Fruit. It was one of the most delicious fruits I had to date. I was excited to learn that they now have on the market Monk Fruit In The Raw, which is a wholesome, zero-calorie sweetener, made from the delicious vine-ripened monk fruit. This calorie free sweetener has the sweet taste of sugar, without added table sugar, sugar alcohols (erythritol), or molasses. Plain and simple Monk Fruit In The Raw main sweetening agent is the delicious Monk Fruit!
I feel great knowing the Monk Fruit In The Raw is something I feel very comfortable serving to my family, as it provides a reduced sugar and calorie option with wholesome ingredients, that tastes great!  Monk Fruit In The Raw is available in a packet form or as a Bakers Bag. With the Bakers Bag, it does the work for you to measure cup for cup (like sugar)  and is created specifically for baking .You can use Monk Fruit In The Raw to sweeten tea/coffee, on hot/cold cereal, in a smoothie, or any recipe that calls for sugar.
There are so many great recipes that you can use Monk Fruit In The Raw in. I can not wait to try out the Red Swirled Pudding!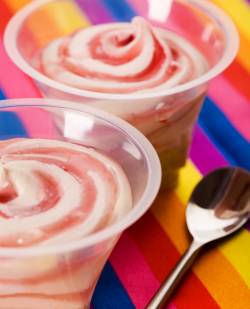 Ingredients
| | |
| --- | --- |
| 1/3 | cup whipping cream, chilled |
| 1 | cup low-fat (2-percent or 1-percent) plain Greek yogurt |
| 4 | packets Monk Fruit In The Raw® |
| 1/2 | teaspoon pure vanilla extract |
| 6 – 8 | tablespoons chilled Red Berry Sauce (see recipe) |
| 4 | whole strawberries, optional, for garnish |
Preparation
In a chilled bowl, use a wire whisk or hand-held electric mixer to whip the cream until soft peaks form. Set aside.
In a mixing bowl, stir the yogurt with a flexible spatula until it is smooth. Add the whipped cream, vanilla, and Monk Fruit In The Raw® to the yogurt mixture, and stir just until the mixture is combined. Cover the remaining whipped cream and refrigerate.
For individual servings, spoon 1/3 cup of the creamy yogurt into a dessert dish, preferably clear, smoothing the top. Spoon on 1 1/2 tablespoons of the Red Berry Sauce. Using a table knife, cut down, lift, and swirl the blade to blend the red sauce with the creamy yogurt as much as desired without blending them entirely. Repeat, using the remaining creamy yogurt and 6 tablespoons of the Red Berry Sauce. Or, spoon all of the creamy yogurt into a 1-quart glass serving bowl, pour on 8 tablespoons of Red Berry Sauce, and swirl to blend them. Cover the bowl(s) with plastic wrap and chill to set, 1-2 hours for individual servings, 2-4 hours for the larger bowl. This pudding keeps, covered in the refrigerator, for 2 days.
Before serving, top each serving with a dollop of the remaining whipped cream. If desired, cut each whole strawberry into a fan by making 4 or 5 vertical diagonal, then press gently to fan out the slices. Place a strawberry on top of each whipped cream dollop.
Serve immediately.
Nutrition Information
Per serving: 150 calories, 10 g fat (7 g saturated fat), 13 g carbohydrate, 3 g protein, 2 g dietary fiber, 50 mg sodium.