Join the "Feastivities" this Holiday Season with Elle Fowler and her cat, Pinecone!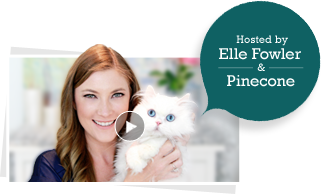 This holiday season is all about giving to the ones you love, especially your cats! Popular online glamour and beauty expert Elle Fowler and her cat Pinecone have teamed up with Fancy Feast to ensure cats are included in all the holiday festivities with the launch of Feastivities, a holiday celebration of all things cat at Feastivities.com. The launch of Feastivities.com gives cat lovers the ideal online guide for holiday cheer featuring a collection of hand-crafted designer gifts for cats, cat owners and cat lovers! Feastivities.com also features Fancy Feast's 2013 holiday ornament.
I had the pleasure to interview Elle Fowler, a 25-year-old beauty and fashion guru. As one of YouTube's beauty vlogging pioneers, her videos have been loved by millions of loyal fans over the past 5 years.  In addition to her popular YouTube channels (AllThatGlitters21 & EllesGlitterGossip) Elle is an author, blogger, TV personality and feline enthusiast.  Elle and her 2-year-old cat Pinecone make an adorable duo with a passion for all things cat!
Elle talked about a great cat gift guide including a Teepee, a colar with snowflakes on it, a bowtie collar for the male cats, and more! For the cat owners, they have two rings made out of wire, a set of gold bangles that says "I heart cats", a tote bag with a cat picture, a bracelet with a cat picture, and an ornament that is printed on an antique press. All the proceeds from the ornament go to Adopt a Pet and is only $2.99 for the ornament price.
With the holiday ornament sale, you can give back! You can also foster an animal or giving some time at a shelter. For the holidays, Fancy Feast also has a gravy turkey meal for those special cats in your life. These are great Fancy Feast foods for all those special cats in your life. You need to make sure that your cat is taken care of this holiday season!
You can find out about all things cats and great gifts to give on Feastivities.com today!

*This is a partnered interview. All my opinions are my own and not swayed by outside sources.*