*This is a partnered post with Coca Cola. All opinions are my own and not swayed by outside sources.*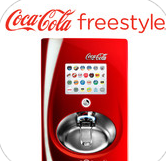 I have really exciting news for all those die-hard Coca- Cola fans, like myself! This fall, for a limited time, Coca-Cola is launching a new mobile application that allows consumers to connect their smartphone directly to the revolutionary Coca-Cola Freestyle dispenser. What is so neat about this app, is you can actually create your own Coca- Cola beverage on your phone and then use this to get it dispensed at selected Wendy's locations across the country. I know it sounds so awesome, but you might be wondering how it all works! Keep reading..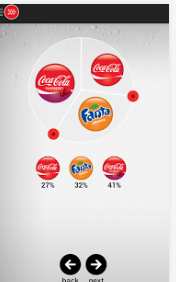 Beverage lovers can download the new Coca-ColaFreestyle app to their smartphone and create different drink mixes from more than 100 available brands. Then, by simply "bumping" their phone against the Coca-Cola Freestyle dispenser or scanning a QR code on the screen at their favorite participating Wendy's location, their unique mix automatically dispenses.
While people across the country can download and interact with the app – creating and saving their favorite drink mixes – Providence is one of only three markets to pilot this fun, new technology. In addition, the app's Wendy's interaction is exclusive to the Providence area. Being in the Providence area, this is so neat to see such cutting technology! It is innovative, exciting, and fun all in one! Other markets will be following so stay tuned..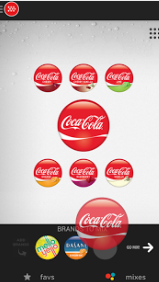 The endless possibilities are cause for celebration, and this can all be done by simply downloading the Coca-Cola Freestyle App on your phone!  I highly encourage you all  to download the Coca-Cola Freestyle app, save your favorite drink, and quench your thirst. It is not only so fun to use, but it is convenient! I love being able to create my own unique drink!
The app is available on the  iPhone/iOS:Coca-Cola Freestyle App and here for Android devices: Coca-Cola Freestyle App. Be sure to check it out today to create your own beverage! Here is more information about the app:
*Find over 100 ways to quench your thirst. The Coca-Cola Freestyle app helps you find the nearest spot where you can explore endless possibilities. With our location finder, you can discover nearby locations that have a Coca-Cola Freestyle fountain with 100+ choices waiting for you. It also shows you where to get good deals from your favorite restaurants, movie theaters and more. Once you find a place to enjoy, you can earn badges and prizes by checking in and exploring all of the brands available. You can also use the app to explore and save your favorite brands. This is gonna come in handy real soon. *
Giveaway: Two winners will receive Wendy's gift cards, each worth $25. This giveaway is run via rafflecopter, so click read more to see the actual giveaway. The only mandatory entry is to tell me, what about the app you like best. Please put all comments in comment section proceeding the post. While the other entries are optional, I highly suggest filling them out to increase your chances of winning. US only. Good luck!