**This post is sponsored by Weight Watchers and The Motherhood. I also received a 3-month trial subscription to Weight Watchers Online.  However, all opinions are my own.**
It is no secret that most moms do not take enough time for themselves. They rush through the days taking care of kids, which leaves very little time for themselves! Can you relate? I always wondered if I can take some time in the day for just me, and find out all the latest information about my favorite shows, fashion, fitness,  recipes, celebrity news, tips, deals,  and more, all in one place!  I don't have the time to search out various magazines to find out what I am looking for. I need an all-inclusive magazine! Now though, I could with the brand new Weight Watchers new digital magazine, MomFeeds, which features content geared towards us moms! I love that I could find out all the amazing information I scout out for daily in one easy downloadable magazine! This is all thanks to Weight Watchers, the world's leading provider of weight management services, operating globally through a network of Company-owned and franchise operations.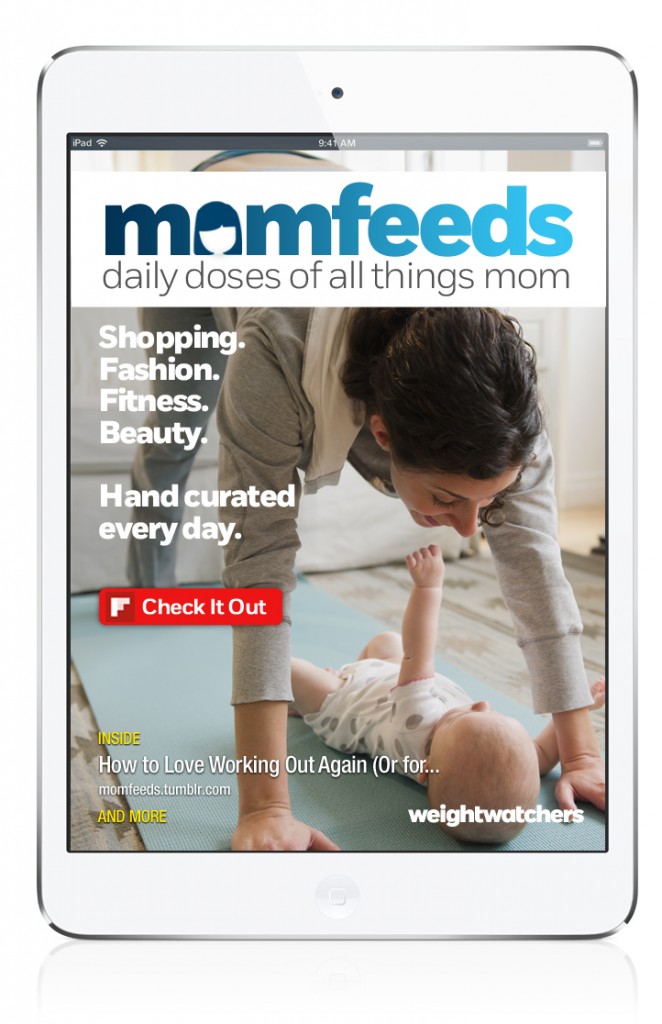 Once I heard about MomFeeds, my first step was to download the free Flipboard app, which is completely free and available on Google Play and iTunes. Once the app is downloaded, simply subscribe to MomFeeds, and you will have all the greatest information all in one handy place! If you need a bit of help to get you started in downloading the app, check out this great video tutorial:

When I was going through the MomFeeds daily doses of all things mom magazine, I saw so many wonderful, informative, as well as funny articles. What I loved is not only the vast array of articles they have, but you can readily flip through the pages with your thumb if you are not interested. No need to read all the articles if you do not want- but rest assured, you will probably want to. This is your fair warning!
The first article I read  was entitled "18 cooking tips to cut time, but not flavor to your dishes." This is great to know for any mom, as we probably don't have a lot of time in the kitchen. It gives you so many wonderful ideas and tips how to make baked meals, such as lasagnas and casseroles with fresh ingredients, in little time. I know I am planning to use this article to put my cooking to the test.
I then flipped to see a way to create a body scrub recipe. Who needs to visit the spa when MomFeeds gave me an outstanding recipe to make my own scrub at home. It consisted of three ingredients and in no time, you will have your own scrub! If this sounds fitting to your lifestyle, why not check out MomFeeds to find the full recipe! Articles are constantly changing..so, please sure to check it daily!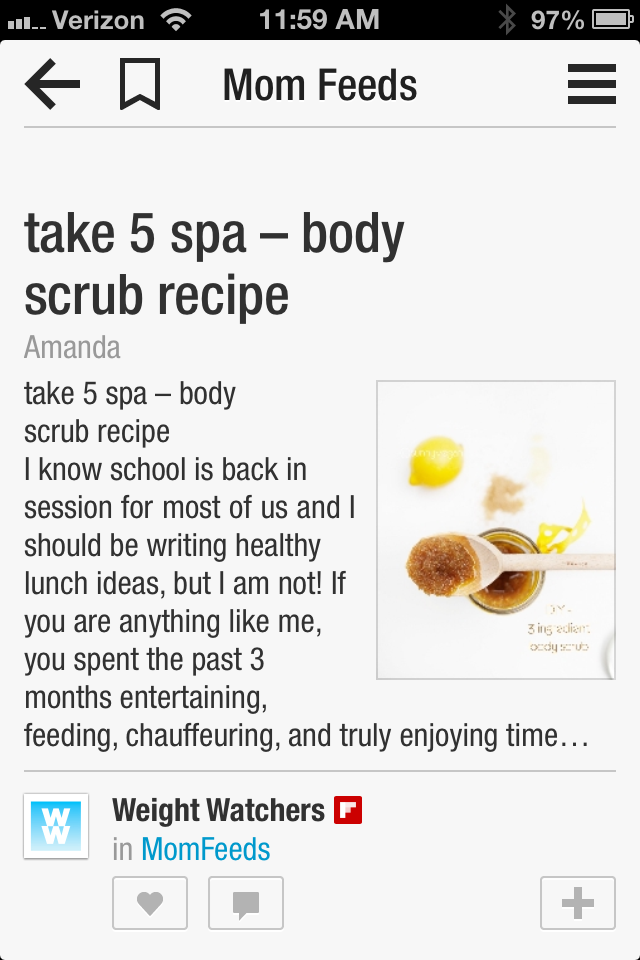 Moms also are heavily involved with the tech world. There is a great article in MomFeeds about a whole new world of gizmos and apps to help make life with your little one easier! Being a mom, this article made it easy for me to see what was hot on the market including a camera that is easy to set up and play yard that opens with the push of the button.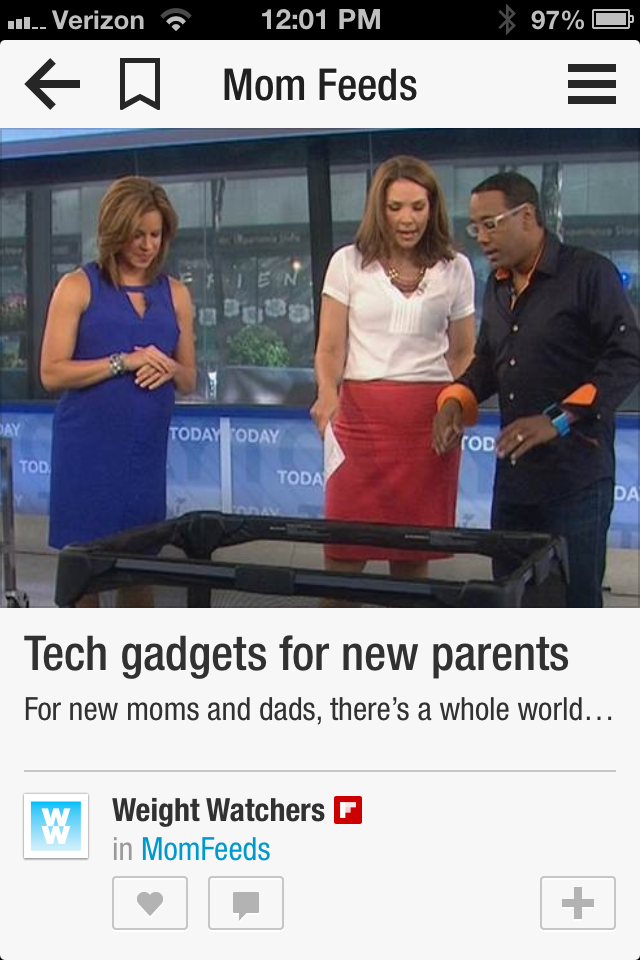 I can go on and on about how awesome MomFeeds magazine is. It takes all of a second to download and you will be on your way to finding your one stop app for us moms! Recipes…Tips..Humor…Celebrity News…Fashion- Need I say more!!! Be sure to download the new Weight Watchers New Digital Magazine, MomFeeds, today! Trust me-you will thank me!
Win it: Two winners will each receive the  Weight Watchers Ultimate Chicken Cookbook. The hardcover cookbook includes 250 of Weight Watchers' best-ever recipes focusing on this versatile ingredient. Value: $29.99 each.  This giveaway is run via rafflecopter so click read more to see the actual giveaway. The only mandatory entry is to tell me what interests you the most about MomFeeds in the comment section proceeding the post. While the other entries are optional, I highly suggest you fill it out to increase your chances of winning. US only. GL! Weight Watchers will provide the prize but did not design and is not administering the sweepstakes.