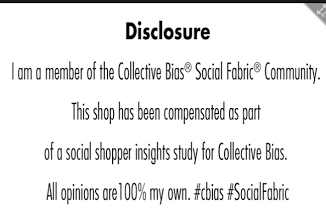 One of my favorite pastimes at night is to peruse Fashion Blogs to find out about the latest  2013 Fashion Trends.  There is nothing like going through my wardrobe and updating it with the latest fall fashion styles that I find.   This fall, Sears has you covered to make you into a total fashionista without putting unnecessary dents into your budget.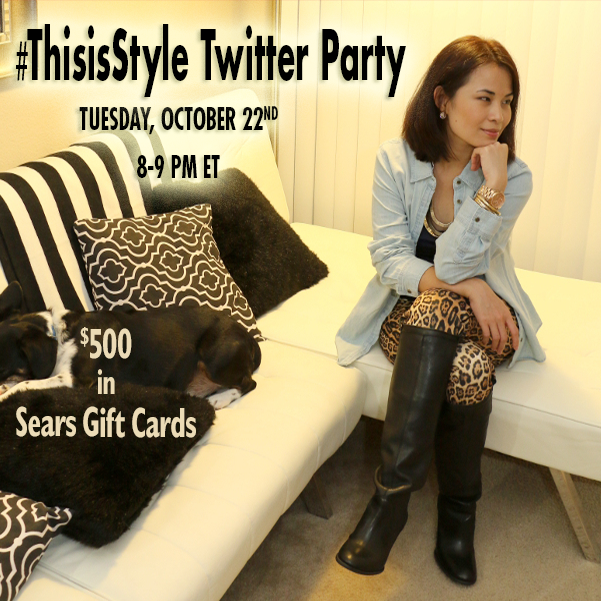 You can now discover your cold weather and fall fashion styles at Sears.  I was just there yesterday and I got gorgeous statement pieces for the fall! I came home with a wide assortment of denims, dresses, pants, and jewelry! You can find some of the greatest deals now at Sears and you can certainly get The Look for Less!
Have I got your interest peaked? If so, you can  join us at the :  #ThisisStyle TWITTER PARTY
DATE:  October 22nd, 2013
TIME: 8:00-9:00 PM ET
PRIZES:  $500 in Sears Gift Cards
HASHTAG: #ThisisStyle
HOST: @KellysLuckyYou
CO HOSTS: @amomsimpression, @dentistmel, and @SavvyMomNYC
SPECIAL GUEST: @SearsStyle
TWITTER PARTY LIST:  http://cbi.as/s68o9
TIPS FOR FOLLOWING PARTY:  http://cbi.as/5oac-
Get Ready For the Party by Tweeting Out:  Join #ThisIsStyle Twitter Party 10/22 8pm ET. Fall fashion trends! Prizes $500! RSVP/Rules http://cbi.as/gtq13 #shop #cbias
All you need to do before the party is go ahead and register your twitter info below to be registered for our rocking party on 10/22
#ThisisStyle Twitter Party Sweepstakes Official Rules
NO PURCHASE NECESSARY TO ENTER OR WIN. BY ENTERING THE SWEEPSTAKES, YOU ("ENTRANT" OR "YOU") MUST AGREE TO THESE OFFICIAL RULES, WHICH CREATE A CONTRACT SO READ THEM CAREFULLY BEFORE ENTERING.
1. Eligibility. The #ThisisStyle Twitter Party Sweepstakes (the "Sweepstakes") is open only to legal residents of the United States, who have a Twitter account, and are eighteen (18) years of age or older at the time of entry. Employees of Collective Bias, Inc. ("Sponsor" and "Administrator"), Sears Holdings Management Corporation, and their affiliates, as well as the immediate family (spouse, parents, siblings and children) and household members of each such employee are not eligible. The Sweepstakes is subject to all applicable federal, state, and local laws and regulations. Void in Puerto Rico and where prohibited. If you do not have a Twitter account, it is free to create one at www.Twitter.com.
2. Agreement to Official Rules. Participation in this Sweepstakes constitutes Entrant's full and unconditional agreement to these Official Rules and Sponsor's decisions, which are final and binding in all matters related to this Sweepstakes. Winning a Prize is contingent upon fulfilling all requirements set forth in these Official Rules.
3. Submission Entry Period. Entrants may make submissions via Twitter following guidelines outlined in How to Enter ("Entry") between the hours of 8:00 pm – 8:55 pm ET on Tuesday, October 22, 2013 ("Entry Period"). Date and time can change based on Twitter's status. If date and time are changed entrants will be notified via Twitter using appropriate hashtag (#ThisisStyle). Sponsor's clock is the Sweepstakes' official clock.
4. How to Enter. Enter by RSVPing for the Twitter party at #ThisisStyle party via this link: http://cbi.as/gtq13, be actively participating in the party by tweeting during the party; following @searsStyle, @KellysLuckyYou, @amomsimpression, @dentistmel and @SavvyMomNYC; and by using the hashtag #ThisisStyle. To be eligible to win prize(s), Sweepstakes entrants must submit a tweet during the Entry Periodusing #ThisisStyle hashtag. Sponsor, may disqualify you from the Sweepstakes if it believes, in its sole and absolute discretion that your Submission fails to conform to these Official Rules.
5. Prizes, Approximate Retail Value and Odds of Winning. Prizes will be limited to five (5) $100 Sears® Gift Cards to be given away during the 1 hour duration of the party on October 22, 2013. Total value of all prizes awarded in this Sweepstakes is $500. All winners will be chosen using random.org from the RSVP link and the active tweets during the party. Winners must be present and participating in the party using the hashtag #ThisisStyle at the time that they are drawn as a winner. Odds of winning depend on the number of eligible entries received and active tweets during the party. Winner will be notified via Twitter @ message by @KellysLuckyYou during the party on October 22, 2013 and must respond to @KellysLuckyYou within 5 minutes of being selected to claim their prize.
a. All Prizes are non-transferable, with no cash redemptions, equivalents or substitutions except at Sponsor's sole and absolute discretion. All Prize details not specified in these Official Rules will be determined in Sponsor's sole and absolute discretion. Prize details and availability are subject to change, and in the event that Sponsor is unable to provide a Winner with their Prize, the Sponsor may elect, to provide such Winner with the approximate value of such item in cash or award an alternate prize of comparable or greater value.
b. There is a limit of 1 (one) prize per household during the party. Prizes will be shipped within 4-6 weeks following the end of the Sweepstakes. Each gift card is subject to the terms and conditions set forth on the gift card. Each gift card is redeemable for merchandise only and will not be redeemed or exchanged for cash, except where required by law. Each gift card will not be replaced or replenished if it is lost, stolen, damaged, destroyed or used without your permission and will be voided if altered or defaced. Winner is responsible for any taxes on prizes awarded.
6. Limitation of Liability: IN NO EVENT WILL THE RELEASEES (DEFINED BELOW), THEIR ADVERTISING OR SWEEPSTAKES AGENCIES OR THEIR RESPECTIVE OFFICERS, DIRECTORS, EMPLOYEES, REPRESENTATIVES AND AGENTS, BE RESPONSIBLE OR LIABLE FOR ANY DAMAGES OR LOSSES OF ANY KIND, INCLUDING DIRECT, INDIRECT, INCIDENTAL, CONSEQUENTIAL OR PUNITIVE DAMAGES. Sponsor and Administrator assume no responsibility for undeliverable e-mails resulting from any cause, including any form of active or passive e-mail filtering by a user's Internet Service Provider and/or e-mail client or for insufficient space in user's e-mail account to receive e-mails. By participating in this Sweepstakes, each Entrant agrees to release and hold harmless Sponsor, Administrator, Sears Holdings Management Corporation, their respective affiliates and related companies and each of their respective officers, directors, employees, agents, and other representatives (collectively, the "Releasees") from any and all liability for any injuries, losses or damages of any kind to persons, including death, or property arising in whole or in part, directly or indirectly, from acceptance, use or misuse of a prize, participation, or inability to participate in Sweepstakes, any Entries or any Sweepstakes-related activity. Releasees are not responsible for printing errors or for lost, late, unintelligible, misdirected, incomplete, damaged or garbled Entries or any other documents. Releasees are not responsible for any: (a) telephone, computer, hardware, software, programming or interrupted or unavailable network, server or other connections, network malfunction, or other technical failures or errors, or failure to properly process Entries; (b) communication disruption or other forces beyond the reasonable control of the Sponsor, make Entries or other disruption related to Internet traffic, virus, bug, or non-authorized intervention; or (c) damage caused by computer virus or otherwise resulting to any computer by entering this Sweepstakes, whether human, mechanical or electronic. Releasees shall not be liable to any Entrant or any other person for failure to supply a prize or any part thereof, by reason of any acts of God; any action(s), regulation(s), order(s) or request(s) by any governmental or quasi-governmental entities (whether or not they prove to be valid); equipment failure; terrorist acts; earthquake; fire; flood; war; explosion; unusually severe weather; hurricane; embargo; labor dispute or strike (whether legal or illegal); labor or material shortage; transportation interruption of any kind; work slow-down; civil disturbance; insurrection; riot; or any other cause beyond Sponsor's sole control.
7. Governing Law: THE SWEEPSTAKES IS GOVERNED BY, AND WILL BE CONSTRUED IN ACCORDANCE WITH, THE LAWS OF THE STATE OF MICHIGAN, AND THE FORUM AND VENUE FOR ANY DISPUTE SHALL BE IN THE STATE OF MICHIGAN. IF THE CONTROVERSY OR CLAIM IS NOT OTHERWISE RESOLVED THROUGH DIRECT DISCUSSIONS OR MEDIATION, IT SHALL THEN BE RESOLVED BY FINAL AND BINDING ARBITRATION ADMINISTERED BY JUDICIAL ARBITRATION AND MEDIATION SERVICES, INC., IN ACCORDANCE WITH ITS STREAMLINED ARBITRATION RULES AND PROCEDURES OR SUBSEQUENT VERSIONS THEREOF ("JAMS RULES"). THE JAMS RULES FOR SELECTION OF AN ARBITRATOR SHALL BE FOLLOWED, EXCEPT THAT THE ARBITRATOR SHALL BE EXPERIENCED AND LICENSED TO PRACTICE LAW IN MICHIGAN.
8. Consent: UNLESS PROHIBITED BY APPLICABLE LAW, BY ENTERING THE SWEEPSTAKES, A ENTRANTCONSENTS TO THE USE OF HIS OR HER NAME, LOCATION, LIKENESS, IMAGE, ADDRESS AND/OR PRIZE INFORMATION and/or Sweepstakes entry for promotional and other purposes (including without limitation, commercial purposes) without further payment, except where prohibited by law. By entering the Sweepstakes, Entrants give their express permission to be contacted by Sponsor by telephone, e-mail and/or postal mail regarding the Sweepstakes.
9. Privacy Policy: Any personally identifiable information collected during an Entrants participation in this Sweepstakes will be collected by Sponsor or its agent and used by Sponsor, its affiliates, agents and marketers for purposes of the proper administration and fulfillment of the Sweepstakes as described in these Official Rules and in accordance with the Privacy Policy as stated athttp://collectivebias.com/privacy.html.
10. Miscellaneous: Sponsor reserves the right to change these Official Rules or cancel the Sweepstakes at any time, at its discretion. In the event of any dispute concerning the identity of any entrant, the entry will be deemed submitted by the natural person who is the authorized holder of the transmitting account. "Authorized account holder" is defined as the natural person who is assigned to a Twitter account by Twitter, who is responsible for assigning all Twitter accounts. Any false information provided within the context of the Sweepstakes by any Entrant concerning identity, mailing address, telephone number, e-mail address, ownership of right or any other non-compliance with these Official Rules or the like may result in the immediate elimination of the Entry from the Sweepstakes.
11. Winner's List: For the name of the prize winners, those interested print their name and address on a 3″x 5″ card and mail it in an envelope to: #ThisisStyle Twitter Party Official Rules, c/o Collective Bias, 205 S. Main Street, Bentonville, AR 72712. Specify "Rules" or "Winner List" on the card. Winner List requests will only be accepted after the Sweepstakes end date (listed above) and requests must be received no later than November 30, 2013.
This Sweepstakes is in no way sponsored, endorsed or administrated by, or associated with, Twitter. Entrants understand that they are providing their information to the Sponsor and not to Twitter.
Sponsor: Collective Bias, Inc., 201 S. Main St., Bentonville, AR 72712.