Nickelodeon Home Entertainment and Paramount Media Distribution have prepared the perfect holiday re-release for some of their most popular DVD releases. These merry gifts sets are filled with plenty of activities including a 16 page coloring book, crayons, stickers, and a poster. Children are guaranteed to be entertained for hours this season! These gift sets are now available for the retail price of $19.99 each.
DVD sets include: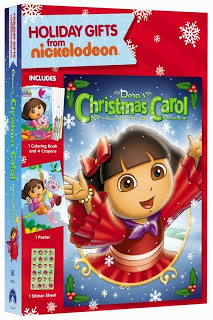 1. Dora the Explorer: Dora's Christmas Carol- Celebrate the past, present, and future of Christmas with Dora in the holiday classic filled with original songs and exclusive extra scenes.
2. Spongebob SquarePants: It's A SpongeBob Christmas– Jingle the bells, put up some mistletoe and make a cup of cocoa with Nickelodeon's first-ever full-length stop-animation special. Inspired by the classic Rankin/Bass special like Rudolph and the Red Nose Reindeer and Santa Clause is Comin' To Town, this new holiday classic is perfect for the entire family!
3. Teenage Mutant Ninja Turtles: Rise of the Turtles– Join Leonardo, Raphael, Donatello, and Michelangelo in this action packed DVD as they emerge from their hidden lair in the sewers of New York City for the very first time.
4. Winx Club: The Secret of the Lost Kingdom Movie– Feel the magic with the fairies of Alfea College in their first DVD! Bloom and her best friend Stella, Flora, Tecna, Musa and Aisha make up the Winx Club. Join them as they star in the first CGI full length movie and seven bonus episodes from the Winx Club TV series.
These wonderful DVD sets would be great for any Nick fan in your lives! My kids are HUGE Winx and Dora fans, so they really enjoyed seeing all of their favorites come alive right before their own eyes, in this compilation of Nick DVDs! Be sure to purchase the set today before it goes away!
*I received the above  DVDs from Nickelodeon for review. All my opinions are my own and not swayed by outside sources.*