**I participated in a campaign on behalf of Mom Central Consulting for Stride Rite. I received products to facilitate my review and thank me for my participation.**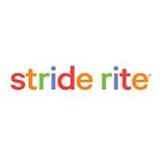 Hayley and Zane are all ready for Halloween! Hayley is going to be a Disney princess in anticipation of our trip to Disney in two weeks. Zane decided after seeing Monster U for the 10th time, that he wants to be Mike…. We have had their costumes set for months now but we were missing one important component- their shoes! I wanted to get themed Halloween shoes that would go well with their outfits. What outfit is complete without shoes! As luck would have it, we found the perfect Halloween themed shoes to go with each of their outfits respectively. We found these shoes at one of our favorite kids' shoe stores, Stride Rite!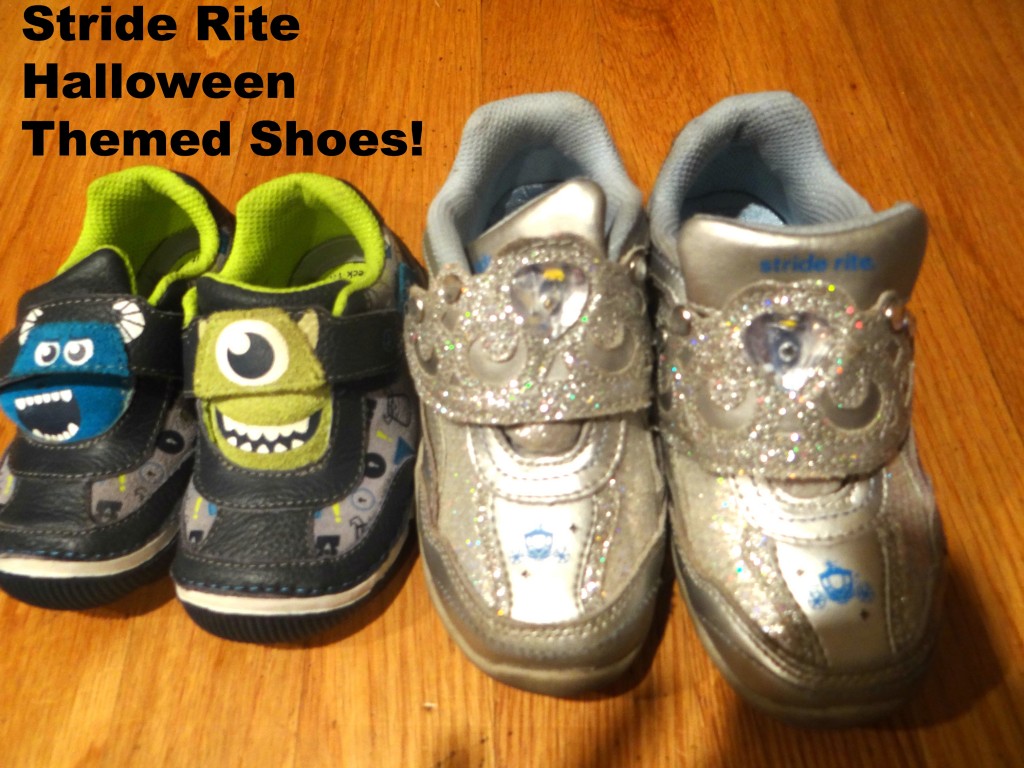 This Halloween, everyone's favorite shoe store is getting into the Halloween spirit by introducing fun themed shoes for your children.  Stride Rite wants to support every imaginative step that your child has and incorporate that into their wonderful shoes. They have so many wonderful Halloween themed shoes including:  Spider-Man, Captain America, Star Wars, Disney Princess and Minnie Mouse, and with a breadth of brands including Stride Rite, Sperry Top-Sider, Keds, Saucony and Jessica Simpson. If you have an costume in mind for your children, Stride Rite will have you covered with all your footwear. Stride Rite wants to add the finishing touch to your child's outfit while still giving them comfort of a shoe for those Trick or Treating nights and beyond.
Now to tell you all about Hayley and Zane's selection for Stride Rite Halloween themed shoes. Zane being Mike W, needed a shoe to complement his outfit perfectly! Wouldn't you believe that Stride Rite has the  Disney Baby Monsters, Inc. SRT Shoes perfect for my little Monster U lovers! This shoe features Mike and Sulley on the actual shoe! It is so stinkin' cute!!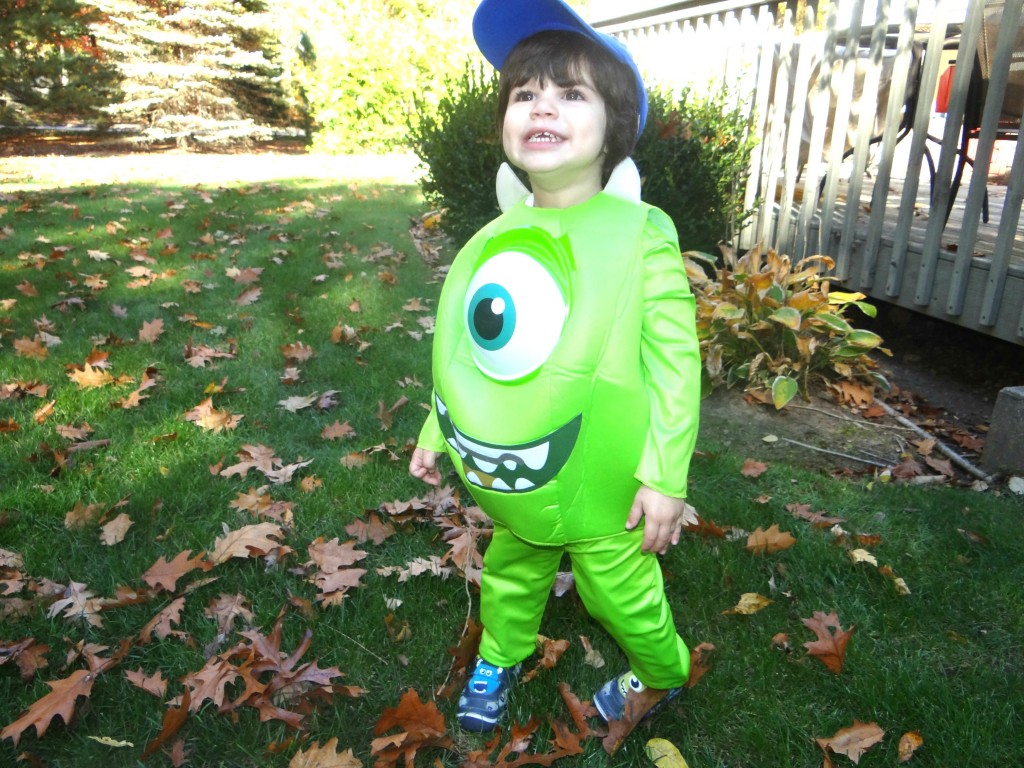 It complements his Mike W outfit perfectly! I could not have asked for a better pair of sneakers for Trick or Treating. When we got these shoes, Zane did not care to wait until Halloween. He has worn them every single day and I see these shoes being worn, until the time he does not fit in them anymore. As a parent, I like a shoe that will holds up well and I see this shoe (as with most Stride Rite shoes) will definitely be durable throughout the year he is wearing them.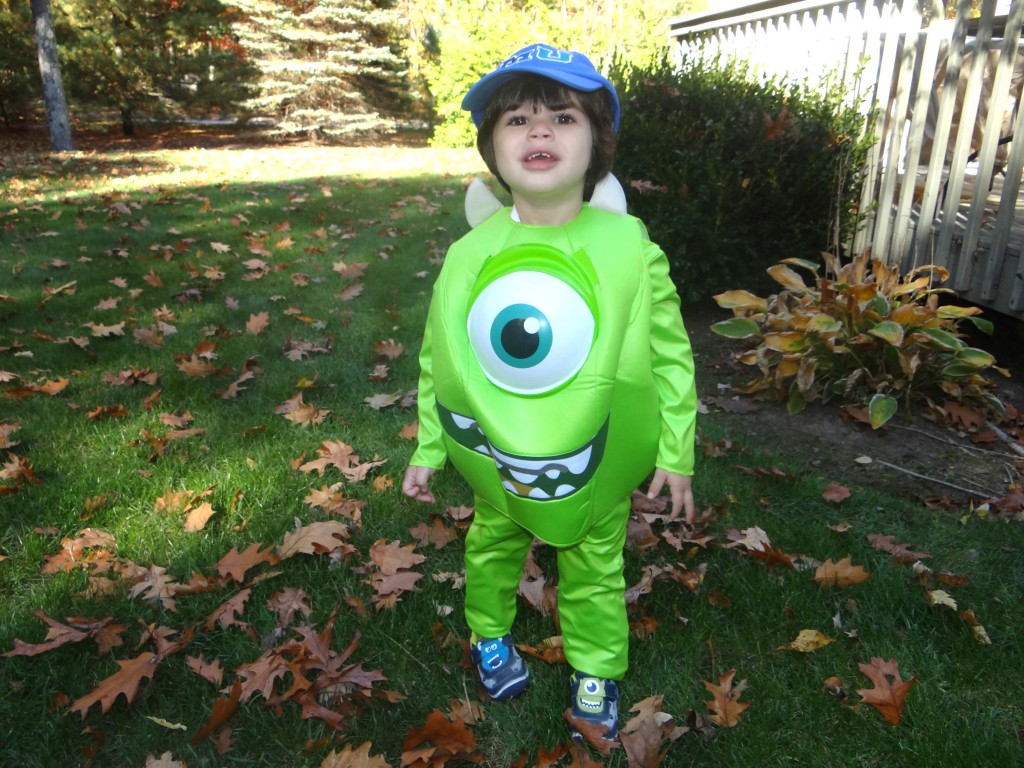 What I love about this shoe is how easy it is to get on and how comfortable the shoe is on Zane's feet. It features a hook-and-loop strap for easy-on/easy-off convenience and contains Stride Rite patented Sensory Response Technology™ inside, with a removable Check Fit sizing insole. It has rounded edges to decrease falls, leather and suede upper, mesh linings for breathability in the shoe, and is available in medium, as well as wide, which is great for Zane's wide feet!  While this shoe is unbelievably cute, it is durable and will help support all your little one's feet during this Halloween season and beyond.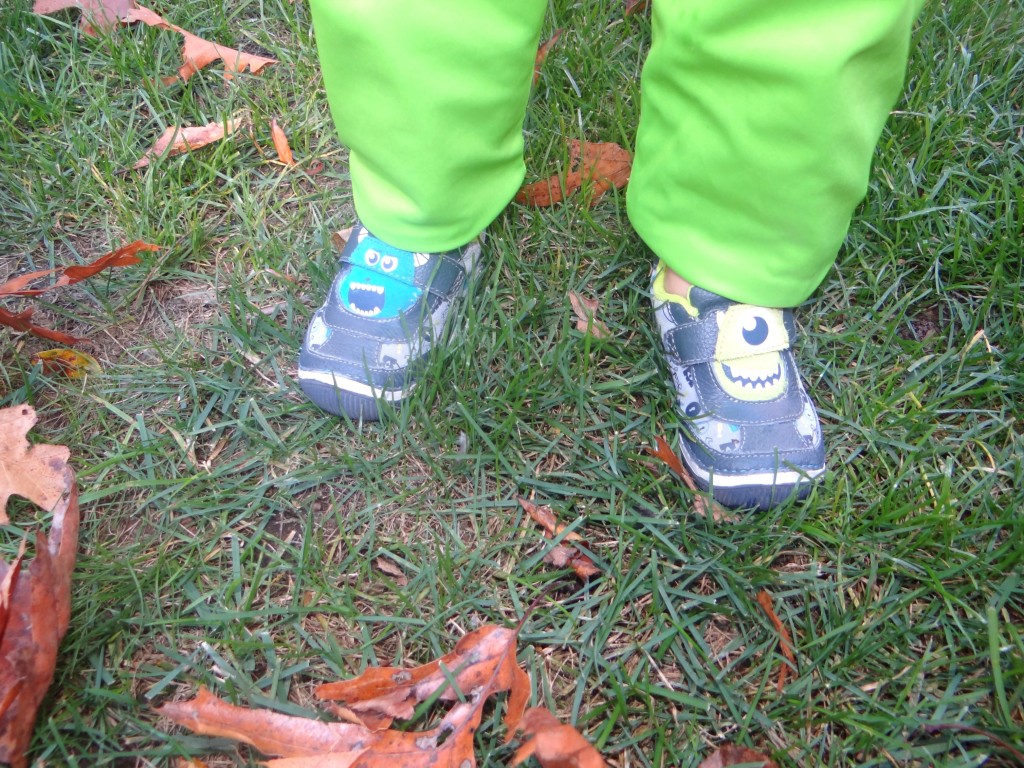 If you want to learn more about SRT (Sensory Response Technology)- please read here which is taken from the Stride Rite home page:
SRT (Sensory Response Technology™) Patented construction is designed to support developing bones and muscles as busy feet run, skip and jump from one new activity to the next. A lightweight, flexible outsole with rounded edges helps reduce stumbles and falls while promoting natural foot movement. Reinforced with an extra measure of stability and durability for little feet on the go. A removable Check Fit™ sizing insole makes it simple to tell if the shoe fits or if it is time for a bigger size.
Now for Hayley, she received the Stride Rite for Disney Wish Lights. Hayley did not have a Cinderella costume per say (mommy went shopping just a bit too late), but we did find her an awesome Princess costume. To complement this costume, Hayley has a great Princess Cinderella theme with this adorable shoes. Again like Zane, she would not wait a minute to wear them. She wears them 24/7 and it quickly became her favorite shoe. So much so, that her friend was over and wanted Hayley's shoes so badly that the mom immediately went to Stride Rite to purchase them.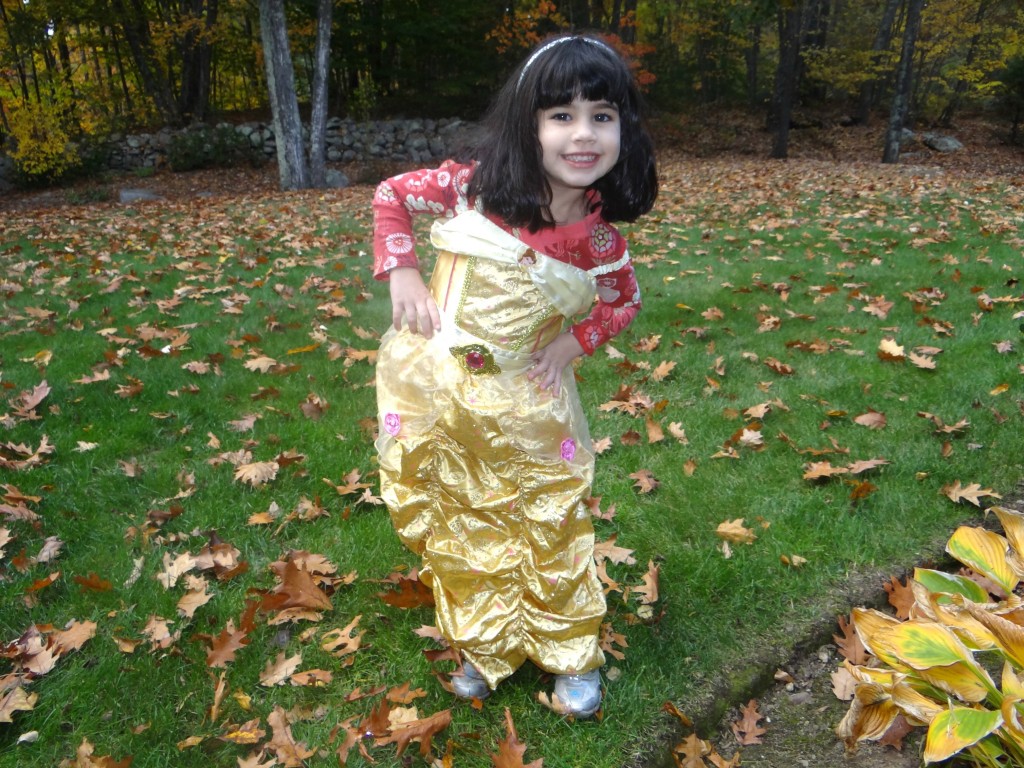 What I love about this shoe besides the obvious cuteness, is the light up technology in the shoe. This is great because it allows her to go trick or treating and be able to see, even when it turns pitch black! A lot of times to add to the safety of the night, we go with glow sticks and flashlights when we go Trick or Treating. However now in addition to us taking along the glow sticks and flashlights, her shoes will lead the way in the dark night! Total score!
These shoes allow Hayley to complete her Princess costume and transport your little princess into the world of fantasy! It features a heart princess gem that lights white with every moving step. Then when the heart blinks pink, your little one can make that special wish. The more steps she takes…The more wishes will be granted! I love how easy it is for Hayley to put on and take off the shoe, and she tells me it is one of the most comfortable shoes she has owned. Leather and sequins uppers…Moms of girls-Need I say more!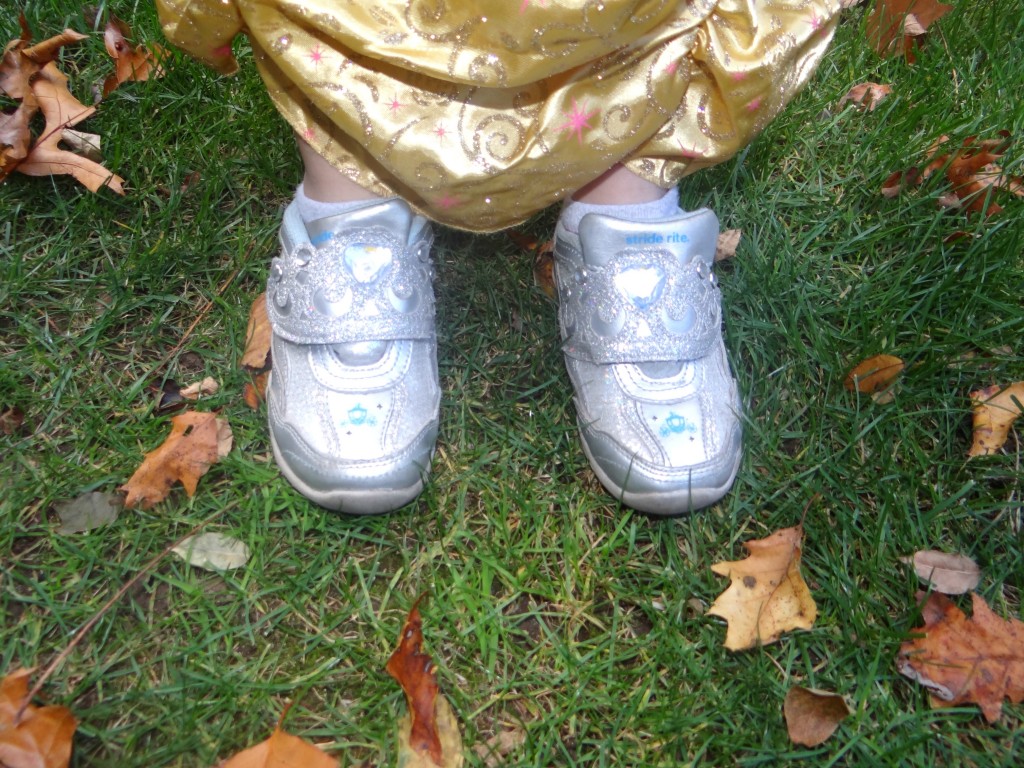 Halloween is very important time to stay safe. Make sure to go Trick or Treating in a group and to always have enough light to safely cross the streets in the dark night.  Parents do not allow your children out of your sight and make sure to use the buddy system when they go Trick Or Treating.  Be sure parents to also inspect all the candy that comes into your child's bags and most of all have FUN!
For more information about the awesome Halloween themed Stride Rite shoes, click here: Halloween Stride Rite. Happy Halloween everyone!!