***I am a member of the Collective Bias®  Social Fabric® Community.  This shop has been compensated as part of a social shopper insights study for Collective Bias and their client.**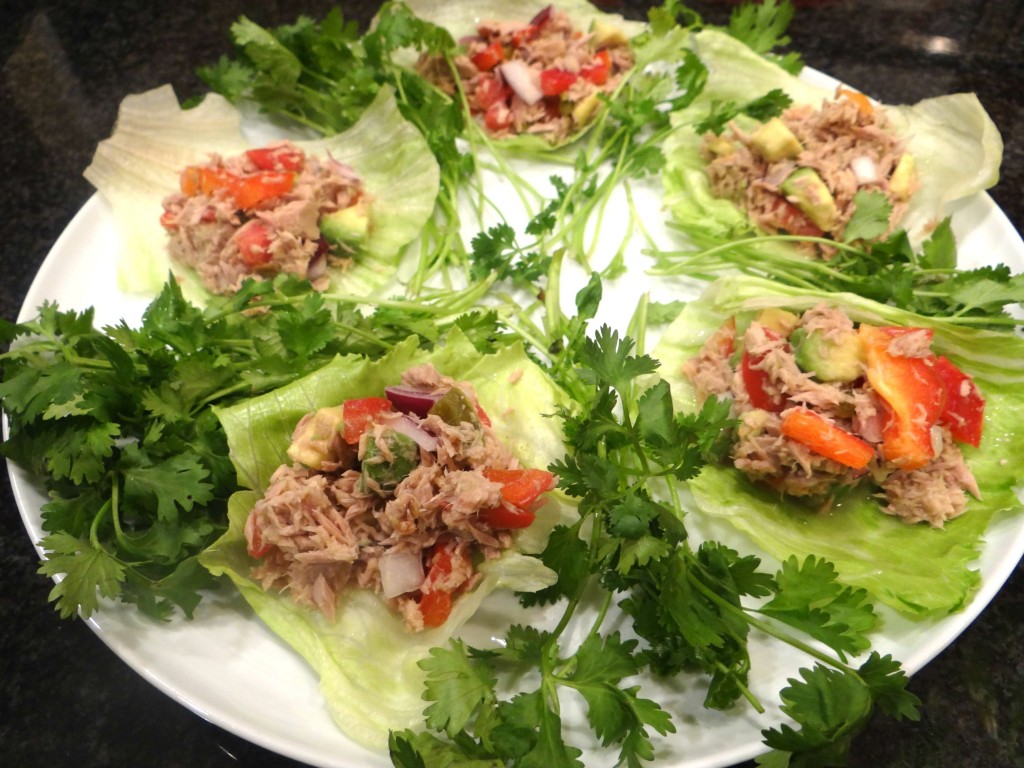 I have mentioned before that I lost 50 pounds, 10 years back and have kept it off the entire time. Along with this, I have reduced my cholestrol from 320 to 180 in a matter of two years. One way, I do this is to make sure I am always eating healthy and nutritious foods around the clock. While I am always good at making a healthy breakfast and dinner, recently I have been slacking big time in the lunch department. Lately, I have been having leftovers and picking from Hayley's plate, which is not the way to do it.  I knew I needed to rectify my unhealthy lunch habits or else my weight, as well as my cholesterol, would bounce back up. I decided a few weeks ago that I am going to  make time for a healthy lunch each and every day. One way I am doing this is by eating Ocean Naturals Tuna Premium Skipjack Tuna!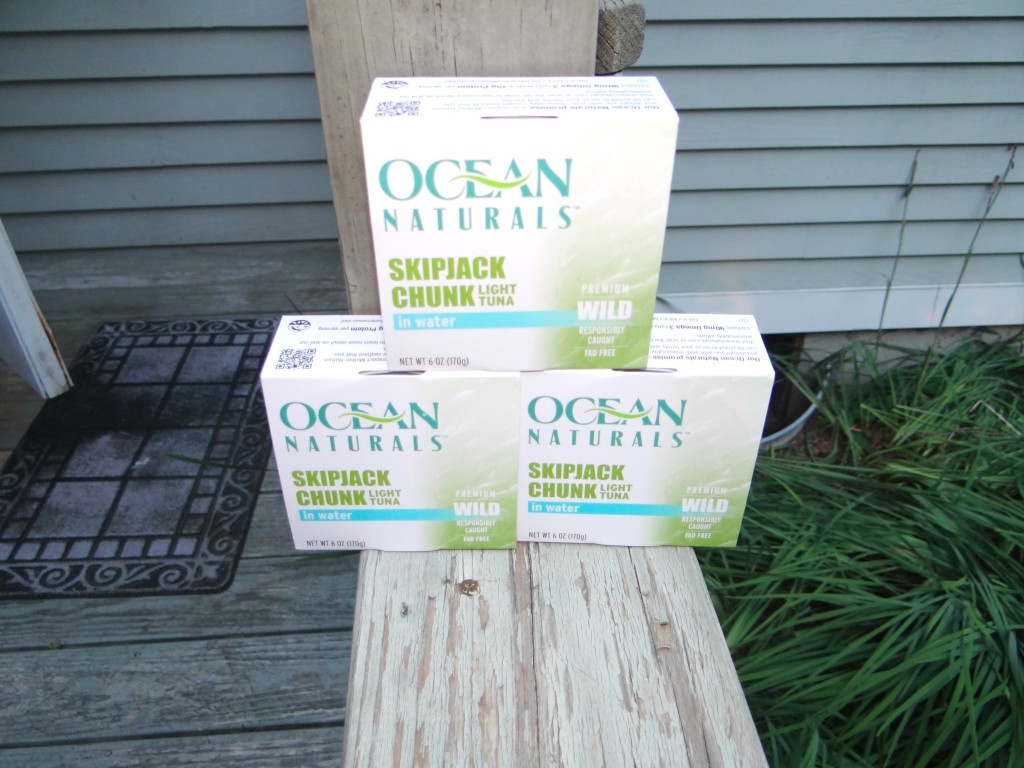 Before I tell you all about the delicious Ocean Naturals Tuna, I will have to give you some background on my love of tuna. I grew up with a mother who ate tuna 24/7!  In turn, her love of tuna translated readily to me, and I started eating tuna sandwiches all the time. However, most of the tuna I found, I would need to douse in mayonnaise, to really enjoy the taste. Since I knew this was an unhealthy option, I gave up tuna for a long time. However, when I learned all about the Ocean Naturals Tuna and the three main attributes- Good, Good for You, and Good for the Planet- I needed to try it out!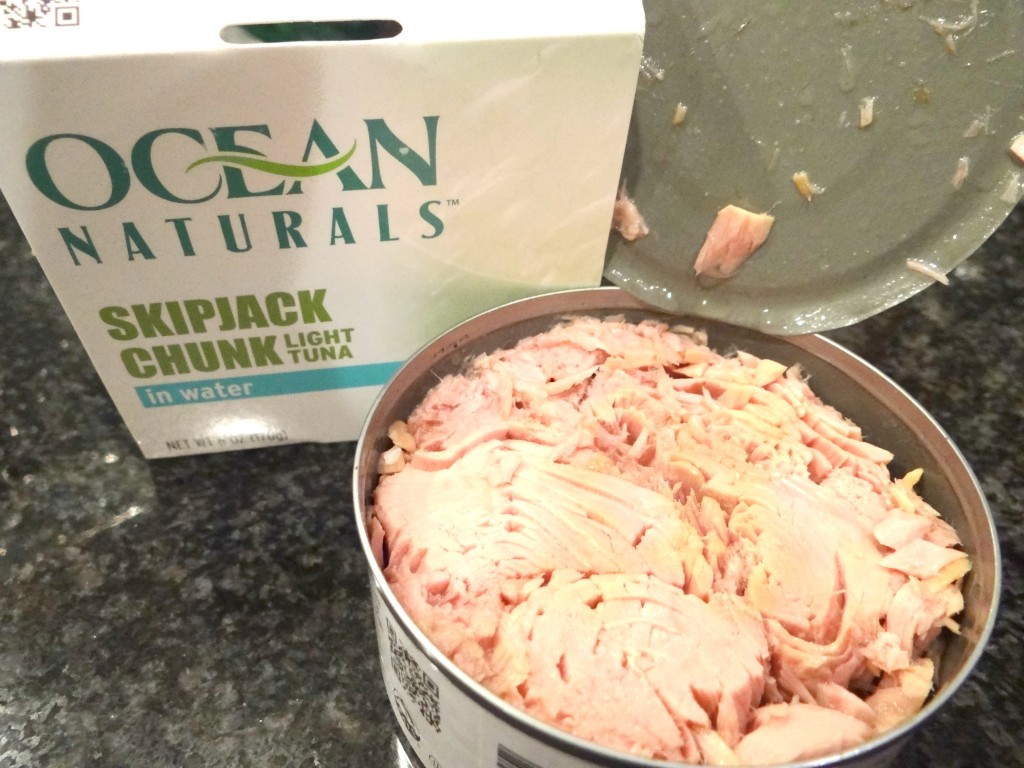 I headed to Walmart to pick up the Ocean Naturals Tuna, which I found in the canned tuna department. To find out where I saw the Ocean Naturals Tuna, check out my Ocean Naturals Walmart Google Plus album.  I noticed there was only a few Ocean Naturals Tuna left  and I believe the reason is, because people are finding out the true benefits from eating the Ocean Naturals Tuna! Ocean Naturals Premium SkipJack Tuna has exactly three ingredients- skipjack tuna, water, and salt.  Having so few ingredients is important to make sure we are all eating healthy. If you are not  able to identify the names of the ingredients in the food you are eating, just put it down now! Ocean Naturasl Tuna not only has pure premium ingredients, but there are no fillers or additives. The tuna is just extraordinary wild-caught seafood and a dash of salt packed in water or olive oil!  It also contains  90mg of Omega 3 fatty acids and 15g of protein per serving! I am a big fan of protein ladden meals and Ocean Naturals will help me with just that!
Another wonderful facet about the Ocean Naturals Tuna is the way the company has a responsibility towards the fishing waters. The company feels as it is their responsibility is to both educate and actively do their part to help sustain the resource for generations to come.  Ocean Naturals starts by using only wild, responsibly caught fish! They strictly define what goes into each of their products by species so their light meat tuna isn't a mixture of various fishes, but rather 100 percent SkipJack! Also, the Skipjack Tuna is 100% free–school caught without the use of FADs (Fish Aggregating Device) to help reduce the catch of non-targeted sea life. I know- Are you loving Ocean Naturals as much as I am by hearing this?!! You can even learn more about where your tuna came from by visiting their Ocean Naturals Page and entering the code from the can you buy.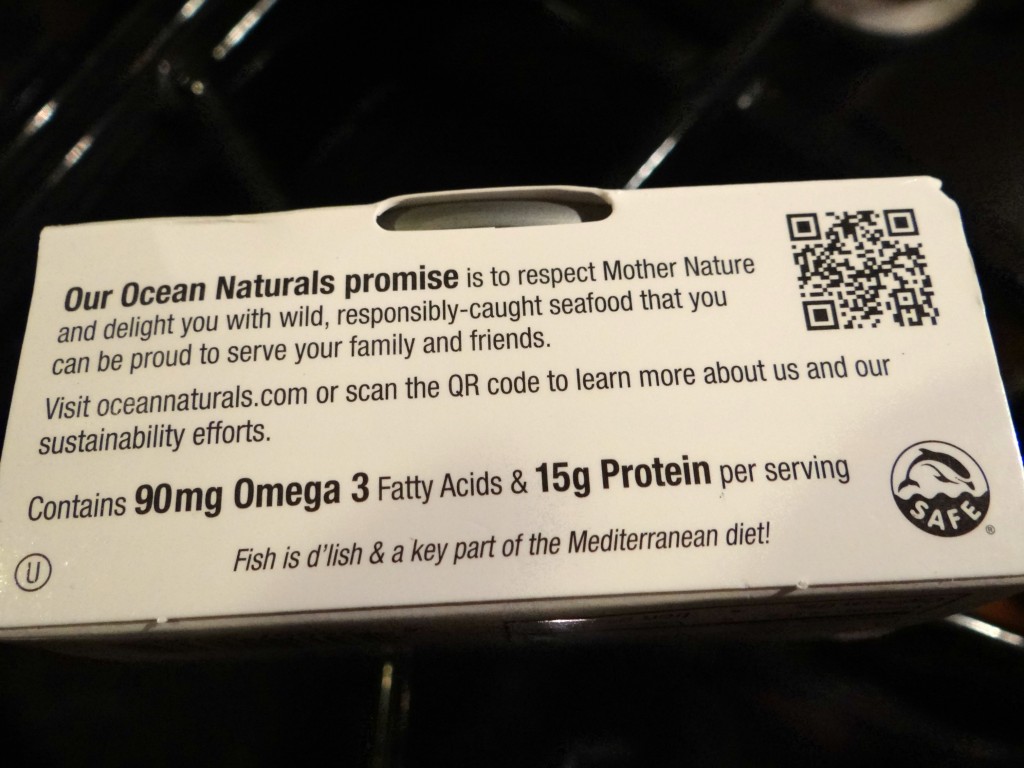 When I was in Walmart, I decided I was going to try out a Tuna Ceviche Lettuce Wrap recipe with the Ocean Naturals Tuna. I picked up all the necessary ingredients to make my recipe and headed home.  I wanted to try Tuna Ceviche Lettuce Wraps because it is filled with protein, has low amounts of carbohydrates, and would make a wonderful lunch! Oh, and it is easy to do too!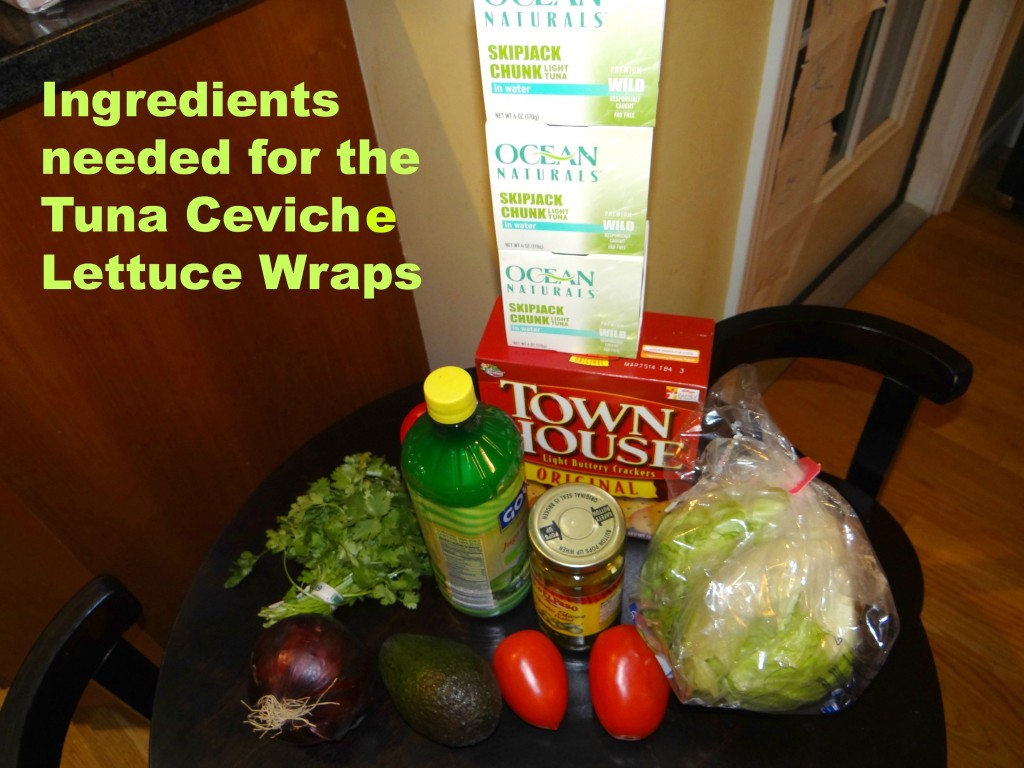 Ingredients:
-3 cans Ocean Naturals Skiphack Chunk Light Tuna
-2 avocados chopped
-2 medium size tomatoes chopped
-1 large green pepper chopped
-1 large white or red onion chopped
– 5-6 TLBS lime or lemon juice (either will work fine)
-1/2 can jarred jalepenos (fresh will work too)
-1 head of lettuce
-crackers (if you want to use this recipe on top of crackers instead of lettuce wraps)
-fresh basil
Recipe:
1. Add chopped avocados, red/white onion, green pepper, jalepenos, and tomatoes to a mixing bowl.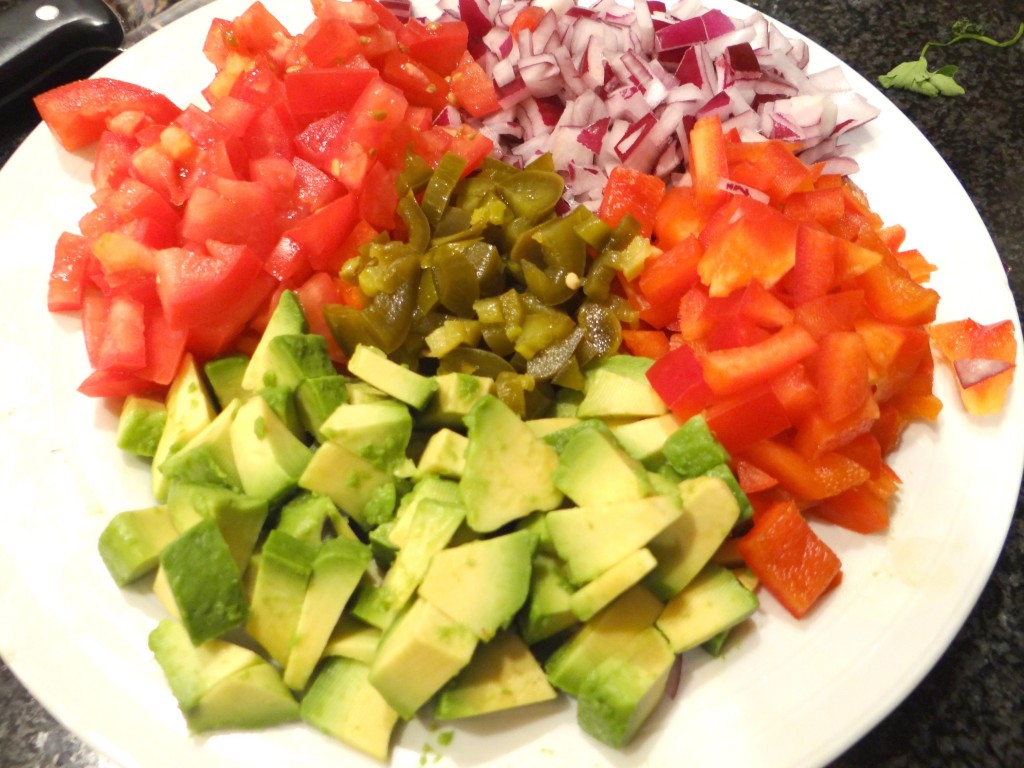 2. In a separate and small bowl, add three cans of Ocean Naturals Tuna.
3. Add the tuna to the vegetable mixture in step #1.
4. Add 5-6 TLBS of lemon or lime juice to the tuna mixture. Mix.
5. Take a head of lettuce and cut them into smaller pieces. I used a scissor to get a nice size lettuce wrap.
6. Add 1 TBLS of the tuna mixture from #4 to each lettuce wrap. Repeat for each wrap. This recipe could make enough for 14 lettuce wraps depending on how you size the wraps.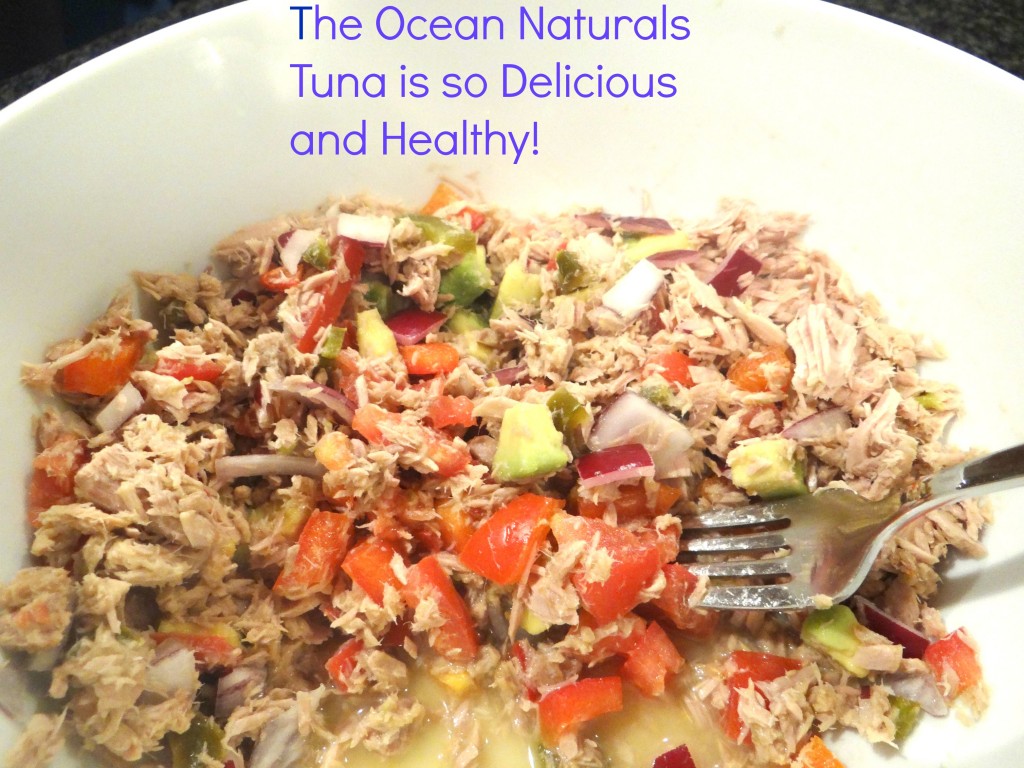 7. Garnish with basil and Enjoy!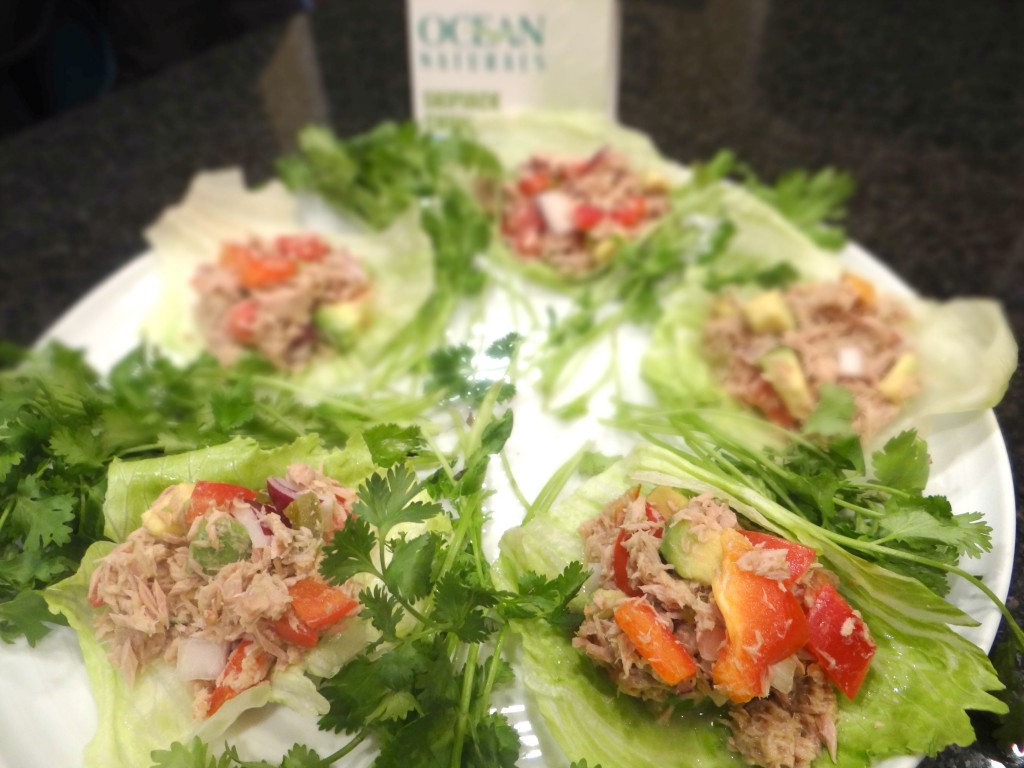 Let me tell you that the Tuna Ceviche Lettuce Wraps are AMAZING! My husband who is not a fan of tuna remarked just how delicious the Ocean Naturals Tuna was and how fantastic the Tuna Ceviche Lettuce Wraps tasted! It would be a great food choice when you are in a rush during the week, since it is so easy to do. I put them in lettuce wraps, but you can even eat the tuna ceviche right from the bowl.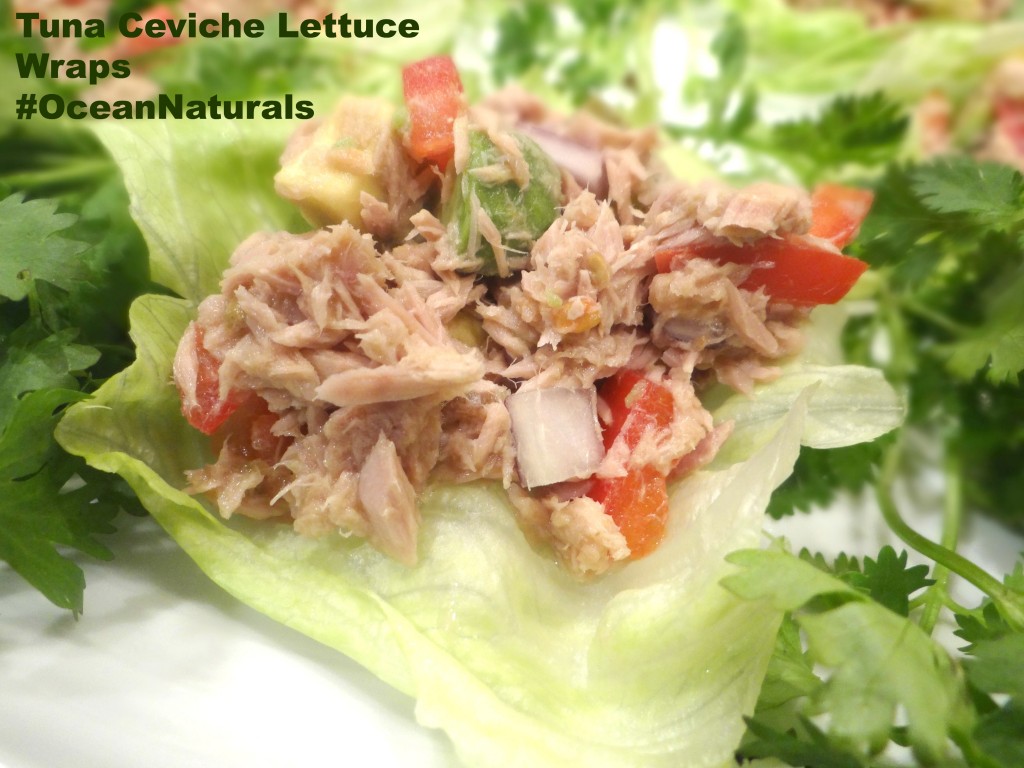 I am totally convinced that Ocean Naturals Tuna is the tuna that I am going to buy from this forth out! I love the taste and love that it is real tuna! It is the type that is actually flaky and is not masked by any additives. Best of all, I no longer have to use mayonaise on my sandwiches at all! The taste of Ocean Naturals is already there!
Feel free to learn more about Ocean Naturals Skipjack Tuna by visiting them on Facebook today. They are even doing an Ocean Naturals Tuna Tuesdays Facebook Giveaway where you have a chance to win free Ocean Naturals Tuna! How awesome! Be sure to check out cbSocially Ocean Naturals Pinterest Board to see other great recipes and to get inspired.