My husband is an Iron Man fanatic. He was the one standing in line for the midnight show when all three of them were released. He always raved about Iron Man so much and wanted me to watch it with him. We finally did just that last weekend on our Iron Man 3 date night when we watched Iron Man 3 and ate some dinner. It was the perfect date night.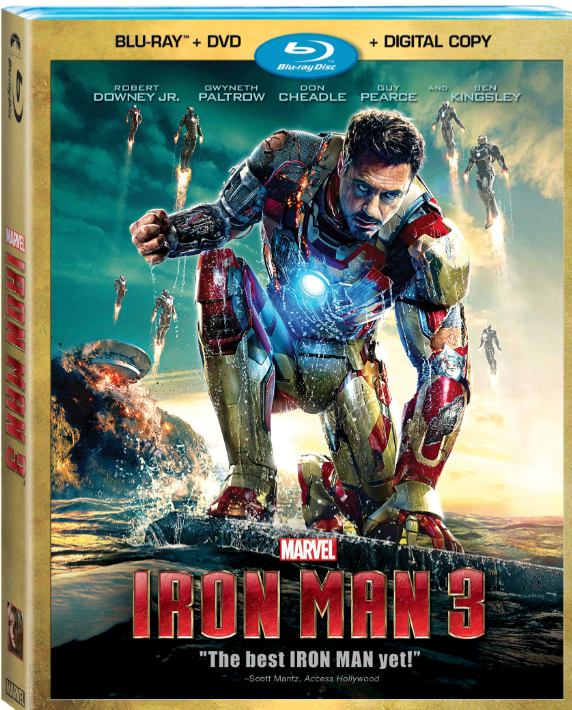 I was not sure how I would like it, but I really enjoyed it! It is a fantastic family movie and had much more than action heroes. It involved a great plot, characters with goals, and twists/turns along the whole two hours. It kept my attention from beginning to end and makes me want to watch the other prior movies. The action scenes were out of this world, along with the special effects. While sitting through the movie, I felt like I was inside the movie, delving into the character lives. Parts of the movie were intense and fast, but that makes it one great movie in my opinion.
If you have not seen this movie yet, or even if you seen it quite a few times already, you will want to own it for your DVD library. It is available now on Amazon for $27.99. Make sure you pick  it up today!
Here is more information about the film:
Synopsis:            Marvel Studios' Iron Man 3 pits brash-but-brilliant industrialist Tony Stark/Iron Man against an enemy whose reach knows no bounds. When Stark finds his personal world destroyed at his enemy's hands, he embarks on a harrowing quest to find those responsible. This journey, at every turn, will test his mettle. With his back against the wall, Stark is left to survive by his own devices, relying on his ingenuity and instincts to protect those closest to him. As he fights his way back, Stark discovers the answer to the question that has secretly haunted him: Does the man make the suit or does the suit make the man?
Cast:                                      Robert Downey Jr. (The Avengers, Iron Man,Sherlock Holmes) as Tony Stark/Iron Man, Gwyneth Paltrow (Se7en, IronMan 2, Iron Man) as Pepper Potts, Don Cheadle (Crash, Iron Man 2, Hotel Rwanda) as Lt. Col. James "Rhodey" Rhodes/ War Machine, Guy Pearce (Memento, L.A. Confidential, The Hurt Locker) as Aldrich Killian, Rebecca Hall (The Prestige, Vicky Cristina Barcelona, The Town) as Maya Hansen,Stephanie Szostak (The Devil Wears Prada, Dinner for Schmucks) as Ellen Brandt, James Badge Dale (The Departed, Shame) as Eric Savin, with Jon Favreau (Iron Man franchise) as Happy Hogan, and Ben Kingsley (Schindler's List, Hugo, Shutter Island ) as The Mandarin
Director:                              Shane Black (Kiss Kiss Bang Bang, Lethal Weapon 2)
Screenplay:                        Drew Pearce (No Heroics, Lip Service) & Shane Black (Kiss Kiss Bang Bang, Lethal Weapon 2)
Producer:                            Kevin Feige (Marvel's The Avengers, Marvel's Iron Man, Marvel's Thor)
Bonus Features:              Deconstructing The Scene: Attack On Air Force One: Jump into action with the stunt-team                       skydivers in this close-up look at creating one of the movie's most memorable scenes.
Exclusive Behind-The-Scenes Look – Marvel's Thor: The Dark World—Experience the spectacular new worlds, unforgettable characters, and pulse-pounding thrills of the upcoming blockbuster movie.
Marvel's Iron Man 3 Unmasked—Join cast and crew for a crash course in epic movie-making, Marvel style.
Gag Reel
Deleted & Extended Scenes
Audio Commentary—With Drew Pearce & Shane Black
Interactive APP
: Also, have you ever wonder what it's like to be Tony Stark?    
Now you can find out with an interactive experience app hosted by JARVIS on your iOS device! 
Create customized alarms to wake you in the morning, download ringtones, check the weather, post to Facebook and more!  Sync the app to your Blu-ray™ player to unlock hidden files and suits embedded throughout the disc, and experience the first-ever voice controlled Blu-ray!
Check out Robert Downey Jr.'s slip ups and crack ups in Gag Reel #3 and Ben Kingsley messing around with all sorts of accents from around the globe! Enjoy!
* I received this DVD from Disney. All my opinions are my own and not swayed by outside sources.