Disney's beloved and adorable 'Buddies' are back in a hilarious all-new movie for the whole family!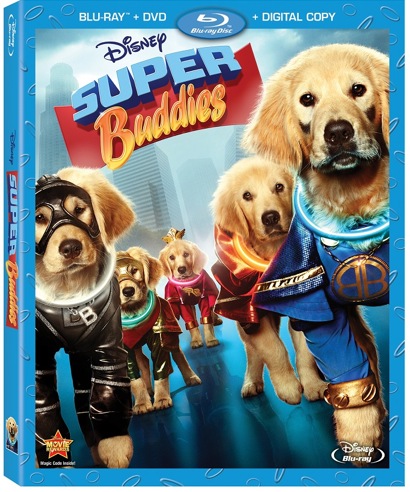 Watch the fur fly as a new breed of super hero is born in Disney's fun filled epic adventure. An ordinary day at Fernfield Famrs turns extraordinary when Budderball, Mudbud, B-Dawg, Buddha and Rosebud discover mysterious rings that grant them each a unique super power. Before you can say, "Buddies, assemble" the pups unleash their amazing abilities and race to the rescue when a shape-shifting bully from outer space threatens the planet. But can they succeed in kicking major tail without revealing their new secret identities?
A must-own movie event packed with laughter, action and incredible new characters, Super Buddies proves that when you use your wits and work together, you don't need super powers to be a super hero!
Hayley and I both watched this movie a few days ago and LOVED it! At first, I was skeptical because I was not sure she would really understand the talking dogs, or if she did, it would keep her interest. I was so wrong because Hayley sat through the whole 88 minute movie, and even asked for more!

This movie was cute, funny, and filled with great action. It is definitely a winning combination for a great family movie.  In the movie, each Buddie gets a magic ring from space travelers and gain superpowers along the way!  The special effects are truly outstanding! I love that they come to save the world from evil and teaches very important lessons against bullying and such.
Disney Super Buddies is a great family movie that should be added to your Disney collection. It shows the importance of working together and features almost an hour and half of constant entertainment. It gets an A from Hayley and I!
*We received this DVD from Disney for review. All my opinions are my own and not swayed by outside sources.*