I say it over and over, but when Disney releases a movie from the vault, you want to make sure you buy it before it is too late! I get so excited whenever I hear a movie is coming out of the vault and this is no exception, when I heard Peter Pan was being released! This is the very first time Disney is releasing Disney's PETER PAN: RETURN TO NEVERLAND on Blu-Ray from the vault, and now is your time to buy it!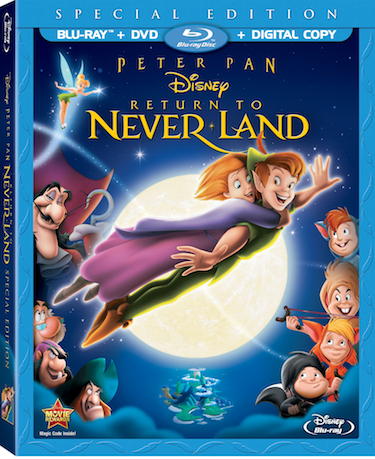 Synopsis:      Let your imagination soar as your favorite characters from Peter Pan, Disney's classic adventure, return to Never Land! Now, for the first time through the magic of Blu-ray, experience all the thrilling action with digitally restored picture and spine-tingling high-definition sound!
Wendy's very practical and no-nonsense daughter, Jane, begins the adventure of a lifetime when the infamous Captain Hook whisks her away to the enchanted island of Never Land. It's up to Peter Pan, Tinker Bell and the Lost Boys to help Jane believe in faith, trust and pixie dust. With the first-ever Lost Girl at his side, will Peter Pan finally defeat Hook and his swashbuckling band of pirates?
Share the power of believing with your family in Return To Never Land—now more spectacular than ever on Disney Blu-ray!
Cast:                                                    Blayne Weaver (Manic, 6 Month Rule), Harriet Owen (TV's "Relative Strangers," "Castles"), Kath Soucie (Beauty and the Beast, Wreck it Ralph), Corey Burton (Aladdin, The Hunchback of Notre Dame) & Jeff Bennett (Enchanted, Bolt)
Director:                                          Robin Budd (Skull in the Family, Name that Toon) & Donovan Cook (Las Pelotas!, Mickey, Donald, Goofy: The Three Musketeers)
Writer:                                              Temple Matthews (The Little Mermaid 2: Return to the Sea, Mickey's Once Upon a Christmas)

Release Date:                                August 20, 2013 (Direct Pre-book: 6/25; Distributor Pre-book: 7/9)
Product Packaging:                    US: DVD + Digital Copy; Blu-ray Combo Pack (Blu-ray + DVD + Digital Copy)
                                                               Canada: DVD; Blu-ray Combo Pack (Blu-ray + DVD)
Ratings:                                             G
Feature Run Time:                     72 minutes
Hayley has seen this movie a few times when we rented it from the library. She is addicted to Captain Hook, Jane, Smee, and her favorite Peter Pan! She really LOVED this movie from beginning to end. She liked the basic story and had no problems understanding it, at a 4 (almost 5) year old level. When I was watching this DVD, I compared it to the sequel and I have to say, it did not disappoint in the least! It is a very happy film, without any dark scenes, which I liked for the kids.
This DVD is a true Disney classic and should not be missed at all! Make sure you pick it up today or purchase it on Amazon, before it heads back inside the vault! Trust me when I say, you and your kids will LOVE this movie!
*We received this DVD from Disney for review. All my opinions are my own and not swayed by outside sources.