I will tell you that one of the biggest hassles of leaving my house is figuring out a way I could bring my wallet, my cell phone, and my pocketbook around from one place to a next. I only have two hands and I always without a doubt feel like I am constantly going to lose something. I can't even begin to tell you how many times I have left my wallet in a store! I am sure you can all relate!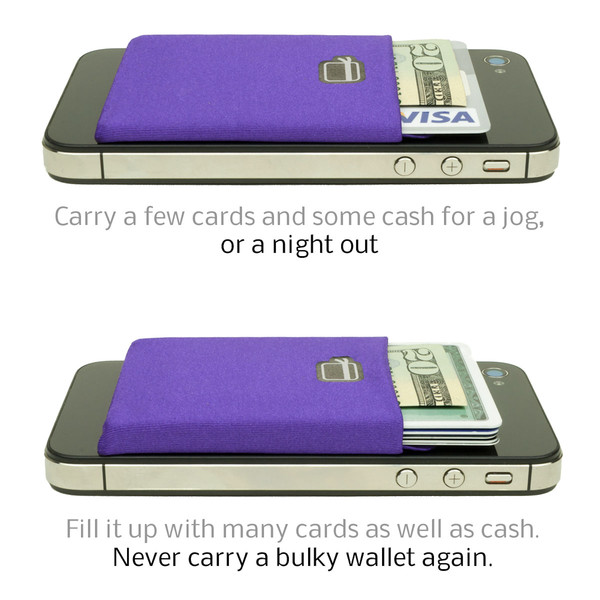 Now, there is a very awesome product on the market called the Card Ninja.  The Card Ninja is a pouch attachment that can be added to your cell phone. It is simply a peel on sticker that adheres to the back of your cell phone. Every cell phone will work with the Card Ninja. Once you have it adhered, you can let stick whatever credit cards, license, or information you want to store.
Directions:
1. Take your smartphone (iPhone®, Android®, Windows®) or Blackberry®. Almost any one will do.
2. Peel off the backing of the CardNinja.
3. Stick the CardNinja onto the back of your phone or phone case. Just like a sticker.
4. Insert whatever credit cards, debit cards, licenses, IDs, or cash that you need.
5. Toss your old, bulky wallet.
I tried it out with my iPhone and LOVED it! Seriously, it was a pouch to store all my important cards, so I did not need to take my wallet out with me at all! I no longer had to risk losing my wallet. At first I was worried that it might fall off and then I would be stuck with losing all my cards. However, it is unbelievably resilient even against the smallest hands (aka my 2 year old Zane) trying to tear it off!
Whenever I go out and people see the Card Ninja, they always ask what it is! It is a truly neat product that I can use for a long time to come! What is also great, is if I ever lose my phone, I can program it to find my phone and Card Ninja attached to it. If I ever lost my wallet, that would be it. There would be no way to retrieve it or no programming that could be done.
The Card Ninja is very slim and flexible enough to hold from 1 to 8 cards, as well as cash! It retails for $19.95 which is a great price for such an useful product! Be sure to check out the Card Ninja today!
*We received the above product for review. All my opinions are my own and not swayed by outside sources.