My love for Balance Bar started well before I was a blogger. I am a sports fanatic and to get me through my early morning work outs, I ate a Balance Bar almost every day. To this day, I am still eating Balance Bar daily. I am pretty sure a day has not gone by, where I did not have a Balance Bar. I am addicted to the taste, as well as how it contains all the essential nutrients to start my day.

Balance Bar now has made a smaller version called Balance Bar Mini Energy Bars. They provide me with lasting energy at snack time or in-between meals. They follow the same Balance Bar 40-30-30 nutrition principle, and only have 100-calories in each bar. They are packed with good-for-you protein, 23 vitamins & minerals and delicious flavors your whole family will love! They are currently made in two flavors including cookie dough and double chocolate brownie.

Next Tuesday, August 20, at 2 pm EST we will be having the Balance Bar Twitter Party #Back2SchoolBalance hosted by @balancebar with co-host panelists including myself, @dentistmel, @MacaronikidHQ, @ItzyRitzy, and @braggingmommy. Prizes will be given at the end of the hour chat! Mark it in your calendars now! You do not want to miss this!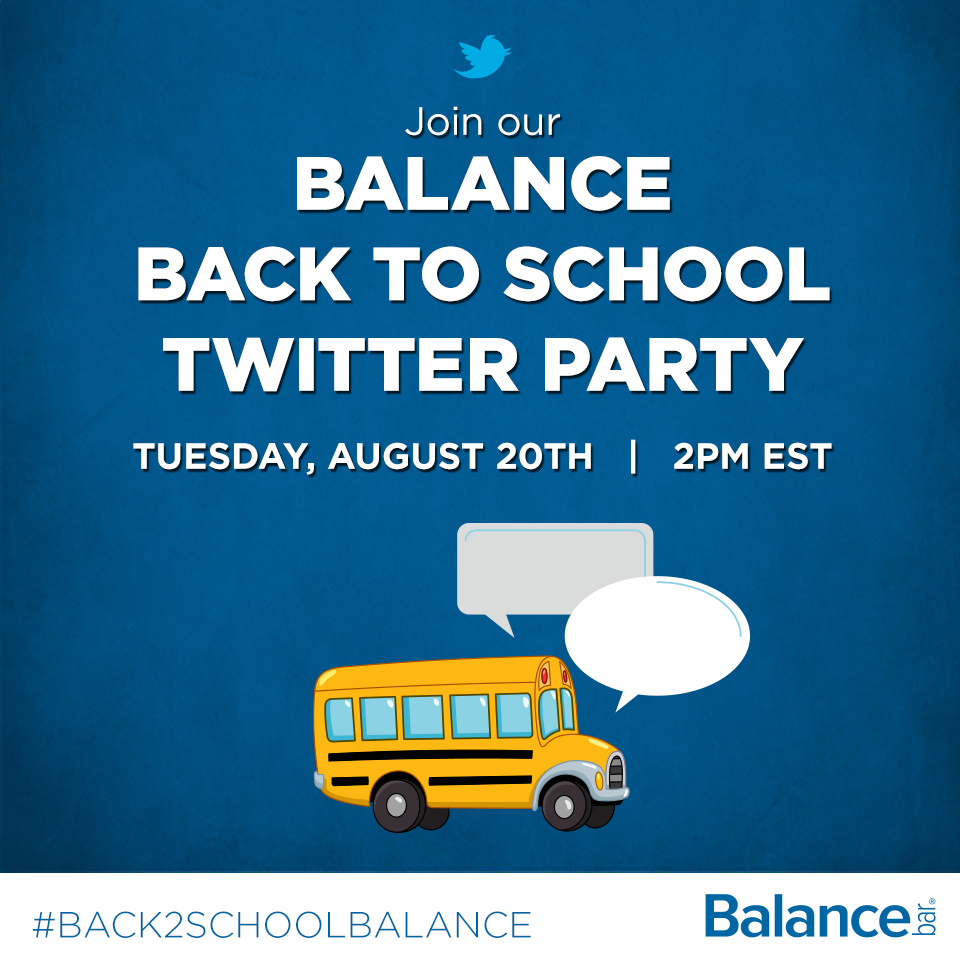 Here are some tips to get the party started:
To help parents, Macaroni Kid provided some tips on how to better prepare for a school day and balance everyone's schedules:
Do a run through.  Are your kids starting a new school or a new routine? Do a run through. Wake up "school time," brush teeth, get dressed, pack lunch, have a school-appropriate breakfast and maybe even drive or walk to school.  Then, take those packed lunches and head to the park for a final summer break picnic.
Plan the menus.  Give your kids several options in each category and let them weigh in on what they'd like to find in their lunchboxes… you won't have to guess each morning and they are far more likely to eat it if they've had a hand in selecting it. We love Balance Bar® minis to pack along for snacks!
Clean your closets! Nothing gets you and the kids ready for smooth mornings like purged, well-organized closets.
Start a good sleep routine early. Kids love to stay up late in the summer time (and who can blame them) but it makes for tougher mornings if kids are used to going to bed later and sleeping in past "school time" wake up.
Set goals with your children for the upcoming school year. Whether it's academics, sports, or extracurricular activities it's great to help kids get motivated for success in the new school year.
Interested in hearing more tips on how to balance your schedule come this Fall? Join Balance Bar® Tuesday, August 20at 2:00 PM EST/11:00 AM PST for a live, one-hour Twitter chat!
Giveaway: One winner will receive a Balance Bar Mini Prize Pack to get the school season started off right. This giveaway is run via rafflecopter so click read more to see the actual giveaway. The only mandatory entry is to tell me which Balance Bar flavor you like the best in the comment section proceeding the post. While the other entries are optional, I highly suggest filling them out to increase your chances of winning. US only. Good luck!
*I received samples for review and compensation. All my opinions are my own and not swayed by outside sources.