This post is a guest post by Sarah from Play 2 Learn with Sarah. Sarah received the DVD as a blog reviewer for review purposes.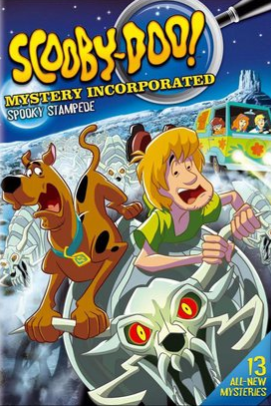 Scooby-Doo! is one of those classic cartoons that everyone loved as a child.
I had no idea that it was still around.
But on June 18, 2013, Warner Bros. Home Entertainment released a DVD with the final episodes for the the Cartoon Network show Scooby-Doo! Mystery Incorporated called Scooby-Doo! Mystery Incorporated Season 2 part 2: Spooky Stampede. This is a two disk set that contains the show's last 13 episodes.
My kids are 3 and 5 so they haven't really seenScooby-Doo before, but my oldest was OBSESSED with Underdog as a toddler so I thought Scooby-Doo might appeal to him.
I WAS RIGHT!
The very first episode on the first disk (which is actually episode #40 of the series) has a dog that gets hurt and turns into a super hero names Dynomutt. Right up his alley!
My 5 year old son loves this episode and has asked to watch it repeatedly.
Scooby-Doo and his friends, Shaggy, Daphne, Fred and Velma live in the town of Crystal Cove, the most "hauntedest" place on Earth. They are working hard to discover the secrets hidden in the town so that they can battle evil and save the Earth.
The episodes featured on Scooby-Doo! Mystery Incorporated Season 2 Part 2: Spooky Stampede:
The Heart of Evil
Theater of the Doomed
Aliens Among Us
The Horrible Herd
Dance of the Undead
The Devouring
Stand and Deliver
The Man in the Mirror
Nightmare in Red
Dark Night of the Hunters
Gates of Gloom
Through the Curtain
Come Undone
This remake of Scooby-Doo really appeals to today's kids…esp the elementary aged ones…and allows them to access this show and the characters that were such a part of their parents childhood.
Even though my kids are still a little young to really "get" all that is happening in this creative show, because of this DVD we will be able to enjoy it for years to come…and I hope you will too!