New to Liongate, is two fantastic DVDs- Angelina Ballerina: Mousical Medleys and Barney: Imagine with Barney!
1. Angelina Ballerina: Mousical Medleys will be available on DVD, Digital Download and Video on Demand July 9, 2013 from Lionsgate and HIT Entertainment.
It's showtime! Turn up the lights, cue the music, and set the stage for an all-new song and dance filled extravaganza with preschool's favorite ballerina in Angelina Ballerina: Mousical Medleys! With musical, dance-a-thons, parades, and more, there's always a reason for Angelina to enjoy the spotlight! See what happens when the mouselings' plans to welcome the stars of Mousical the Musical are ruined or are they? Watch as Grace puts the dance-a-thon in jeopardy when she becomes an enthusiastic recycler. Get in on the fun when Viki finds her inner artist in dance but with lots of paint! Join Angelina and her friends as they take center stage and enjoy the show!
Episodes include: Angelina and The Musical Theater, Angelina and the Art Show, Angelina's Camembert Parade, Angelina and the Dance-a-Thon, and Angelina's Opera. DVD Bonus features include Dancing Star Memory Game and Front Row Seats Karaoke Music Video.
This is an adorable DVD that kept Hayley watching for a very long time! Angelina is definitely a favorite in our household!
2.  Barney: Imagine with Barney will be available on July 9, 2013 on Video on Demand, Digital Download, and DVD! Be sure to join everyone's favorite purple dinosaur for a whimsical adventure in Barney: Imagine with Barney. Join Barney and his friends as they use their imaginations to visit places near and far and explore their creativity through drawing, song, and dance! The dinos explore a tropical island paradise when they bring a painting to life and go for a ride when they build their very own bus and airplane using imagination and teamwork. The dinos always know how to have a tee-rific time with creativity and good friends!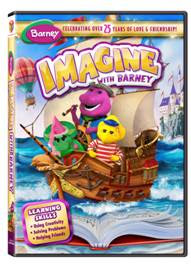 Episodes include Imagine That, Seeing, Let Your Creativity Fly, and Let's Go for a Ride! DVD Bonus Features include an Exclusive All-new game-Imagination Vacation, If I Lived Under the Sea Karaoke Music Video, and I Hear Music Everywhere Music Video.
Be sure to pick up Barney:Imagine with Barney on July 9 on Amazon and in stores nationwide.
Win it: One winner will receive both of the DVDs mentioned above. For this giveaway, simply tell me which DVD you are most excited to win in the comment section proceeding the post. For an additional +2 entry, tweet out about this giveaway mentioning @dentistmel.  Good luck! US only! Ends 7/25
*I received the above DVDs from Lionsgate. All my opinions are my own and not swayed by outside sources.