Happy Weekend everyone! It is supposed to be a nice weekend here, so whatever you do have a great time. A big congrats to a fellow blogger who links up a lot to this hop, Candice from The New Modern Momma, on the birth of baby Valentina.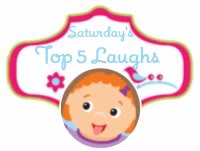 As always, come link up any cute or funny post, kid or not kid-related. Feel free to take my button or share on social media, although this is not necessary. Definitely check out the other blogs who link up as they always provide a good laugh!
My top five laughs:
5. We brought Zane to the pool club last weekend for the first time. He was so in his element there. He splashed around the baby pool for around 2 hours. When I tried to get him out a huge temper-tantrum started. He kept saying, "Away mommy..Away mommy".  I had to laugh!
4. The fight begins over toys in my household. Hayley now realizes that Zane is just as territorial with his toys and they fight constantly over playing with each other toys. I hear all day, "Get off..That is mine". It is like a broken record here.
3. We went to see Despicable Me 2 last night which was fantastic. After the movie Hayley says, "Mommy…How cute was that movie". Again, I had to laugh!
2. Zane who are we going to see at Sesame Place next weekend? Zane answers, "Cookie Monster, Elmo, Big Bird, Zoe, Ernie, Bert, Dora, Diego, Barney". LOL!
1. Zane what does a cow say- Nah! Zane what does a dog say- Meow! Zane what does a sheep say- Roar!  The boy is obviously confused.
Now your laughs: