Weekend time everyone!!! Any exciting plans? Tonight I am going to see Stomp and tomorrow I am heading up to Boston for a fun girl night. I hope you all have a great weekend!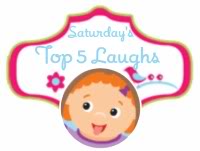 As always, please link up any cute or funny post. Feel free to take my button if you like and help share on social media, although this is definitely not necessary! Do check out the other posts because they always provide me with a great laugh!
Top Five Laughs:
5. Zane has become so sassy recently. His new thing is to tell me "No mommy..No." If I ask him to do something, it is always No. I think this is his new favorite word- I am scared!
4. Hayley is just the cutest. I know I am biased but the things that come out of her mouth, are so darn cute. Today she said, "Mommy.. I love you and have a good day at work. I see you tonight." She melts me!
3. I told Hayley that we are going to go on a family trip to Disney in December. She has no idea though that I am surprising her in November for a 2 night stay at Disney just her and I. Anyway, she said, "Mommy… I think I better start packing now."
2. Hayley and her girlfriends had an impromptu playdate at the park yesterday. The girls are all doing the same hip hop dance for their recital. I put on the song and they went to town doing the routine over and over in the middle of the park. So cute!
1. Hayley to Zane, "Can you try to be a good boy just one day?" I practically lost it!
Now your laughs: