I am very excited because this weekend I am going to Philadelphia for my 10 year Dental School Reunion sans kids..sans husband. I am staying with 4 of my good classmates from the Class of 2003 and I look forward to meeting all of the people who I went to Dental School with those four years! Should be a great time.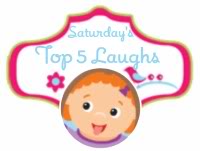 As always, please link up any cute or funny post. Definitely feel free to check out the other blogs who link up, as they provide a great laugh. Also if you like, feel free to share this link up on your social media sites and/or take my button- never mandatory though:) Have a great weekend!
My top five laughs:
5. I am in big trouble. Zane has started the WHY phase! Every time he asks me a question, it is always Why…Why…Why…
4. Yesterday, Zane hit Hayley on purpose and then I hear Hayley screaming. I went over to see what is going on and right away Zane kept saying, "Sorry Hayley..Sorry…I bad." I didn't even need to tell him that he was doing something wrong. He figured it out himself. It was a big milestone.
3. I like to do this thing called "airplane" with the kids. It is simply raising my legs and bouncing them up and down. Every night before bed, they take turns doing airplane. Last night, Hayley did two turns in a row and Zane said, "No..Hayley..No Fair." Again, it had me in stitches.
2. This is not really a laugh but I just love Hayley's age right now. If I could freeze time I would. She is such an amazing girl and our bond is truly out of this world. I hope it always stays like this.
1. I asked Zane what flavor ice cream he wanted and his response was, "Actually…Vanilla." Actually Zane…Where did that word come from?? LOL!
Now your laughs: