Can you believe it is the weekend already? Where does the time go? Seriously I wake up on Monday and I close my eyes and it is Friday! Do you sometimes feel the weekends fly by? Whatever you are doing this weekend, I hope you have an awesome time!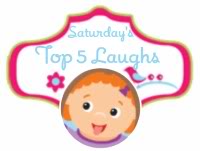 As usual, please link up any cute or funny post. We all like to laugh, so come join us. Also feel free to take my button or share on social media, although this is not mandatory, obviously. Do check out the other posts who link up, as they will make you laugh!
My top five laughs:
5. Hayley and I went on the train last weekend for about 4 hours. Hayley was so excited about the train! She was such a good girl! She kept saying things like, "Mom…Look we are on a train"  "Mom…Look how fast we are going." SHE LOVED IT!
4. We went to Sesame Place on Saturday for opening day. When we got there, she said," I am so glad I am visiting all the characters at their Sesame Place home". I truly think, she thinks they sleep there and hang out there all year long.
3. We went to see Annie on Sunday on Broadway.  This was Hayley's first NYC Broadway show! I taught her the words to "The Sun Will Come Out" and during the show, she mouthed all the words silently when Annie sang it. She was the best girl and sat and clapped her way through all 2.5 hours. It was an amazing experience.
2. Zane goes around all day saying he is a bad boy! I think I need to stop saying bad boy when he does something.LOL!
1. Zane and Hayley have nightly conversations when I put them to bed. Their rooms are right across from one another and I hear Hayley saying, "Zane.. I am not tired..Are you? Zane, I wish we could play more… Zane, Even though you are not tired, you need to go to sleep". They crack me up!
Now your turn: