**I am a member of the Collective Bias®  Social Fabric® Community.  This shop has been compensated as part of a social shopper insights study for Collective Bias and their client.**
I am going to let you all in on an embarrassing little secret! I went to the dentist about two weeks back and found out that I not only had a cavity, but my oral hygiene was not as good as what it should be. Being a dentist, I was a little more than disappointed. Truth be told, lately I have been slacking somewhat on my oral hygiene. I have just been so busy (aren't we all these days) but this is not an excuse I, or anyone else, should be using. I do all my brushing and flossing twice a day, but then I go on with my day without using a mouthwash. I know I should do better!  When the dentist and I were talking at my appointment, he highly recommended me doing a Colgate Total Regime and specifically using the Colgate Total Advanced Pro-Shield Mouthwash.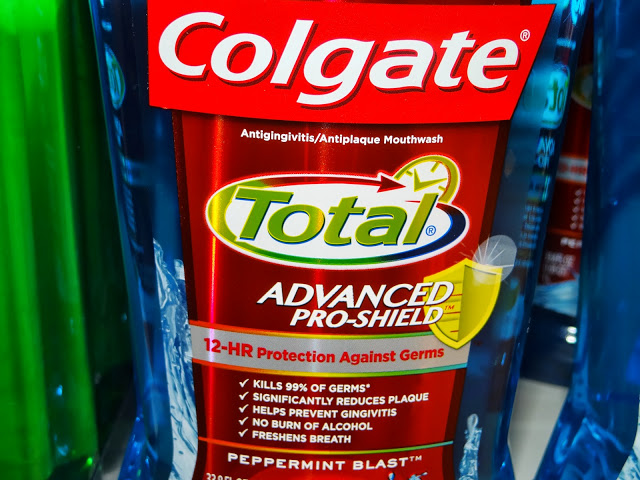 During our conversation, I told him that Colgate is a brand I trust and recommend personally as well as professionally. I have been using Colgate products since my dental school days and truly never regretted my decision to use  any of the Colgate products on the market. However, the Colgate Total products including the Colgate Pro-Shield Mouthwash and Colgate Total toothbrush/toothpaste, I have never tried before. Since my dentist recommended it, I knew I needed to run to my local Target to pick up some of the Colgate Total products so I can get my best smile forward. My husband also was very anxious to try the Colgate Total mouthwash, as he also tends to skip using a rinse after brushing. We were both on a mission to get our teeth in tip-top shape so we would have a wonderful results next time we visited the dentist.
When I arrived at Target, I found the Colgate Total Advanced Pro-Shield right in the oral hygiene section. They had several different sizes, as well as flavors. The two flavors I saw were the Spearmint Surge and Peppermint Blast. I decided that I was going to buy both of these flavors, because in my opinion you can never have too much mouthwash. I also thought that I would bring a bottle of the Colgate Total to my mother, as she has been suffering with her oral hygiene. She tries really hard but she has an incredibly hard time with her teeth. I knew she would love to be surprised with a bottle of the Colgate Total mouthwash.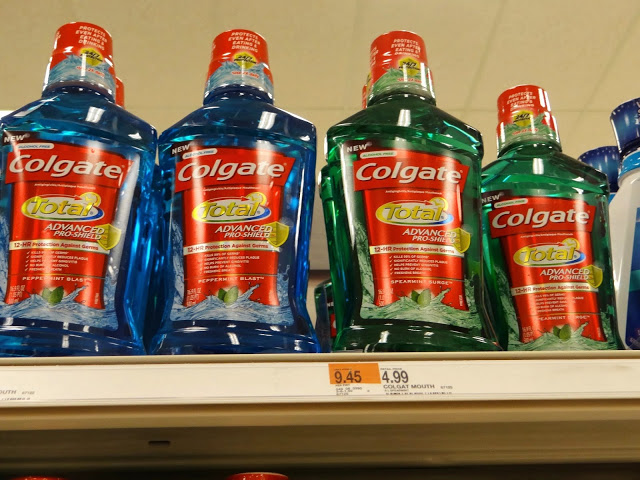 After I sought out the Colgate Total mouthwash, I turned my back and saw that they had other great Colgate Total products including toothbrushes/toothpastes!  If I purchased 2 Colgate Total mouthwash, toothpaste, or toothbrush, I would get one free for the equal or lesser value. This was a great deal since I knew I was already going to buy all of the Colgate Total products, to start my Colgate Total regime as soon as I went home.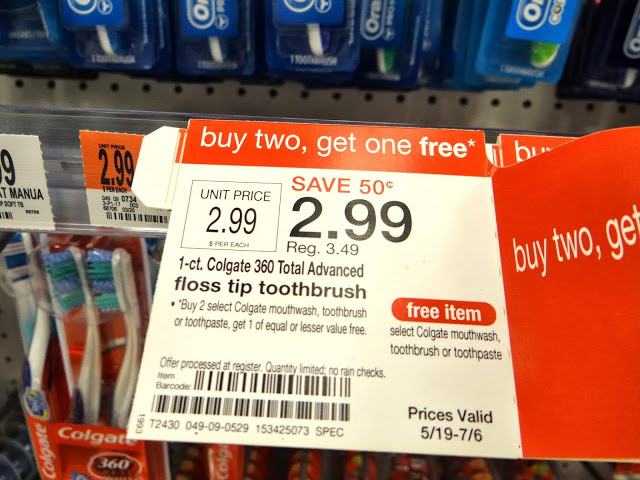 As I was walking to check out, I noticed they had an end cap for all of the Colgate Total products! I was so impressed that the Colgate Total products were on the shelves of Target, in abundance, as well as in the aisles. After I saw the end cap, I went to check out to head home to start using my Colgate products and specifically the Colgate Total mouthwash. I NEEDED to start to use a good mouthwash and Colgate Total seemed like a fabulous option. You can see my full Colgate Total google + shopping story here: Colgate Total.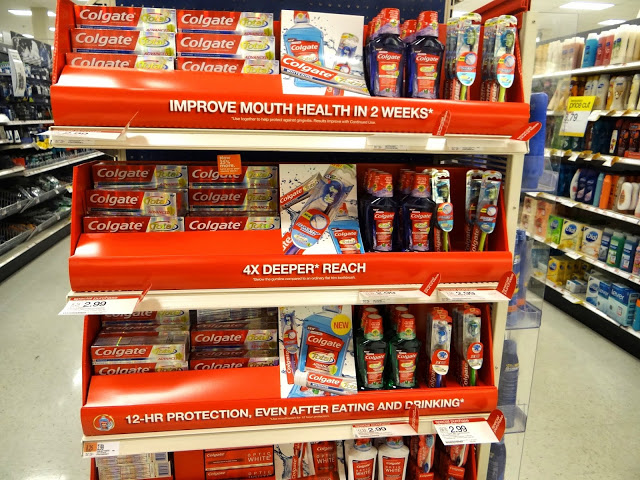 After I got home that night I started brushing with the Colgate Total toothbrush/toothpaste and ending with the Colgate Total Advanced Pro-Shield mouthwash.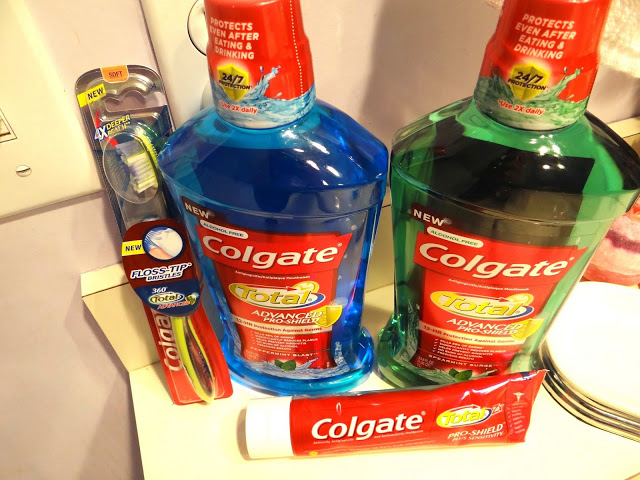 My husband also tried the mouthwash at the same time I did. We were both very curious how it tasted and to see the results. I can assure you the taste was great, reminded me of peppermint gum, and the time it took to add the Colgate Total to my regime was an additional 2 minutes for the whole day.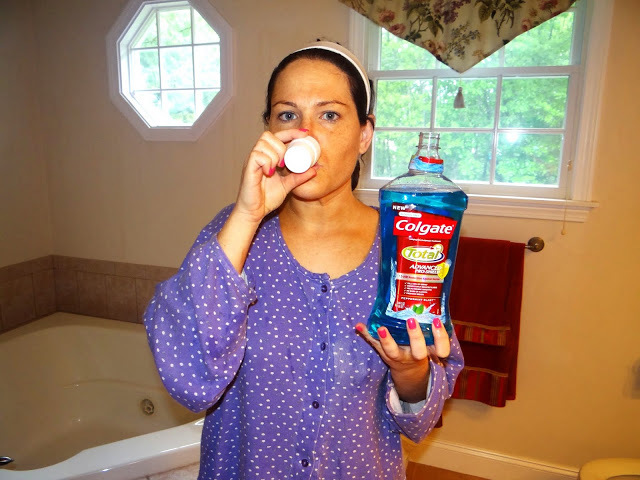 My husband and I allowed ourselves about a week and half to see if our oral hygiene improved. We were seriously so impressed with the Colgate Total mouthwash! We knew it would be wonderful as it offers 12 hour protection against germs. With both of us being dentists, we know that mouthwash is essential to kill the additional germs that brushing/flossing misses. Colgate Total kills up to 99 percent of the dental cavity germs and helps to reduce plaque significantly. It is also known to reduce gingivitis. Both of us noticed that our gums were less red and puffy after using the Colgate Total for around a week and a half. We also both had less bleeding when brushing, which we attribute to using the Colgate Total. I was so impressed! We both were actually! I might also add that our breath have never been fresher.  My smile is definitely improving using Colgate Total mouthwash.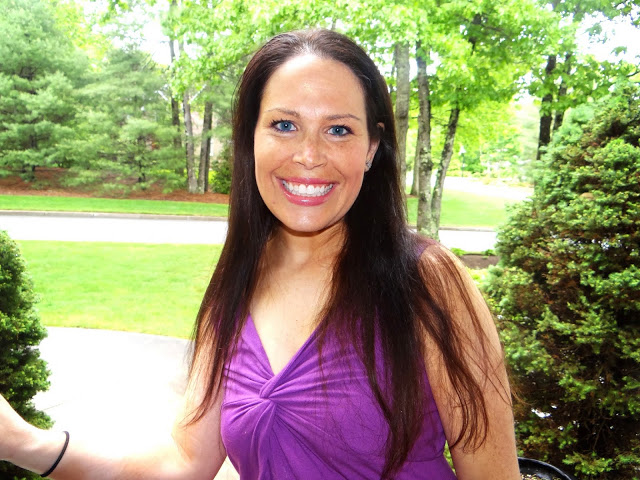 Over Memorial Day weekend we headed to New Jersey to visit my parents. I made sure to pack up all of my Colgate Total products. I am in such a good regime with seeing fabulous results, that I could not leave my house without it. My husband laughed at me that I am now obsessed with using mouthwash! Hey, I am a dentist- I get excited over new products.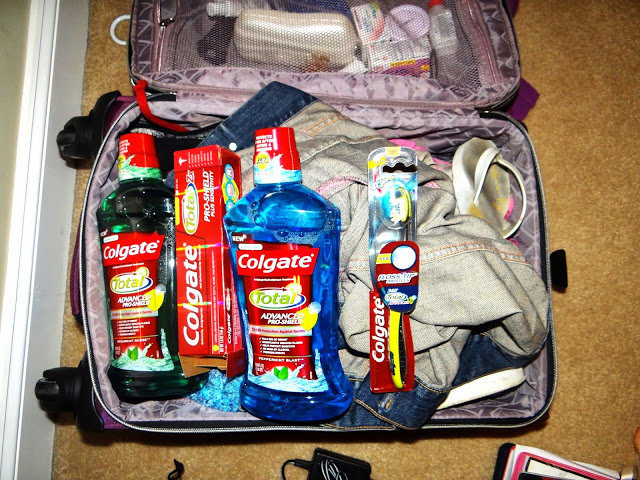 When we got home I gave a bottle to my mom. She was so thankful. At the same time, I gave her a Mother's Day gift (late, I know) but she was actually more excited about the Colgate Total! Go figure!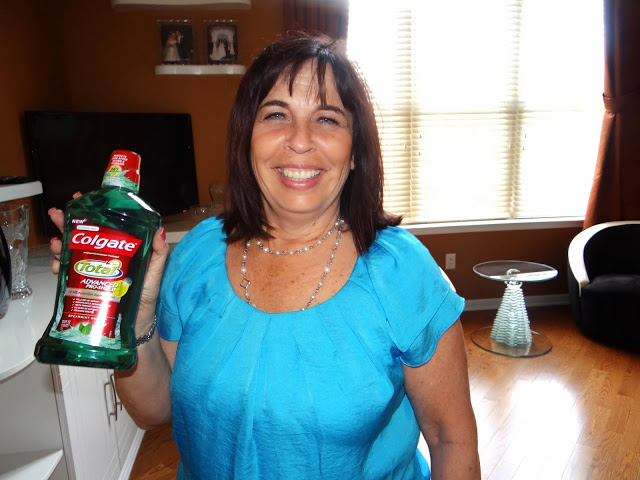 I am thankful for Colgate for bringing this wonderful Colgate Total Line! I am completely in love with using the Colgate Total mouthwash now! I guess that is not a bad thing at all. I would recommend this line personally and professionally without even a second thought. Be sure to check out Target today and pick up your Colgate Total Advanced Pro-Shield mouthwash to bring you and your family's best smile forward!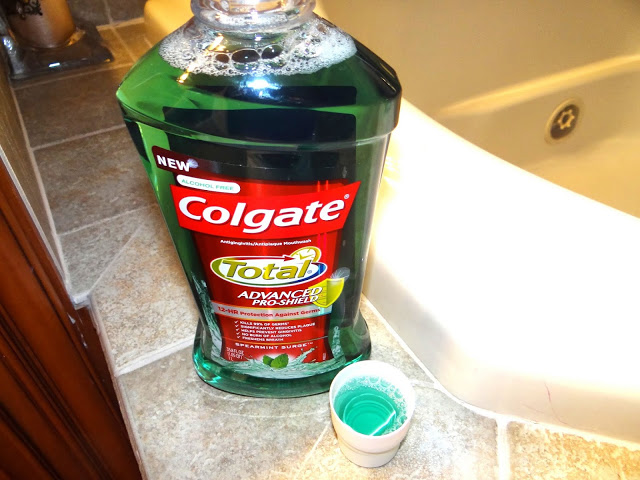 To learn more, feel free to follow Colgate on their Twitter and Facebook Page.