When we think about the topic of hunger our thoughts might initially turn to the developing world where we have seen photos of starving children sitting on dirt floors.  You may be startled by the reality that we have an epidemic of child hunger taking place right here in our own country today. There are 17 million hungry kids in the USA, which means that 1 in 5 children in our country are facing food insecurity.  These are kids in our schools and in our neighborhoods, yet because it is invisible, it often goes unnoticed.
As a mother I cannot imagine struggling to feed my child, and knowing that so many kids are going hungry in our country, it's easy to wonder how you could possibly make a difference.  ConAgra Foods has come up with a way that we can make a difference with their Child Hunger Ends Here campaign to help end the issue of child hunger in America.  The program is entering into its fourth year of working with musicians (Cody Simpson, Amber Riley- to name a few) , moms, kids and employees to donate up to 3 million meals to our partner Feeding America.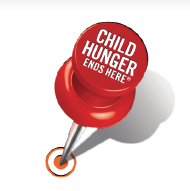 It is easy to make an immediate impact with ConAgra's campaign.  By doing your regular grocery shopping to feed your family,  you can help to feed someone else's as well.  You most likely already purchase some of the the brands that carry the entry codes for the campaign such as Hunts, Peter Pan, and Healthy Choice to name a few.  All you have to do is to use the code found on the participating packages of ConAgra Foods products. Enter one code online to donate one meal. It's that simple! I also made it easy to just add your code to the widget below:
You can help us to reach our goal of donating up to 3 million meals to our longstanding partner, Feeding America – just by starting with a code.
•       You can participate by looking for the red pushpin in grocery stores and purchasing specifically marked packages of 19 select ConAgra Foods brands.
•       For every code entered by 8/31/13, ConAgra Foods will donate the monetary equivalent of one meal to Feeding America, the nation's largest domestic hunger-relief organization.
•       You can also enter your zip code to submit your local Feeding America food bank into a competition for an 80,000-meal donation.
–      At the end of the campaign, ten food banks in the zip codes with the most entries will receive the additional donation.
I hope you can help us to help fight hunger! I am really passionate about this and hope everyone is as well! Let's help fight hunger in 2013!
*This is sponsored post with The Motherhood. All opinions are my own and not swayed by outside sources.