I wrote this review while participating in a campaign for Mom Central Consulting on behalf of Chicco and I received a promotional item to thank me for my participation.*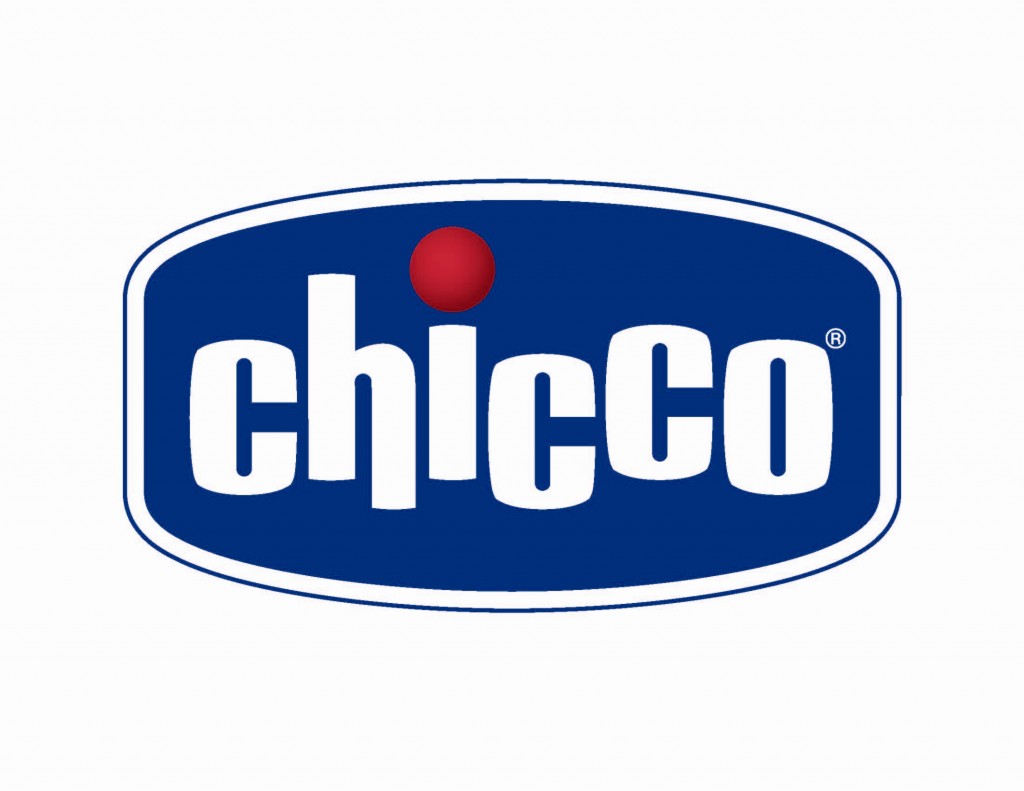 As a mom of two small kids 4 and under, I struggle with a lot with decisions on parenting, as well as what products on the market would be the best for my children. One topic that I probably discussed at length to my mom friends was how to choose the best car seat. I remember when Hayley was just about to be born, I was screaming at my husband to help me decide what car seat to buy. I wanted to make sure it was set up, checked at a police station for correct installations, and ready for when the big day arrived.
There are so many options for car seats on the market. I wanted a car seat which was easy to install, fit my child, and provided ultimate safety for my them. I ended up buying an infant car seat for Hayley, and then registering for a convertible car seat for when she outgrew the bucket seat. All along though, I was thinking it would be absolutely amazing if I could purchase one car seat that I could use from the time my kids were infants through the time they are in preschool.
I luckily found out that Chicco, a brand that I love and trust, has recently come out with Chicco NextFit Convertible Car Seat. I know if I have another child this will be the car seat I am going to purchase. First off, the NextFit is meant to grow with your child, from 5-65 lbs. It is also is easy to adjust to fit your growing child. It is the easiest convertible car seat to install correctly every time! Your child can use the Chicco NextFit rear-facing (5-40LB) or forward-facing(22-65LB).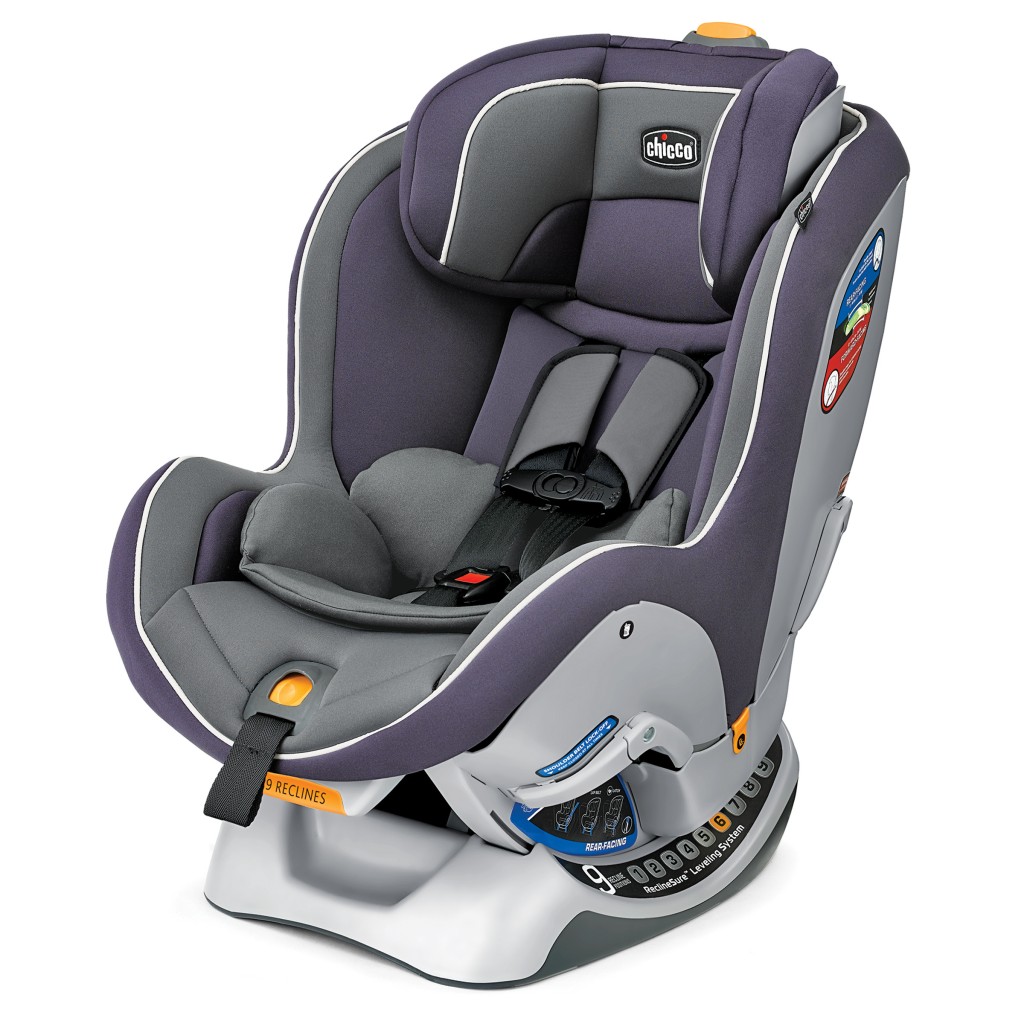 I remember the days of trying to install our infant car seat and attempting to do it on my own. After trying unsuccessfully to get the car seat to fit our latch system, I ultimately failed. I luckily had the police department, who I brought to do our car seat checks, fix it so it was ready to go when Hayley was born. If I have known about the Chicco NextFit Convertible Car Seat, it would have eliminated my frustration of not being able to correctly install my car seat. The NextFit is designed to help parents easily install their convertible car seat correctly every time.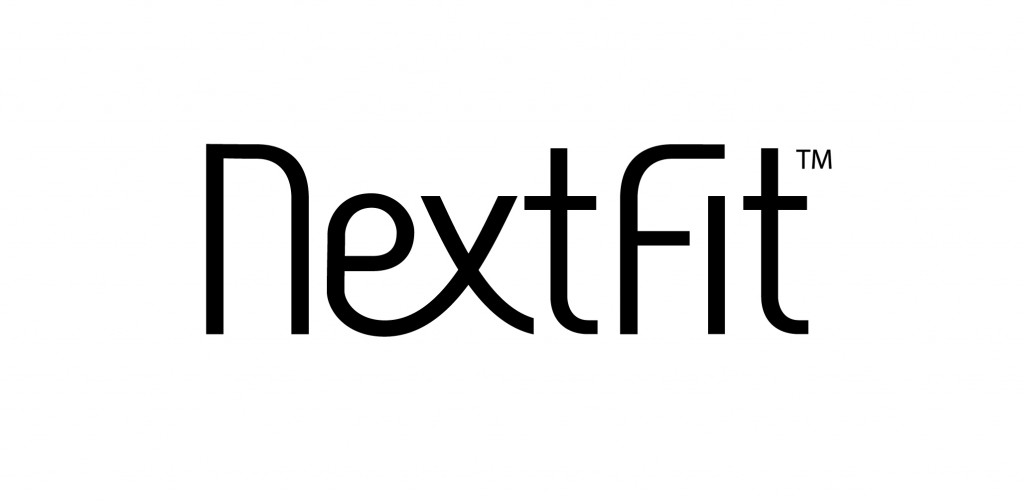 The NextFit is created to fit your child, as well as fit your vehicle. It is the easiest convertible car seat to install accurately and securely in a wide range of vehicles because of its innovative safety and convenience features. I feel confident knowing that it will be easy to operate the car seat while allowing me to have assurance that my kids are in a safe car seat. I love the fact that the harness straps do not require threading, and I am readily able to adjust the height and width in connection with my children's headrest positions. It also features a innovative chest clip which enables a child with a small torso or larger child to fit in.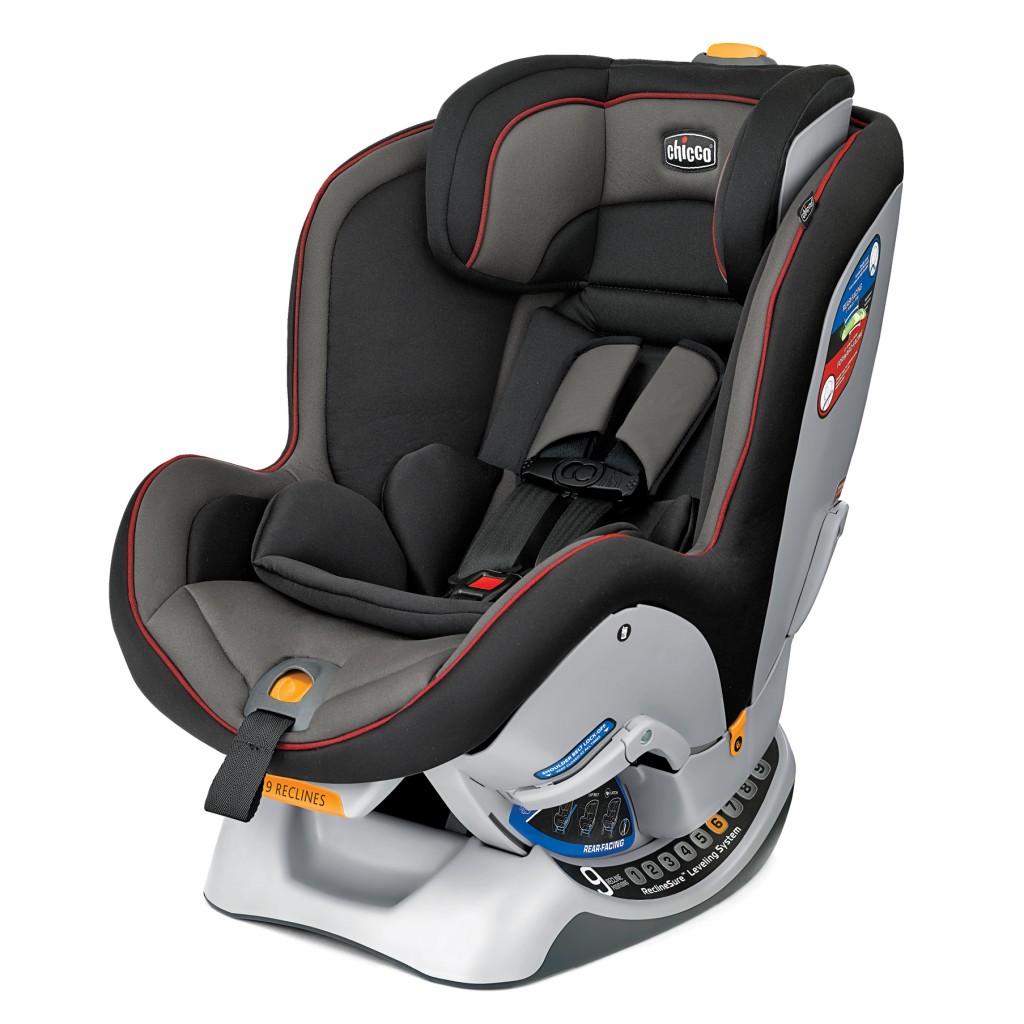 Some additional information about the Chicco NextFit are seen here:
Simply. Accurately. Securely.

Simply: No need for rolled towels or tubes to position your convertible car seat correctly in your car! The NextFit's ReclineSure™ 9-position Leveling System adjusts with one hand for an accurate fit in a wider range of vehicles and vehicle seats
Accurately:  Just like the KeyFit, the Chicco NextFit takes the guesswork out of installing the seat thanks to the two RideRight™ bubble levels which clearly indicate the correct seat angle in both rear and forward-facing modes.
Securely: Parents of any size or strength can easily install the NextFit correctly with the SuperCinch™ LATCH tightener, which uses force-multiplying technology to help achieve a tight and secure fit – no strong muscles required.
I also was curious if you know that most parents (myself included) do not know that they are using the wrong car seat? With all the rule changes, it is hard to keep up with what car seat the kids should be in, and when should they go from rear facing to forward facing and then on to booster. The infographic below will help you decide the ages and stages for using the correct car seat: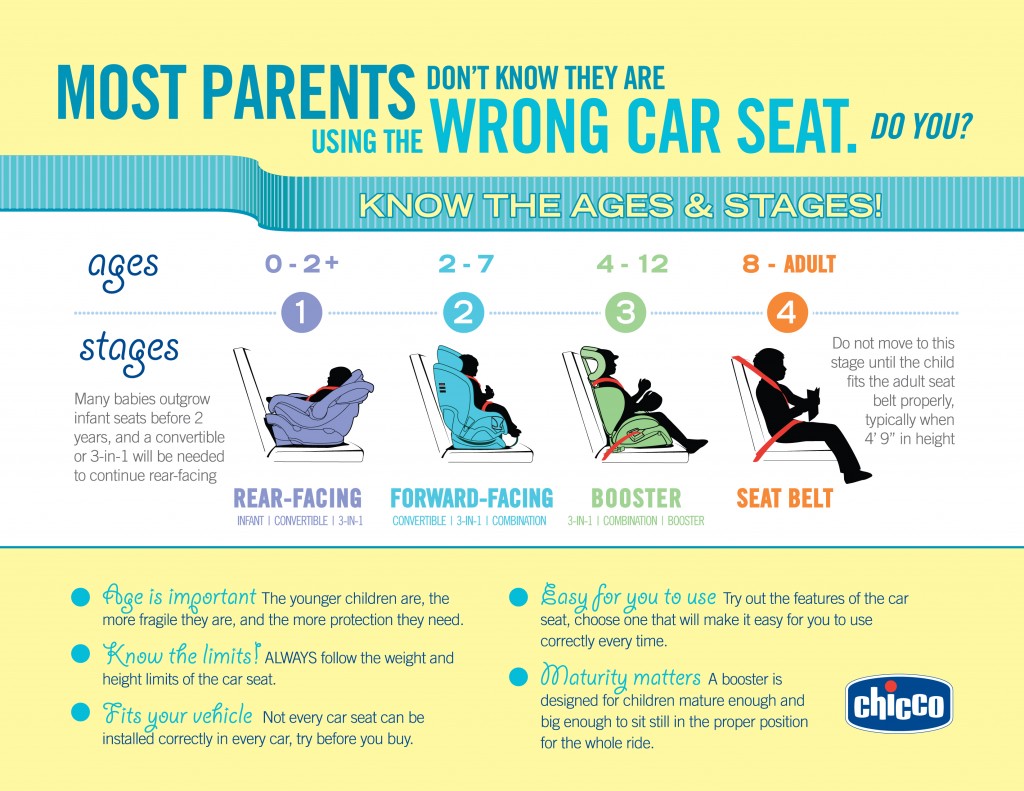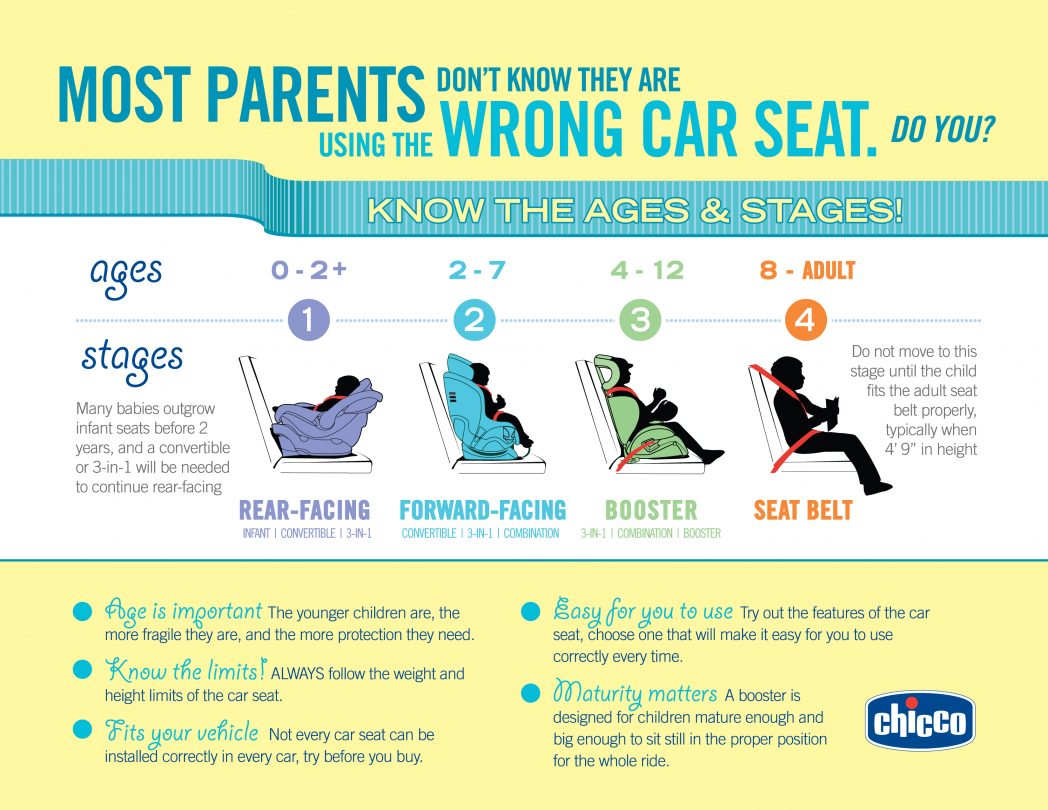 Lastly Julie Prom, Chicco's Child Passenger Safety Advocate and certified Child Passenger Safety Instructor,  has helpful tips for car seat safety that I wanted to include. I highly suggest you read them and make changes, if necessary, to promote car seat safety. One that resonates with me, is keeping your child rear-facing. Despite my husband pleading with me to switch Zane forward facing (he was 24 pounds at his 1 year birthday), I kept him in that position until two weeks after his second birthday. It is important for me to make sure Zane is safe. I am very happy with my decision to keep him rear-facing for as long as I did.
Enjoy the tips:
Most children younger than 5-years old are not mature enough to sit without a full harness. Keep your child in a forward-facing car seat with a harness until at least 5 or 6 years old.
Most common mistakes can be avoided by simply following manufacturers' instructions. All car seats must meet stringent Federal Motor Vehicle Safety Standards to be sold in the U.S. It is when they are not used correctly that makes them unsafe. Always read and follow the instructions for the safety seat. Also, read the vehicle owner's manual section on child restraints.
Always buckle your baby into the safety seat first, and then cover the baby with blankets.  Avoid bulky clothing and add-on products such as car seat buntings. This can interfere with proper harness fit and crash performance of the seat. A good trick for older children is to buckle them in without their jacket and then put it back on them backwards over the harness. Not only do these techniques ensure proper harness fit, but also avoids overheating by allowing the baby to be easily uncovered or the child to take his jacket off once the car gets warmer.
Always use the top tether when installing a forward-facing car seat. The tether reduces movement of a car seat in a crash and helps to achieve a tight installation.
I hope you consider purchasing the Chicco NextFit Convertible Car Seat which is available in several styles for $299 at Babies R' Us, Buy Buy Baby, Target, and other retailers country-wide!
*I wrote this review while participating in a campaign for Mom Central Consulting on behalf of Chicco and I received a promotional item to thank me for my participation.*