One of my favorite things to do with my children is go see the Ringling Brothers and Barnum Bailey Circus. I have been going since I was a little kid, and am excited that I now have the chance to bring my own kids to visit the magic of the circus.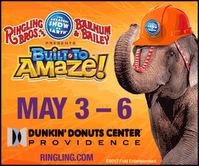 The foundation is set and the rising anticipation of high-energy, high-jinx and hilarity is ready to be transported by colorful circus machinery and unleashed from shipping crates right before the audience's eyes!  Ringling Bros. and Barnum & Bailey® Presents Built To Amaze!, is an extraordinarily engineered circus experience where Children Of All Ages® find out what it takes to build The Greatest Show On Earth®.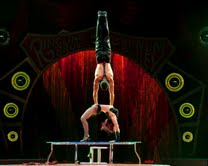 Andre McClain, Ringmaster and America's favorite cowboy takes the Ringling Bros. reins and accompanied by his horse Comanche, leads his Built To Amaze! funny and mischievous sidekicks, to construct The Greatest Show On Earth.  It also features a fantastic design with more than 110 of the world's best performers representing 17 countries along with 95 exotic and domestic animals will be assembled, creating never-before-seen heart pounding performances.
Ringling Bros. is thrilled to introduce nine-time international award winning comedic animal presenting duo Alex and Irina Emelin of Russia. Also new to Ringling Bros. is the Tower Tumblers, a troupe of competitive aerial athletes from the Ukraine who launch themselves from trampolines to scale, repel and pass through a three-story high translucent tower.  Ringling Bros. brings a spirited and fiery competition of basketball with the next generation of whirling unicyclists, the legendary King Charles Troupe hailing from New York City!
PRE-SHOW: 
Ringling Bros. Built To Amaze! opens one hour before the show begins with the All-Access Pre-show where everyone is invited to join the fun and meet the Built To Amaze! international cast of performers as they prepare for the show.
Pick up some hip dance moves during the dance party,
Try on custom designed costumes,
Learn circus skills like juggling from the famous Ringling Bros. Clown Alley and;
Even have the opportunity to witness and win a one of a kind masterpiece created by Asia, Ringling Bros. very own painting pachyderm!
During the All-Access Pre-show, the Ringling Bros.® Ringling Girls and Barnum B-Boys encourage kids to participate in a tug-of- war and kick off what will soon become an insane battle of girl power versus boy power in Built To Amaze!
NEW ACTS:
TABA & TIGERS
Tabayara, standing fearless inside the tiger arena, eye to eye with 13 ferocious exotic big cats, creates a thrilling display of absolute amazement between a man and his tigers.
In Built To Amaze, Tabayara presents a remarkable new element as four tigers, each poised with just one razor sharp claw on a spindle and using their hind legs rotate in perfect unison.
Tabayara and these mighty tigers jump, roar and dance, and have the audience on the edge of their seats.
KING CHARLES TROUPE
The King Charles Troupe was first featured in 1969 by Ringling Bros. producer Irvin Feld, grandfather of producers Nicole Feld and Alana Feld. Now a new generation of producer and performer has come together again.
The King Charles Troupe is made up of twelve basketball players present a continuous, whirling display of one-wheeled excitement while perilously perched on unicycles, some towering more than ten feet in the air!
Audiences will be astounded at the King Charles troupe's agility and balance as each team dribbles, passes, shoots and weaves their way with outrageous skill and high-speed comedic antics in the wackiest game of b-ball ever played.
Be sure to get your tickets now at the Dunkin Donut Center or on Ticketmaster.com!
Here is the schedule for the upcoming Ringling Bros and Barnum Bailey circus at the Dunk:
Win it: One person will win a family four pack to see this upcoming show. Vouchers will be sent and you have to change it in at the Dunkin Donut Center Box Office for whatever date you like to go. To enter, simply leave me a comment and let me know who you want to bring. PLEASE remember to leave a a valid email address. Winner chosen 4/29. Good luck!