Hayley is all about fairies these days. I can't even begin to tell you how many fairy dolls she owns and how many movies we own that revolve around fairies. It is a fairy world that my Hayley lives in! We'll, she is not the only one, that will have a fairy involvement. Just last week, I got visited via email from the Fairy Hobmother.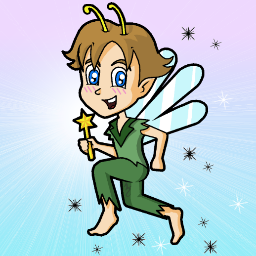 This is what the email said:
I stumbled across a comment you left on a post about me and I followed it back to your blog! I have to say that I was impressed with what I saw. You clearly work very hard on your blog and I think that such hard work deserves to be rewarded. I'd like to send you a gift in the form of a $50 voucher for Amazon.
He was absolutely right, I went and commented on so many wonderful blogs  and he threw his magical spells on me!
Now, is your chance to get visited by the Fairy Godmother. Simply leave a comment and perhaps the Fairy Godmother will be spreading his pixie dust on you! What are you waiting for?
*This is a partnered post. All opinions are my own and not swayed by outside sources