**I am a member of the Collective Bias®  Social Fabric® Community.  This shop has been compensated as part of a social shopper insights study for Collective Bias®  and Sears #cbias #SocialFabric #ThisisStyle**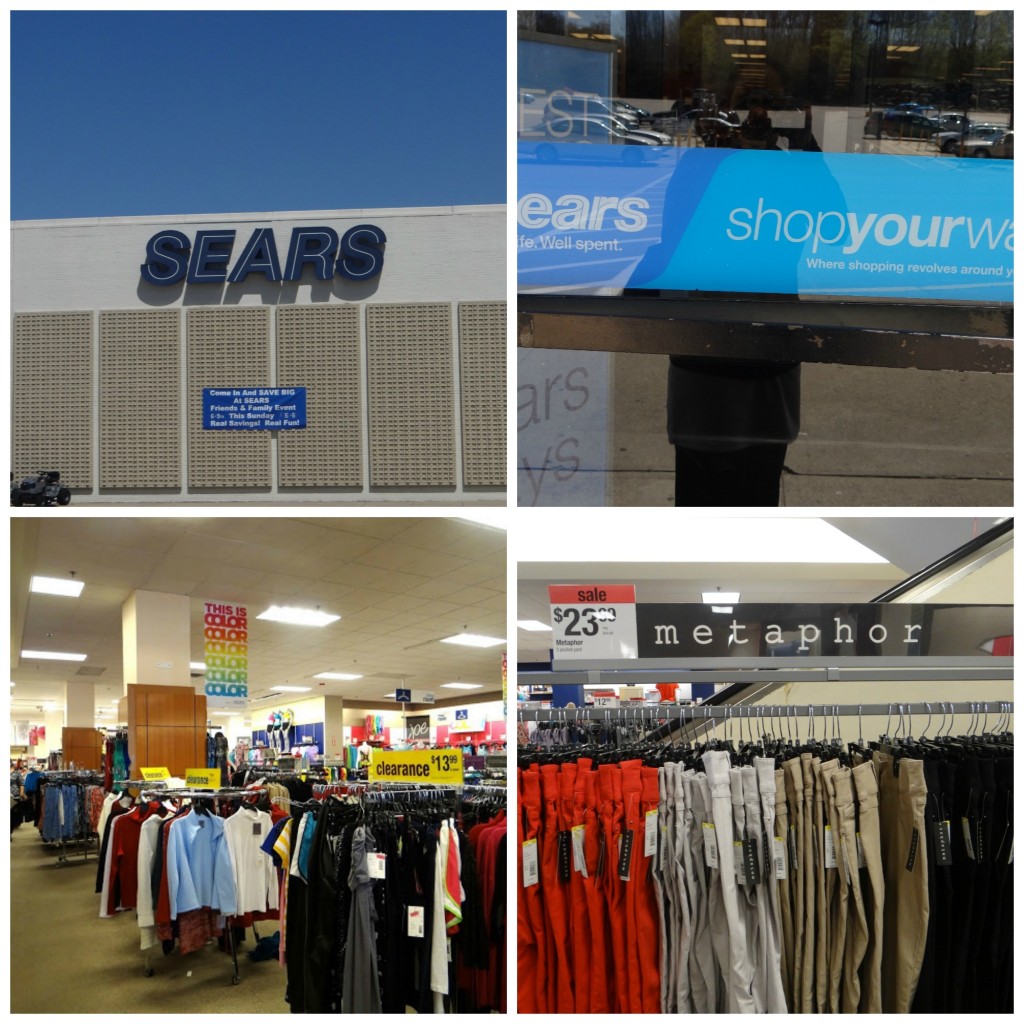 I will fully admit that I absolutely LOVE to shop, but since I became a mom, shopping for myself has always fallen to the way-side. Between working, cooking, playing with the kids, and being mom, there is never enough time in the day to go out for myself and shop for clothes. Although I don't have time to shop for myself, somehow I manage to spend a lot of time shopping for my kids. I guess I can say I do shop in some capacity but it is always for them. I realize that this needs to change and the change is starting now!
I was very sick with pneumonia a few weeks back and I was thinking to myself that I no longer feel like the person I was before I had kids. Most of this is attributed to the fact that I don't have those cute outfits I had pre-kids. You should have seen me before I had kids, I was shopping all the time for myself. I am lucky that most of my clothes still fit, but my wardrobe definitely needs a revamp. Clothes that were in style 4 years ago are no longer in style now. I also realized that I have a quite a few special occasions coming up in May that I will need really fashionable clothes for. One is my 10 year Dental School Reunion and the other is our annual Mother's Day Brunch. The time is now to go out and find those special outfits for myself.
I decided I was going to make a trip to Sears to update my new wardrobe. I am quite familiar with Sears, as I buy a lot of my kids clothes there, and know they have incredible collections for adults as well. I also LOVE Sears because they have a petite section, which comes in handy for someone like me who is only 5'1. I told my husband to watch the kids and I went solo to Sears to check out their spring clothes and what they have to dress me up for these two events.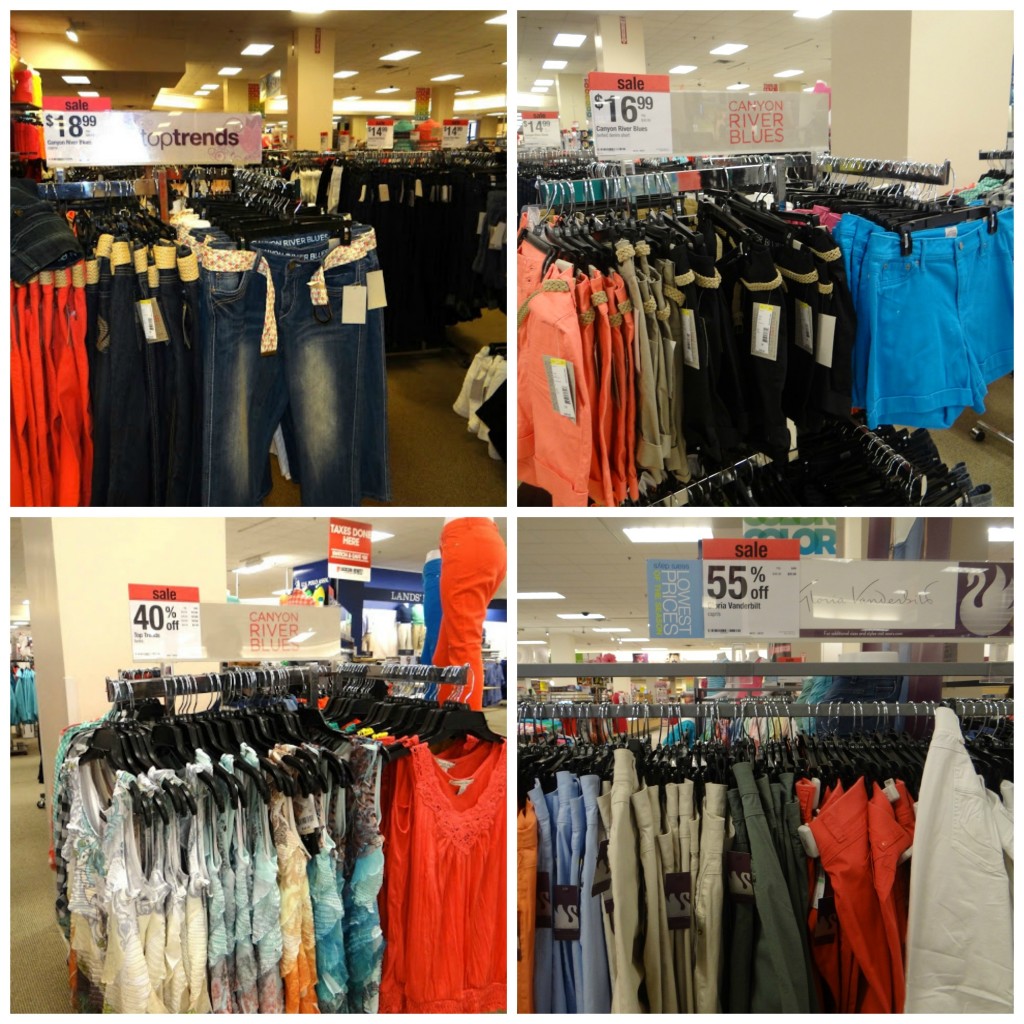 When I got to Sears, I immediately saw everything was about color this season. I was so excited about this because I love wearing color. I have very dark hair, light eyes, and very pale skin. If I wear white or black, and I am not tan, I sort of look vamperish. Shhh… Don't laugh! When I saw colors popping out from all the clothes, I was squealing with delight inside.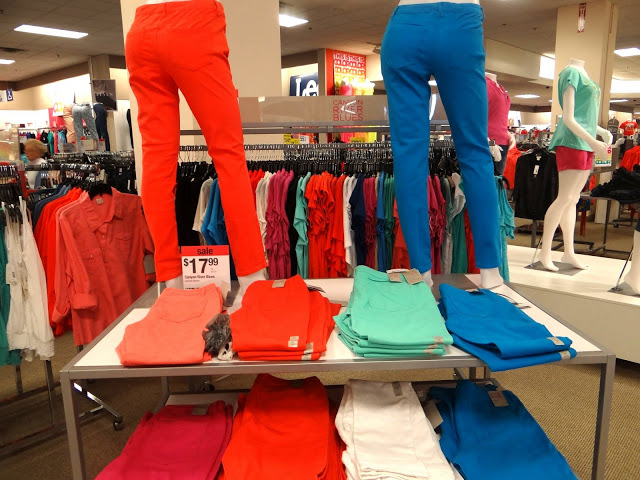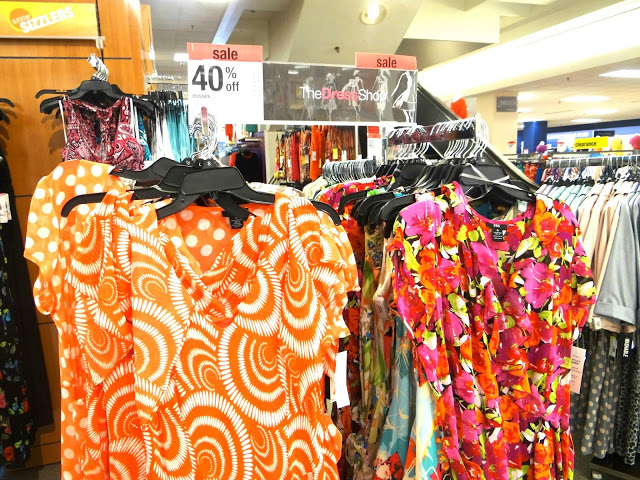 I first went over to the dresses section and tried to see what would look good on me. Of course, I was trying all my clothes on, but if it doesn't look good on the hanger, I usually know it won't look good on me. I immediately found a dress that looked absolutely gorgeous on the hanger. I put it in my shopping cart, so I could try it on. This dress was not in the petite section but it looked like it would fit me to a T. While being a gorgereous blue and made of a silky fabric, the best part is how affordable the dress was. The dress was reduced from $70 to $40, which is incredible. I kept looking at the dress and thinking, "How in the world is this dress only $40?"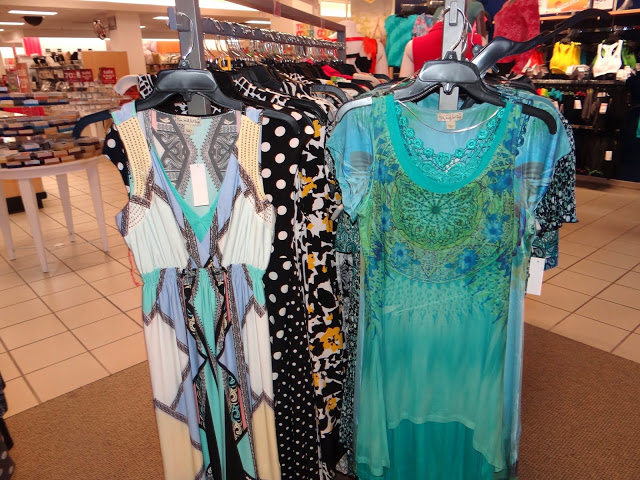 Next, I went to peruse the petite section at Sears. Let me tell you, I could not believe the savings I saw all over Sears. It was quite incredible to see this and so many clearance outfits. As a savy shopper, this made me very happy. When I went to the petite section, I was immediately drawn to the Covington Blue Top which I knew would look great with my eyes, once I had it on. I am not being conceded here but anything blue, tends to always look good on me because of my eyes. For a Mother's Day perfect fashion outfit, I had to go search out white capris that would go with the blue top. Of course, I found it right next to the tops at Sears! I could not wait to get to a dressing room to try all my wonderful outfits on!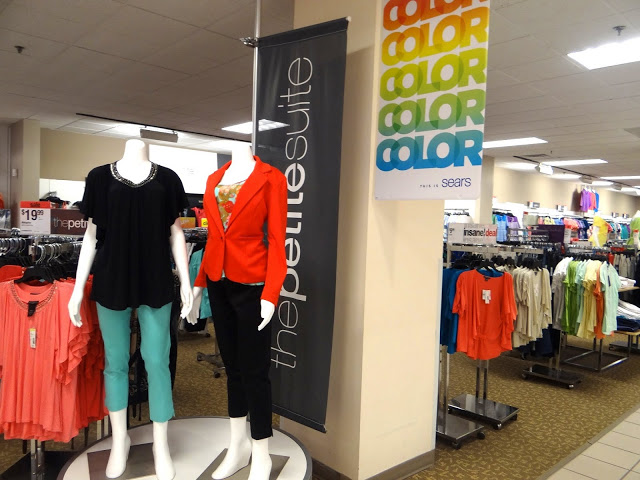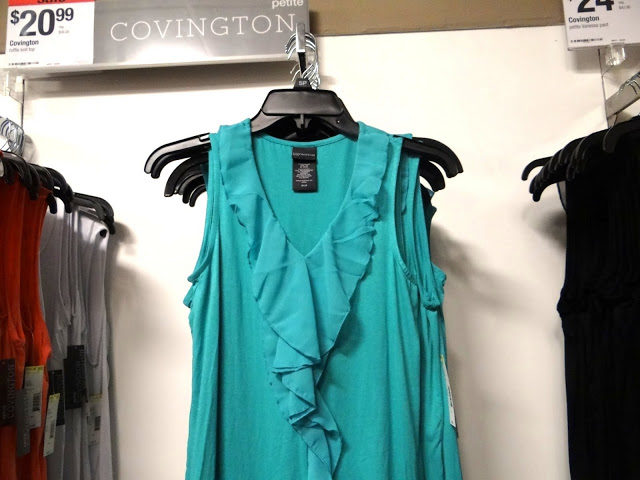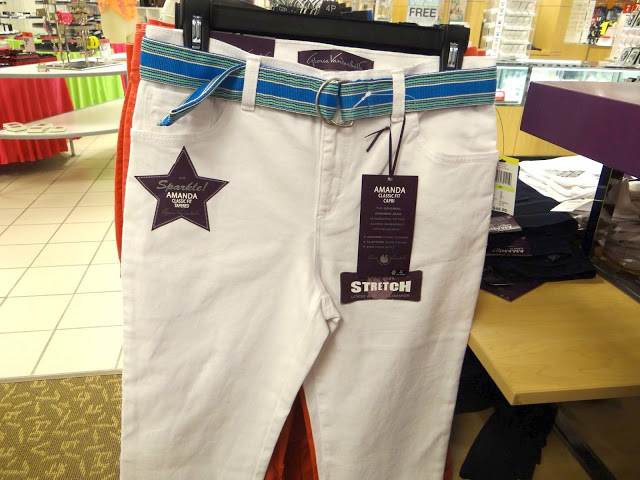 I took all my Mother's Day fashion finds and went to the dressing room. This never happens but both the dress I wanted so badly, and the blue top/white pants looked picture perfect on. I decided right there and then I wanted both of these outfits. I knew I was getting a tremendous savings because the top/pants combination set I was going to purchase was also on sale!
Before I proceeded to check out, I had to pass all the wonderful accessories I found at Sears. I am huge into costume jewelry and I found beautiful blue earrings that would go fantastically with both of these outfits. The earrings were only $10, so of course, this went in my shopping cart too. They have so much jewelry, bags, and shoes to go with just about any outfit you buy at Sears.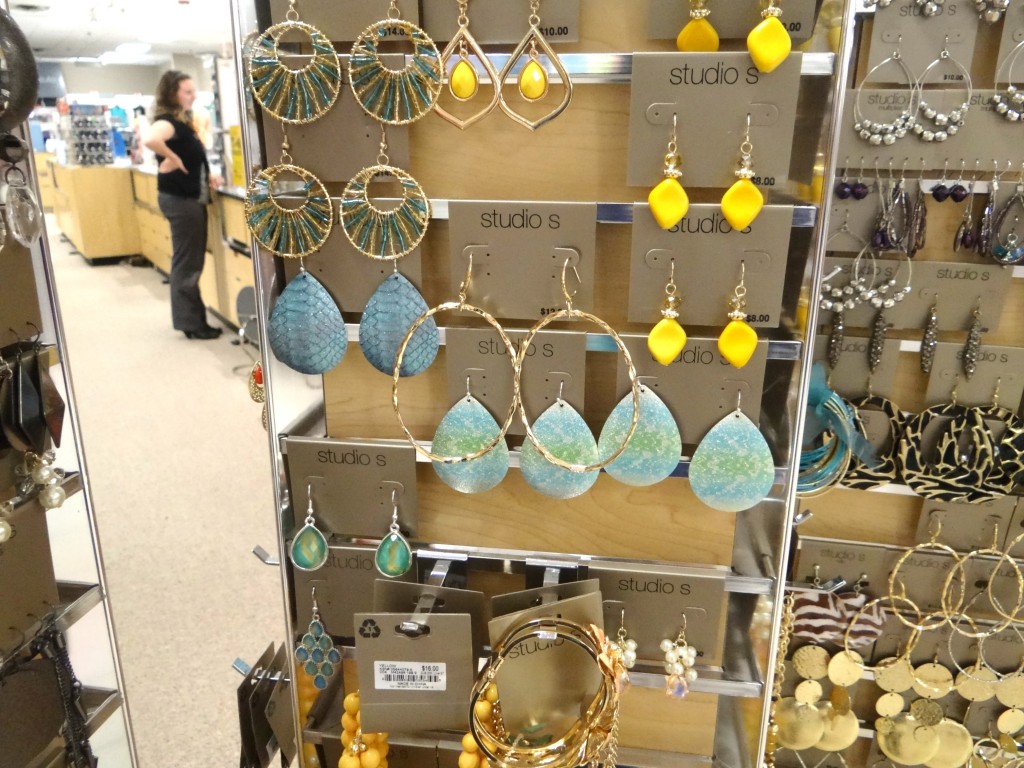 At checkout, I had a gift card that my mom gave me for the holidays. She knows I love to shop at Sears so I used my gift card to purchase some of the outfits. For the remainder I used my credit card and it was a seamless process to check out. Oh, I need to mention that Sears has a fantastic Shop Your Way Rewards Program. I have been a member for quite some time now and by signing up for the free membership, you will begin to save in big ways at Sears. You will start to accumulate points and then use these points to save money on future purchases. It is a great program for any Sears fan! Want to see more of my shopping trip? Come head on over to my google plus story to see more!
I found some great Mother's Day outfits at Sears. Here is my little fashion show debuting what I bought at Sears on my shopping trip: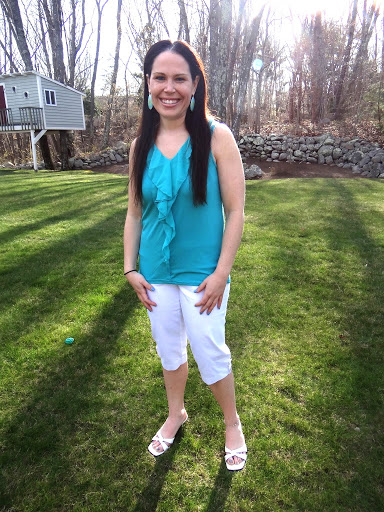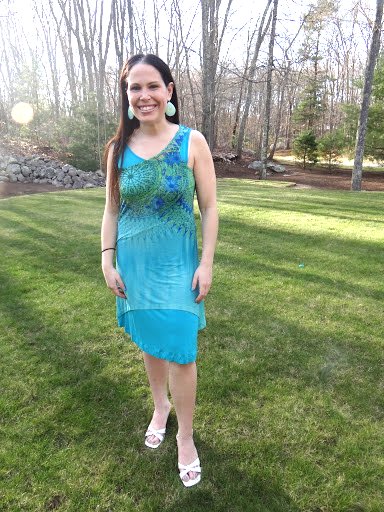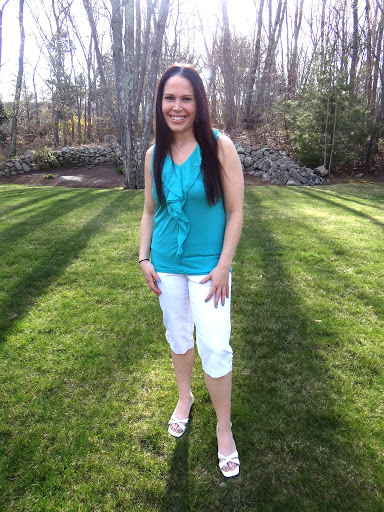 Do you need a great Mother's Day outfit? If so, look no further than Sears for stylish and affordable fashion. Be sure to also check out Sears Style on Facebook and Twitter to learn more about their great selections!