This weekend is hopefully going to be great. Sunday is Easter, along with being Zane's second birthday! I am looking forward to all the festivities that the weekend may bring. I hope you all have a fantastic holiday weekend.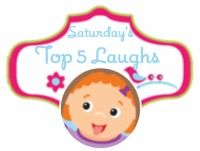 As always, please link up any cute or funny post. You can grab my button below or share on social media if you like, although this is not necessary. Please also check out the other posts as they all provide a great laugh!
My top five laughs:
5. I told you how I put Zane in time out and he said "Thank you." We'll, now when I put him in time out, he laughs and goes to his seat. There is nothing scary for him about time out. I think I need to change my tactics.
4. Hayley and I have been preparing for Zane birthday all week. She said to me, "Mommy, are you sure you are ready for his party- do you have his cake? his outfit?" The girl cracks me up!
3. Zane usually gets up around 730 in the morning. I don't really get him until 8, because he babbles to himself for a half an hour. You should hear him in the morning. He will say things like sky, truck, grass, etc. I think he stares out his window and says what he sees outside. I just laugh getting ready in the morning.
2. I got Hayley ice cream this past weekend. I asked Zane if he wanted some and he said, "Yuck"! O'kay Zane, more for mommy then!
1. I had a really bad stomachache the past few days. Hayley says to me, "Don't worry Mommy- I had that too and it goes away. Trust me!" I made me laugh hysterically and I actually began to feel better!
Now your laughs: